Holiday Gift Guide

Holidays are a great time of year to show appreciation not only for loved ones but also those that have contributed to your advances in your aviation experience. Consider giving a gift to your instructor(s), crew, or even a students that are helping you pay the bills. Below are some ideas to help with gifts for pilots. Please be sure to order any binder products on or before Monday, December 21st to ensure delivery and also select the appropriate shipping option such as FedEx Overnight.
Forward this e-mail or
web page
to your friends and family as they may be struggling to find *you* the perfect gift this year. Print and leave in a well planned location with any items circled as subtle hints. If you have any questions or need assistance ordering feel free to contact us for prompt and friendly service by e-mailing us at
sales@nc-software.com
.
We wish all of you, your friends & family, a joyous holiday and a very safe new year.
---
Things to know when buying gifts from NC Software
We sell various products which have constraints such as licensing for the recipient versus you, the shopper.
Click here
to read an article that outlines in full detail the different considerations for buying gift items. For example, when buying a software license such as for Logbook Pro Desktop or Route Browser, enter the gift recipient's name in the "License to" box as shown below and then click add-to-cart. The license will then be issued in their name and not yours.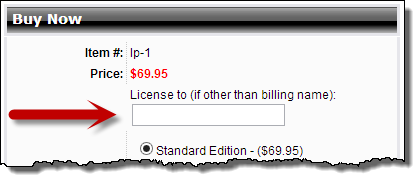 If you need
gift card
or
blank gift certificate forms
to print to give as a gift
click here
to download from our downloads web page.
---
Gift Certificates make a great gift
---
Logbook Binders: Personalized and Quality
Commander Series: High-Capacity Binder

For career pilots with a lot of flying time or will accumulate a lot of time over a career. Cirrus Elite's largest binder holds the most amount of information with its 2-inch rings holding approximately 250 printed pages of the heavy bond Cirrus Elite durable paper. A stunning black leather with silver lettering, silver corner savers, and sturdy silver rings, not only is your logbook information secure but it will make a great presentation at an interview or any need. Inside pockets allow for loose item storage of flight cards, fuel receipts, or any other temporary storage items.

Personalize this binder with the recipient's name for a perfect holiday or birthday gift.

Click to purchase
---

Click to purchase
Full-Size Series: Large format mid-capacity

The Full-Size series binder is one of our most universal binders. With the unique landscape layout and fine soft leather, this binder can handle any of the over 60 Logbook Pro reports and prepare you with the perfect printed solution with little to no effort at all. With the gold print on the fine leather and gold corner savers, this model stands out for its value and practical use. The gold rings are easy to use and hold more than the smaller models. The open book has pockets on each cover for storage of documents, fuel receipts, etc.

Personalize this binder with the recipient's name for a perfect holiday or birthday gift.
---
Premier Series: Great for Recreational Pilots

The Cirrus Elite Premier binder is a professional binder for the aviation enthusiast with stylish gold corner savers, gold embossed lettering, and a quality leather design. One of our most popular binders for the general aviation community with six rings to prevent page tear outs and inside pockets for credit card storage, fuel receipts, keys, etc. Available in various colors with a wide range of paper choices available from blank inserts for your computer printer to manual log pages and notes & endorsement pages for just about any aviation requirement.

Personalize this binder with the recipient's name for a perfect holiday or birthday gift.

Click to purchase
---

Click to purchase
Sport Series: Economic & Affordable under $50!

This awesome binder has the look and feel of leather without the cost of leather. The Sport series binder is perfect for our sport pilot and private pilot users with under 1500 flight hours without sacrificing quality or appearance. Our introductory model comes in a stylish black castillian vinyl with decorative silver corner savers and six heavy duty silver rings to prevent tear outs. Pockets on the inside cover are perfect for fuel receipts, aircraft keys, credit cards, etc. If you don't have a binder for your Logbook Pro printout, this is a perfect solution for all.

This binder cannot be personalized
---
Software and Services

Click to purchase
Logbook Pro Desktop

Logbook Pro is the most trusted, reliable, accurate pilot logbook application sold for over 20 years and running! Logbook Pro's flight logbook software is customizable allowing pilot's to add custom columns, arrange columns, and track any data you need. The only logbook software on the market with a fully customizable currency system to track any currency any pilot may need. Extensive reporting for the most professional logbook solution ready for any purpose. Powerful analytics for filling out forms and applications for any need.

Logbook Pro Desktop is complimented by FREE mobile apps for iPhone, iPod touch, iPad, iPad mini, Android phone, Android tablet, Kindle Fire, and NOOK tablet devices.
---
Route Browser Mapping Add-In for Logbook Pro

Route Browser is a fun add-on for the Logbook Pro Desktop Edition. Using the data you've already entered and complemented by a comprehensive airports database, Route Browser makes it simple through maps, charts and reports to display your flights and see distances flown.

Tightly integrated with Logbook Pro, Route Browser is as simple to use as it is powerful. Complete customization and easy to use filters let you graph just the flights you want in the colors you want.

Click to purchase
---

Click to purchase
Turn-Key Color Laser Printing Service for Logbook Pro

If your gift recipient doesn't have their Logbook Pro data printed out yet buy them this printing service and all they have to do is send in their Logbook Pro data file and we'll do all the work.

We will provide a professional presentation ready printout to insert into any of our Cirrus Elite leather binders. There is no time limit, this service can be used at any time in the future. Buy now as your gift and they can print at any future date.