In this Newsletter:
Combo Deals Now Available - Save 15% While Offer Lasts!
Enjoy special summer savings with our new package combo's providing you a 15% discount on each and every product bundled. NC Software teamed up with Cirrus Elite Corporation and FlightCentral to provide you these great time limited offers. We carefully crafted these combo's to bundle our most popular solutions for our first time buyers. Whether purchasing your first Logbook Pro and/or APDL license, or your first binder solution, we have the bundles to suit your needs. Check them out!
The Cirrus Elite Combo's are perfect for those looking for their first custom leather binder. Combo deals are complete with the binder of your choice and all the "fixins" such as blank pages for Logbook Pro to print on with tear-away perforations and hole punches, manual entry pages, notes, memoranda, and endorsement pages, and our popular Peel & Stick Endorsement labels. For our new aviators out there, listen to those of us that have had to back log thousands of hours, NOW is the right time to start keeping your logbook with Logbook Pro and Cirrus Elite binders! For those preparing for your ever most important job interview, let us help you with our discounted bundles suited for those pursuing aviation careers. We realize you may be furloughed and funds are tight, now's the time to buy, save 15% off today!
FlightCentral is throwing in their Route Browser software as well! If you haven't seen it yet, you must! It is the coolest thing...especially when you're tired of nothing but numbers! With FlightCentral's Route Browser, turn those numbers into pictures! See your flight activity over a map, perform additional analysis, and just plain "have fun" with this great add-in, directly integrated inside Logbook Pro!
The Fine Print:
-There are no restrictions on purchasing our combo deals.
-No quantity limits or purchasing additional combos at a later time.
-Hurry while this offer lasts!
New Logbook Pro Pocket PC Companion - Success at Last!

Our first thanks goes out to Microsoft! They have finally done it right for developers and with their latest technology for developoers, we have been able to develop a winner for our Pocket PC users. We built the new Pocket PC version of Logbook Pro using the Microsoft .NET Framework version 2 and have been thrilled with the result!
The new Logbook Pro Pocket PC Companion has been topping the chart of best sellers and it looks like people are switching to Pocket PC platforms more than we ever anticipated. We've always been a fanatic of the Palm OS as it's fast, stable, and just plain works! I'm happy to report, as an owner of the Dell Axim 51v using the latest Windows Mobile 5 and ActiveSync 4.1, the Pocket PC is now a top notch PDA system. We also designed this to support any resolution and any orientation, Portrait or Landscape, so we are ready to handle anything thrown our way without having to change a single line of code!
Since the official release of Logbook Pro's Pocket PC Companion we've released a few minor updates and as of this writing we are up to build 1.10.14. We have 1.10.15 in the works shooting for a mid-June update, and yes, it's another free update! Have we ever charged for an update? No!
One thing I'd like to share is that the way both Logbook Pro's Pocket PC Companion and Airline Pilot's Daily Aviation Logbook are architected, updating the application could not get any easier or safer for you, the user. We totally isolate the data from the application therefore the update process is doing one thing, updating the EXE file on the device with NO risk of affecting your data or registration! So with that said, keep up with the updates, it's simply a matter of launching the download which will update your Pocket PC (EXE file) and that's all there is to it! Keep tabs on our Version Info page from time to time or use the built in Software Update Utility (Start...Programs...Logbook Pro and sub-folder groups) to check for updates.
We are fine tuning the PDA Wizard for our upcoming (free) 1.10.24 release to remove the delay in the data verification process. We architected a new way to scrub incoming data and validating it to meet all of the Logbook Pro automation features, you'll be happy with the next update for sure! It just keeps getting better, we hope you enjoy our efforts to continually refine this popular application.
Try out our Logbook Pro Pocket PC software today. If you haven't gone "Windows Mobile" yet, now is the time!
P.S. Did you know you can check for updates from within Logbook Pro's Pocket PC Companion? If your Pocket PC is connected to the Internet, either via ActiveSync or an Internet Provider, click View...Check for Updates.
Earn $10 for each and every new customer
If you mention Logbook Pro or Airline Pilot's Daily Aviation Logbook (APDL) to a friend and they in turn purchase from our online store, we want to pay you! That's right, each and every person that buys our software as a result of your referral we want to send you $10 PER PURCHASE! We thank you and you deserve something for your effort and helping to grow our community of Logbook Pro and APDL users.
We've made it very easy for you and with very little effort; sign-up, get your code, and spread the word, you can be making money to cover those heinous gas prices! With just a few referrals, you've paid for your own software and then some! So don't be bashful, spread the word AND tell the new customers (your friends and co-workers) they too should spread the word and make some money! Educate them on how to sign-up and earn their $10 referrals as well. By telling them how to make money after their purchase eases the "spam" you feel you are doing in giving them your referral code. Explain the process and they will be off making money like you!

On the top right of Logbook Pro is a "Refer-a-Friend" menu button. Click it and you will be taken to a special web page, assuming you are a registered customer, to simply provide the information we need to pay you! After you sign-up, you'll get a referral code which you need to give out in any way you wish (in good taste of course). When your referring customers come to our secure online store, just below the credit card payment area is a box to enter referral codes. When they enter YOUR code during their purchase, voila, you will be sent a $10 check for their sale! There are no limits, you will be paid at the end of the month for all of your referral activity. So for those that write newsletters or post our brochure on bulletin boards in flight rooms, spread the word AND get paid for it!
Syncing APDL to Logbook Pro - Using the new PDA Wizard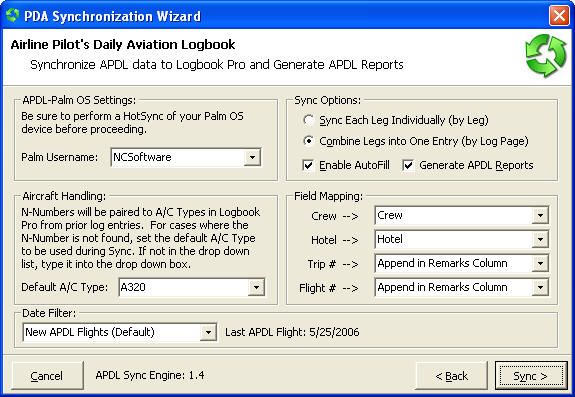 Syncing the Logbook Pro PDA Companions using the PDA Wizard is much simpler and straight-forward, however, the APDL sync system provides more configuration due to the advanced flight logging capabilities of the FAR 121 pilot logbook - APDL. Typically, once you set the configuration of your APDL sync, you won't have to touch it again, simply click Sync after launching the PDA Wizard and you're done.
To sync APDL to Logbook Pro requires first that both Logbook Pro (PC edition) and APDL are licensed and activated on your PC. APDL (PDA) must also be registered for unrestricted use. If you require a license, you can purchase from our secure online store or Sporty's Pilot Shop. If you have SingleSync installed on your computer, it must be removed as it may conflict with the new version of Logbook Pro. Also, you must be using version 6 of APDL, prior versions are not compatible. If you have an older version, contact sales for a discounted upgrade to version 6. Prior proof of purchase required.
Prior to launching the PDA Wizard in Logbook Pro cradle your PDA. If using a Palm OS device, perform a HotSync which transfers the necessary data files to your PC. If using a Pocket PC, make sure it is cradled and connected via ActiveSync. The PDA Wizard will do the work in retrieving the files from the Pocket PC data store.
Depending on the device type; Palm or Pocket PC, the screen above will only change in the top left area. If Palm OS, make sure your Palm username is selected. The Default A/C is used IF Logbook Pro cannot pair the incoming N-Number to a flight already existing in Logbook Pro. See this article on our forums for the way one user handled this and shared for others to use. If the incoming N-Number is not found, the Default A/C Type will be used, which you can change later. Any future sync that contains this N-Number will lookup the prior entry and retrieve the A/C Type automatically. You can set the Field Mapping on the middle right on the APDL specific fields and how you want Logbook Pro to store them, either in a custom text field or append to the remarks, or do not sync if that is your preference.
The top right section provides two options for how to import your data: By Leg or By LogPage. By LogPage is the preferred method as it will combine all flights on the same trip/date into a one line entry. The reason this is preferred is when you use By Leg it will take more rows which will cause you to print more pages for your hard copy logbook. If using a Cirrus Elite Binder, you may have to purchase additional binders or paper which you can save money if using By LogPage. AutoFill will provide the automated field input as configured in Options...AutoFill (Logbook Pro PC) by entering the Duration value in the corresponding/selected fields such as PIC, Cross-Country, etc. If you like the HTML calendar and other great reports APDL SingleSync used to generate, they are still available by checking the "Generate APDL Reports" checkbox. (Note: We are aware of a bug in the APDL report system and will correct this in the upcoming maintenance release).
The most important part is the Date Filter, or at least this is the most cause for sync issues. When the PDA Wizard starts and you proceed to the APDL Configuration page, Logbook Pro finds your LATEST APDL flight which is tagged in your logbook data. It will automatically use this date and sync APDL flights that occur AFTER this date. If you are back logging flights into APDL and need to sync in flights that occurred PRIOR to your last/latest APDL flight that resides in your Logbook Pro data file, you must change this Date Filter. In the picture shown above, the default option of "New APDL Flights" is shown. As you can see, Logbook Pro is showing us the LATEST APDL record found which is May 25, 2006. (Date Formats are shown and entered in the Short Date format of your system). Therefore, Logbook Pro will automatically set the sync date range to find flights May 26, 2006 or later, in this example. If necessary, click the Date Filter drop down and set the date as desired. Realize that if you set the dates such that it falls within a range overlapping data that has already been sync'd into Logbook Pro from APDL, Logbook Pro first purges all APDL flights that have been sync'd in that fall in the same date range. This prevents duplicate rows of data from coming in from APDL. If you previously sync'd APDL then changed information in these rows once in Logbook Pro, you will have to make the changes again as remember, they will be purged first. BACKUP your Logbook Pro data file (File..Archive..Backup) prior to performing a sync as a suggested practice. BACKUP is free, use it frequently!
Syncing APDL or any of our PDA products is quite simple. As we learn every aspect of our aircraft systems, this article is designed to help you understand a little more about the PDA Wizard system so you can better understand the process and the impact of the various user configured settings. If you have any questions, please post on our forums or submit a support ticket for assistance. As always, review the available resources such as listed on the support site.
Thinking about moving to Logbook Pro?
Are you currently using another electronic logbook product, whether from another vendor or a self-made system? We can import just about any other flight log out there, yours or theirs! Take advantage of over 9 years software logbook experience Logbook Pro offers and enjoy all of the reports, features, custom leather binders, currency systems, airline and charter features, and so much more! Simply submit a help desk ticket and send us a zip file of your data file(s) and we'll review the data and see if we can import it for you. If we can, this process is FREE once you are a registered customer. We'll ask for your Logbook Pro order number and then complete the process within 1-2 business days. The first step is to check if your existing program has an export feature. We prefer COMMA (CSV) or TAB delimited files if available.
Welcome to Logbook Pro and rest assured you will never have to switch logbooks again!
How to find answers to common questions
As Logbook Pro has been out over 9 years now, most questions have already been asked. Although we have been through several iterations of web sites and forum software, we are now established and have great resources at your disposal to find your answers quickly. It also helps us out if you try to find your answers from the resources we provide as every question we have to answer takes away precious development time from the other thousands of users awaiting new features, bug fixes, etc.
Here are the resources available to help answer your questions:
First and foremost, the product documentation. Within Logbook Pro you can click Help...Contents or view the documentation online. APDL and Schedule Importer products include a PDF document for you to read and/or search using Adobe Reader. These PDF's are also available online.

Search our forums. Our community forums contain not only valuable questions and answers from other users but also our Frequently Asked Questions forum where we post how-to's to assist you with questions we think may come up. We use a powerful forum system with great search functionality.

Search our Knowledgebase (KB). Not long ago we launched a new help desk system to allow easier communications with NC Software. This system also allows you to review your correspondence at a later time should you need the answer to a prior question. We transferred a lot of the Frequently Asked Questions from the forums as well as created new KB articles for you to read and help you with use of your software.

When submitting a new help desk ticket our systems will try to suggest the answer to your question from the Knowledgebase automatically. Please review the suggested articles based on the submission of your inquiry.
We don't want you to NOT ask questions, that's part of your software purchase, free support. However, if you can help us and research your issue before asking, you are only going to benefit from our time saved as we can use that time to develop your future software. We put a lot of effort into documentation and online resources, please take advantage of them. Thank you for your effort in help us help you.
Note: If purchasing from Sporty's Pilot Shop, please do not expect technical support from them. Sporty's is only a reseller of our products and we ask that any "how-to" or usage questions be directed to our free support services. The people at Sporty's are very nice and will do their best to answer your questions, but please let them do their sales work and leave the technical side to us.
The new CD's are here, get 1.10 Today!
We have a lot of updates on the new CD-ROM's from the new Logbook Pro 1.10 release which contains updates for Windows, Palm OS, and Windows Mobile, to APDL and the Schedule Importer as well as various other goodies we ship on our CD's. For only $9.95 you can order a Software CD-ROM and take the pain out of downloading and updating. Click the Buy Now button above to purchase a Software CD-ROM today.
For our new customers, you can add the Software CD to your purchase for an additional $9.95 available both from NC Software and Sporty's Pilot Shop. Great for a hard copy backup of your software purchase.
Logbook Pro & APDL Version Reference