Home | Product Finder | Help Desk | Community Forums | Downloads | Contact Us
Storewide Sale - 15% off everything thru July
Click here to learn more...
---
New Web Sites Released
On the 1st of July we published our new web sites focusing on simplicity! We took away the "art" and added in the "ease" to make your web experience fast, enjoyable, and simple. We quite frankly have "cut to the chase" in keeping our content minimal, navigation simple, and putting information where you need it. The new web sites are designed for screen resolutions of 1024x768 and higher allowing more content to fit on the screen, i.e. wider than the previous web site. The forums have been updated as well as the help desk. Stop by and visit our web site and check it out. We welcome your feedback. If you find anything wrong, something that needs tweaking, please let us know.

--Click here to visit now.
---
New Binder - The Commander Series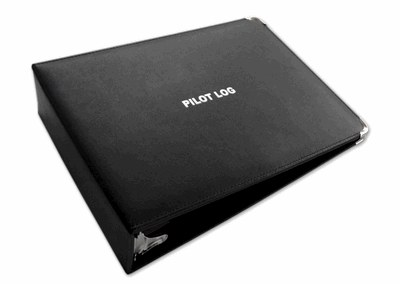 For career pilots with a lot of flying time, this is the binder for you. Cirrus Elite's largest binder holds the most amount of information with its 2-inch rings holding approximately 250 printed pages of the heavy bond Cirrus Elite durable paper. A stunning black leather with silver lettering, silver corner savers, and sturdy silver rings, not only is your logbook information secure but it will make a great presentation at an interview or any need. Inside pockets allow for loose item storage of flight cards, fuel receipts, or any other temporary storage items. Enjoy our largest and most flexible binder solution for career or high-time pilots. (Note: The same Logbook Pro reports designed for "Jeppesen & 98-004 binders" are used for printing for this binder.)

Features:
Dimensions: 9-1/4 x 12-1/2 inches
Rings: 7 x 2" diameter x 8-3/4 inch durable rings
Available in Black - soft premier leather
Two full pockets for documents on the inside covers
Holds approximately 250 sheets of pre-drilled/perforated paper
Silver Lettering with option for personalization also in silver lettering
Requires Commander series paper to fit in the durable 7 ring design that prevents page tear outs
--Click here to learn more and get yours on sale today.
---
Storewide Sale - Celebrating our new web sites
With the grand opening of our new store we hope you'll come visit and check us out. We designed the new sites based off of your valuable feedback to make things simpler. It's easier to read, easier to navigate, and just a pleasant experience to come in, find what you need (download or purchase), and get on your way. We are all too busy these days so we really concised things up to make it as easy as possible.

In celebrating our release of these new web sites we are granting everyone a 15% off your entire purchase for the remainder of July. At checkout enter the coupon code CONGRATS and you'll see the discount apply instantly. Shop as many times as you like as you can reuse the coupon code as many times as you want. It's not often we have a sale so take advantage of this great offer and we hope you enjoy our new web experience.

(Note: Data Entry Service not available for discount)

--Click here to visit now.
---
Looking for your unlock codes?
The most common inquiry we get is asking "what are my unlock codes?" It is important to save the e-mail from your purchase and also print the invoice presented on screen that shows your codes. But don't worry, we record everything in a database and we built a system to help you automatically recall your unlock codes. Visit our web site by clicking here and use our automated system to lookup your code. For those that ordered on or after September 1, 2005 you can click My Account in the upper right after logging in and then view your prior orders. The unlock codes will be displayed on your invoice. If unable to locate a prior order try the automated recall system and if all else fails, pay the $15 service fee and we'll research your records and regenerate your codes for you. Downloads are always free so visit our web site to download your software at any time.

--Click here to visit now.