Logbook Pro 1.11.7 Released - New Cloud Backup Integrations

Download Logbook Pro PC edition 1.11.7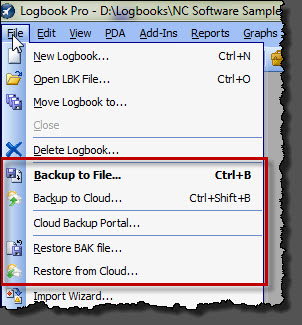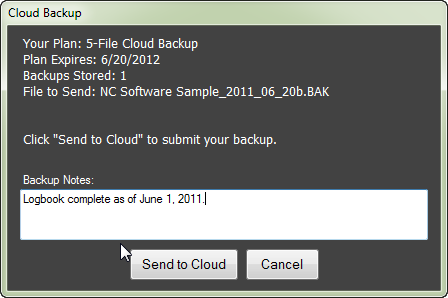 NC Software is proud to announce the availability of Logbook Pro PC edition version 1.11.7. This is a FREE update for all version 1.x customers. We are committed to providing you the absolute best pilot logbook software with our unrivaled customer service available 24x7x365. We take great pride in the quality of our software, software you can rely on. Logbook Pro is the only electronic software logbook solution that you can count on. Logbook Pro is the

most trusted, reliable, and accurate; bar none

.

Logbook Pro 1.11.7 brings an exciting new integration with our cloud backup system. Now with the click of your mouse you can easily backup directly to the cloud or even restore from the cloud. Previously you had to create a backup and then go to the Cloud Backup Portal to upload your .BAK file(s). Now you simply click File...Backup to Cloud or File...Restore from Cloud and that's it! Your backup will be created on your hard drive first so you have a local copy and then it will be transmitted to your cloud backup account for you. A cloud backup subscription is required, for details and to get your subscription now, click here. To learn more about using cloud backup from within Logbook Pro, click here for the documentation.

Revisions in this release:
Add: Backup to Cloud
Add: Restore from Cloud
Add: Date filter now has a "Last 12 Months" preset from the drop down list
Improvements to PC-to-PC Sync Wizard for Professional/Enterprise Edition users
Improvements to Cloud Sync integration
Improved grid interaction when selecting a row for the first time after a data area is opened
Fixed "System Info" button in Help/About which wasn't working across all OS's
Improved Binder Transition prompts when using the split-report system
Fixed issue with block time date/time input on some international setups
Added LSA to Options/Aircraft (Categories)
Fixed an issue where a new user is prompted to create a backup (30 day warning) when it shouldn't occur until day 30
Installation/Upgrade Instructions:
Backup your data file by clicking File..Backup
If you are using Logbook Pro 1.10.43 or later simply click Help...Check for Updates from within Logbook Pro or using the Start/Programs/Logbook Pro/Check for Updates system.
If you are using a version OLDER than 1.10.43 or you are NOT notified of an update and you're not using 1.11.7 - uninstall Logbook Pro from the Windows Control Panel Add/Remove Programs (or Programs & Features if Vista/7). Your data and registration/activations are NOT affected by software uninstall/reinstall. AFTER Logbook Pro has been uninstalled, click here to download the 1.11.7 installer. Save to your hard drive and then double-click to launch the installer.
If you have any questions about this update feel free to contact us via our Help Desk. If you want to earn commissions when referring your friends or coworkers be sure to sign up for our affiliate program.

If you made the wrong choice and you're not presently using Logbook Pro for your pilot logbook records we would be happy to help you transition to Logbook Pro. We can import most other electronic products and we offer a data entry service if you're still using paper. Click here for a list of our current conversions offered. Electronic conversions are done FREE for our new customers.

Still using an evaluation edition of Logbook Pro? Click here to get your registration code instantly online or click here to buy through our premier partner - Sporty's Pilot Shop.

Celebrating the 4th of July here in the United States, why not throw a bash worldwide for all of our great users. NOW through Midnight Eastern (GMT -4) July 4, 2011 take 15% off storewide. Be sure to apply the coupon code during checkout.

Your coupon code is:



FIREWORKS2011



We cannot apply discounts retroactively so review your order prior to submitting payment and on the payment page enter the coupon code above and click apply. Verify that it has applied. Data Entry Service is excluded from the sale, everything else is on sale now!

Logbook Pro for Android almost here; coming July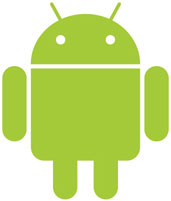 Logbook Pro for Android is almost complete! Our beta team is busy testing away and we are finalizing the code for the big day. The goal was end of June but we are not going to release with anything rushed, less than perfect, etc. So we're going to take just a few more weeks and make sure you get nothing but the best at the time of release. It will be July, the exact date has not yet been determined. The minimum Android OS required is established at 2.2. Stay tuned, the next news will be the Android announcement.
Logbook Pro for iPhone & iPad 2.3.4 released


NC Software is proud to announce a free update to Logbook Pro for iPhone, iPod touch, and iPad version 2.3.4. To update go to the App Store on your device and then tap UPDATES and you should find the 2.3.4 update ready to install. This update comes in a series of minor updates tweaking the app to perfection and incorporating great suggestions from you, our customer. Note: If you are using version 1 of the app you will NOT get notifications of updates as this is a separate product line. Click here to go to the App Store and download v2 now.

Revisions in this release:

✔ Added new preference to Settings/Synchronization to allow control of time zone used to sync OOOI times to My Sync portal (Local or UTC) to control what is shown in Logbook Pro PC. This setting is not affected by the Use GMT option in Settings/Flight Log. If you log OOOI times and want this information to be shown in Logbook Pro PC as local times set this option to OFF as GMT is the default to keep a single time zone across all OOOI times for duration calcs, etc.
✔ Added UTC offset above OOOI times to assist in converting local to UTC, etc. when Use GMT is ON
✔ Added Time Zone abbreviation when in Local time (above OOOI fields) to show the device local time zone that you're using (when Use GMT is OFF)
✔ Fixed an issue with the Remarks input
✔ Improved Data Sorting in Flight Log area
✔ Improved integrations with new application updater and Apple App Store
✔ Improved on demand sync to work with Home Screen

Review the updated product documentation at http://logbookpro.com/docs/iphone to learn how to get the most out of your app. If you have any problems or questions please contact us via our help desk at http://helpdesk.nc-software.com.

Thank you for your continued support and outstanding feedback and product suggestions. This app has become wildly popular with over 23,000 users and we are thrilled you like it! Need info on cloud sync subscriptions? Click here.
Using another e-Logbook? We'll convert you to Logbook Pro FREE
Did you know we do logbook conversions from other electronic software products -- FREE?

We will gladly convert your "other" electronic software logbook for you at no charge. This is a FREE one-time service for new customers. Simply send us a zip file of your current logbook data and we'll verify we can convert it, if so, we'll ask for your Logbook Pro PC edition registration code to proceed with the conversion and we'll complete the conversion for you. We welcome you to Logbook Pro and hope you enjoy our wide range of software for general aviation and airline pilots, our Cirrus Elite binders, and other add-ons to make flight logging fun and useful. Logbook Pro is the leader for ease of use, quality and support, data analysis and reporting, and free upgrades for over 12 years now! It's time you made the move.

We have a Knowledgebase of conversions which is only a list of our most common conversions. Contact us even if you're product is not listed and we'll gladly see if we can convert your data.
Did you know Logbook Pro has an Import Wizard that can import just about any comma (CSV) or TAB delimited file? If your logbook product has an export feature, most likely you can make the transition yourself. Click here for details on the Import Wizard which is functional even in the Eval of Logbook Pro.

Using a Mac? No problem. Click here for details on how to run Logbook Pro on a Mac.
Join our Affiliate Team, spread the word and earn cash


Many of you refer people to us and we thank you. We want to pay you for your referrals! We'll provide you access to our private affiliate portal to get banner ads for your web site, Facebook wall, or for those without a web site you can create custom links to e-mail out or put in your online signatures, etc. Send messages out to your twitter followers or post to your Facebook wall and earn money in no time. All it takes is one click of your link and if the person makes a purchase within 30 days you will get paid.

Click here to join today. It's free, easy, and you can start making money immediately. You not only cover the cost of your Logbook Pro purchase but you can make money in the process. You do not have to be a current customer to join. Read the details and join the program today.
| | |
| --- | --- |
| Product | Version |
| Logbook Pro PC Edition | 1.11.7 |
| Logbook Pro Universal App for iPhone, iPod touch, and iPad | 2.3.4 |
| Logbook Pro Palm Companion | 1.10.5 |
| Logbook Pro Pocket PC Companion | 1.10.16 |
| Airline Pilot's Daily Aviation Logbook - Palm OS | 6.0.4 |
| Airline Pilot's Daily Aviation Logbook - Pocket PC | 6.1.4 |
| FlightCentral Route Browser | 2.2 |
| Airline Schedule Importer | 8.3 |
Click here to download updates as required.
Want to receive this newsletter directly in your inbox? Click here to subscribe.