Announcing Logbook Pro for iPhone, iPod touch, and iPad version 3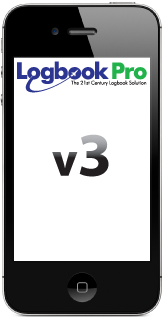 NC Software is excited to announce the 3rd generation of our popular flight log app for Apple's iOS devices - Logbook Pro for iPhone, iPod touch, and iPad version 3. Version 3 is now available on the Apple App Store, click here to download now.

With the version 3 app we've improved the entire architecture of the app making adding new features and functionality faster and more reliable. We've added exciting new features such as a completely new and innovative in-app schedule importer, a new weather screen to easily and quickly check METAR and TAF for one or multiple destinations, and we've completely redesigned the time zone integration in the app. Now you can set the app into one of three time zone options: "Device Local" (wherever your device resides for those that travel, "UTC", and now "Custom" where you can choose from a list of time zones available on your device to lock it into a fixed time zone. You can also specify a time zone option for syncing back to Logbook Pro PC edition so you can log one way and sync back to the PC edition another way, such as UTC.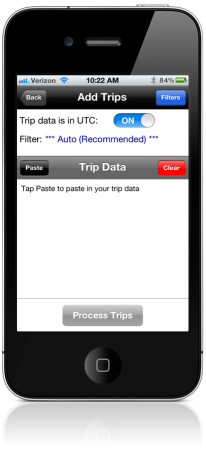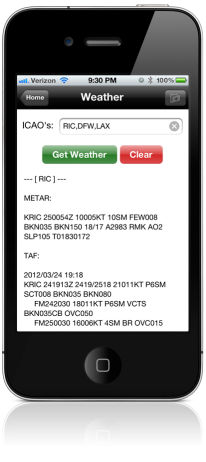 More exciting new features include the new Facebook and Twitter integration. When saving a flight you can now share your flight to your Facebook Timeline or Twitter feed and show off your flying prowess. Join our affiliate program (free) and the link included with your Facebook or Twitter post will have your affiliate tags embedded so if anyone follows your link and makes a purchase you'll earn commissions on their purchases. We've opened up our affiliate program to the world now with the new payments via PayPal support. Sign up today and then enter your Affiliate ID into the Settings area of your app and that's all you need to do. Those that prefer to be paid by PayPal instead of check can update their settings once joined.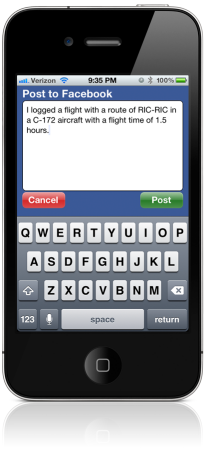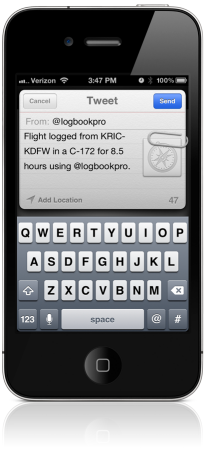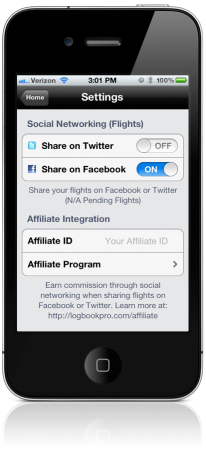 Logbook Pro v3 for iOS adds support for the new iPad (3rd gen) as well as many other features for you to enjoy. Click here for a short video showing you the new features in action, or click here to view the updated documentation. You can also click here if you prefer to view the video on our Logbook Pro YouTube channel.

Last but not least, all customers that purchased "Cloud Sync Device Subscriptions" have all been granted courtesy upgrades to the universal "Cloud Sync for Apps" subscription. You can now use your v3 app on your iPhone, iPod touch, or iPad at no extra cost!

We hope you enjoy Logbook Pro on your iPhone, iPod touch, or iPad as much as we do! Download your app today and check it out.

Thank you to all those that provided such awesome feedback, suggestions, and support to help us bring you the most trusted, reliable, and accurate flight log solution on the widest range of devices. We are thrilled to see Logbook Pro for iPhone and iPad become the most popular aviation logbook for Apple's devices.

All Cloud Sync Device Subscription holders upgraded to Cloud Sync for Apps
We are happy to announce that all Cloud Sync Device Subscription subscribers have been given a courtesy upgrade to Cloud Sync for Apps (formerly Cloud Sync Universal). You no longer have to worry about changing devices or using one device of your collection. With your cloud sync subscription now promoted to a "Cloud Sync for Apps" subscription you are now free to use Logbook Pro on any device that works with cloud sync. This includes iPhone, iPod touch, iPad, Android phone, Android tablet, Kindle Fire, and NOOK.

No action is required on your part. Simply fire up your favorite device, go to the connected App Store your device uses and install Logbook Pro. Follow the setup instructions which can be found on our home page under each respective app store badge and that's it! Use one or all of your favorite devices! The apps' are FREE and with your one low cost cloud sync purchase you are now free to use any and all devices you own that runs Logbook Pro.

Affiliate program opened up to worldwide with new PayPal payment option


We updated our affiliate system which now supports payments via PayPal. As a result we can now open up our affiliate membership to worldwide. If you use Logbook Pro and you want to earn money simply by referring your friends or coworkers, click here to join our affiliate program today. It's totally free and once your application is approved you'll gain access to your own personal affiliate console. You can generate links, use our banner ads, receive our affiliate team notifications, and also get an Affiliate ID you can use in your new Logbook Pro iPhone/iPad v3 app so when you share a flight log entry on Facebook or Twitter and someone follows your link and then makes a purchase from our web site you'll earn commission!

If you are a new affiliate or an existing affiliate and want to be paid by PayPal, login to the affiliate console and update your settings. When you join the default option is to be paid by check, once you're approved you can change this to PayPal.

Click here to join the affiliate program today and earn easy money on your referrals of friends, coworkers, fellow pilots to our web site. It doesn't get any easier than that - we can't wait to pay you!

Spotlight: Cirrus Elite Premier Binder

The Cirrus Elite Premier binder is a professional binder for the aviation enthusiast with stylish gold corner savers, gold embossed lettering, and a quality leather design. One of our most popular binders for the general aviation community with six rings to prevent page tear outs and inside pockets for credit card storage, fuel receipts, keys, etc. Available in various colors with a wide range of paper choices available from blank inserts for your computer printer to manual log pages and notes & endorsement pages for just about any aviation requirement. This binder may be personalized with your name using a maximum of 15 characters.

Features:

Dimensions: 10 inches long x 6-1/2 inches wide
Rings: 3/4 inch diameter x 6 inch heavy duty gold rings
Colors: Black and Brown soft premier leather
Option for personalization on front cover
Holds approximately 80 sheets of pre-drilled/perforated paper
Pockets for identification and credit card in front cover for convenience
Black Edition Features

Gold Lettering with the option for personalization also in gold letters
Gold corner savers and heavy duty gold rings
Identification or credit card pockets on the inside cover

Brown Edition Features

Gold Lettering with the option for personalization in gold letters
Gold corner savers and heavy duty gold rings
Identification or credit card pockets on the inside cover
Click here to learn more about the Cirrus Elite Premier binder and order yours today.

Click here for paper products specific to the Premier binder series including blank inserts for printing from Logbook Pro, manual log pages, notes and edorsement pages, and vinyl sleeves.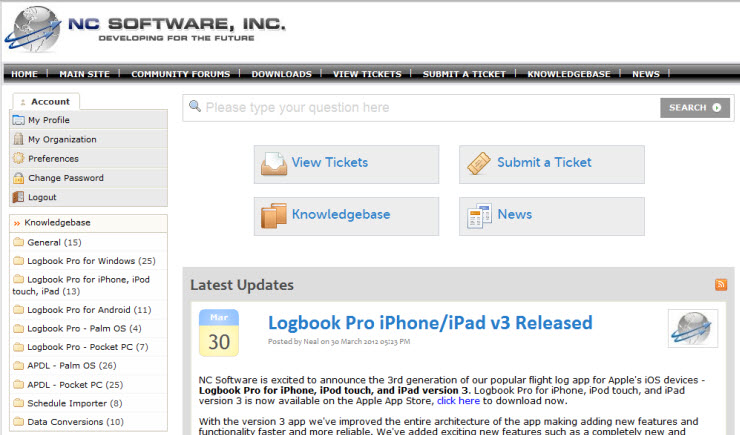 On Monday, April 23rd we completed a major upgrade of our help desk. We take pride in rapid, responsive, and accurate customer service around the clock each and every day of the year, holiday, weekend, you name it! We are all passionate about our products and services and most importantly YOU, our customer. We have put in place systems to help you find answers fast! Common questions or questions we think could be common are created into Knowledgebase articles. You can register to use the help desk if you haven't already done so, the registration is separate from our main web site and community forums.

If you have a problem or a question, try searching the help desk from the main page as shown above. If you need to contact us the best way is to use the help desk and NOT e-mail, this will ensure we receive your message and it bypasses your e-mail system checks and ours such as spam, junkmail, etc. and we will be certain to get your message right away. Click the Submit a Ticket option and fill out the details as best you can and then we will respond shortly. You can always come back and view prior tickets as well by clicking "View Tickets" if you need to refer to a question you had previously.

We typically respond to inquiries within MINUTES! If you do not receive a response within one business day we most likely did not get your message. If you do not see your ticket in the "View Tickets" list and the status us not OPEN or ON HOLD then please post to our community forums to tell us you are unable to get through to us. The community forums is an alternate means of contacting us and should be used for any question that someone else may be able to learn from.

We are also available during normal business hours via our Live Chat system. On the lower left of the help desk or on the bottom of the page in any of our other web sites you'll see the Live Chat status. If it's green "online" you can click the button to initiate a live chat session with our staff.

We hope you enjoy our support systems in place to help you efficiently. While we are unable to offer phone support you will find our help desk to be a better solution to get answers even faster with no hold, voice mails, or wait times. Our response time is typically within 15 minutes! We take great pride in offering the absolute best customer service of any company you've ever dealt with!

Click here to get familiar with our new help desk at your leisure.
Have paper logs? Let us enter them for you...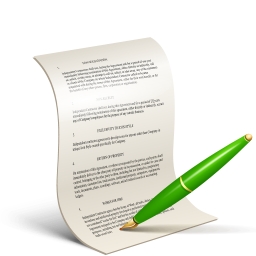 We'll take the hassle out of moving from paper logbooks to Logbook Pro by entering all of your paper logbook flight data for you. Simply send us your logbooks or photo-copies of your logbooks and we'll either add to your existing Logbook Pro data file or create a new data file if you're not yet a Logbook Pro user. Please contact us prior to starting this service or paying your data entry service deposit as limited slots are available. The fee paid is applied towards the total cost of your data entry service. If there is a balance due, we'll arrange additional payment, if the deposit is in excess, we'll credit your account.

We have pilots (all in the United States) that volunteer their time to assist you and help them earn additional money for their efforts. We do not "off-shore" this work and NC Software does not profit from this service, it is all pass-through to the pilot handling your job. After purchasing this service we will contact you to proceed with shipping your logbooks and receiving your contract to begin.

Purchasing this service online is paying the deposit required and is applied toward the total cost of the job when the job is completed. To estimate the cost of your job please use our Data Entry Service Estimator available by scrolling down at http://logbookpro.com/des. Enter the number of lines we will be entering for you and then click "Calculate".

The price break down for this service is as follows:
Service fee: $75
Lines 1-500 $.25/line entry
Lines 501-1000 $.23/line entry
Lines 1001-2000 $.20/line entry
Lines 2001 and over $.18/line entry
Expedited service fee add $500
If you opt out of having remarks entered we will discount your line entry fees 10% as remarks are the most labor intensive and take a lot more time to enter and serve little purpose in a logbook other than sentimental value
We offer two service levels as described on our data entry services page: Normal and Expedited services. Click here to learn more.
| | |
| --- | --- |
| Product | Version |
| Logbook Pro PC Edition | 1.12.0 |
| Logbook Pro Universal App for iPhone, iPod touch, and iPad | 3.0.0 |
| Logbook Pro for Android/Kindle Fire/NOOK | 1.0.9 |
| Logbook Pro Palm Companion | 1.10.5 |
| Logbook Pro Pocket PC Companion | 1.10.16 |
| Airline Pilot's Daily Aviation Logbook - Palm OS | 6.0.4 |
| Airline Pilot's Daily Aviation Logbook - Pocket PC | 6.1.4 |
| FlightCentral Route Browser | 2.2 |
| Airline Schedule Importer | 8.4.8 |
Click here to download updates as required.
Want to receive this newsletter directly in your inbox? Click here to subscribe.
To opt out of future mailings click here or manage your newsletter subscriptions online by clicking here. You can mail unsubscribe requests to: NC Software, Inc., 2711 Centerville Rd, PMB 5115, Suite 120, Wilmington, DE 19808.


Logbook Pro is a registered trademark of NC Software, Inc.
All other trademarks or registered trademarks are property of their respective owners