Labor Day Sale: Sept 1-3 (Sat-Mon)
Labor Day Sale: 3-Day Event
15% OFF


Saturday Sept 1st thru Monday Sept 3rd




Coupon Code at Checkout:

LABORDAY12

Sale Details:

http://logbookpro.com/sale


Take advantage of our upcoming 3-Day Labor Day Sale event to save big on your Cirrus Elite binders, turn-key printing service, subscriptions, licenses, upgrades, and more. Even if you already have a subscription you can purchase a renewal during the sale and extend your existing subscription at a discount. The same applies to turn-key printing, even if you're not ready to print now you can purchase the service and print at any time in the future, just send us your Logbook Pro backup when ready to get started with your purchased service. To learn more about the labor day sale event click here.

Announcing Logbook Pro for iPhone, iPod touch, and iPad version 3.5

Announcing another free major update to our Apple iOS line of software - Logbook Pro for iPhone, iPod touch, and iPad version 3.5. This update adds new features and improves significantly on existing features. We thank you for your suggestions, feedback, and special thanks to our beta testers that really put this app through the ringer ensuring our huge community of users have nothing but the best in their hands. Click here to go to the Apple App Store and download your free app or update today.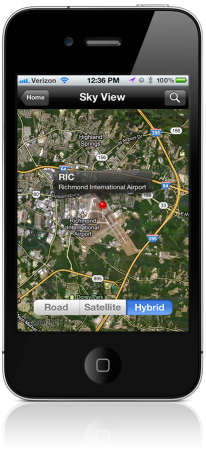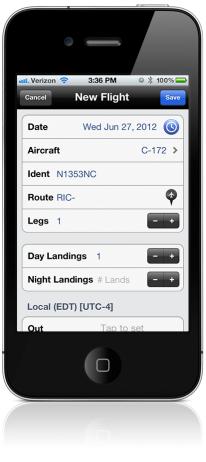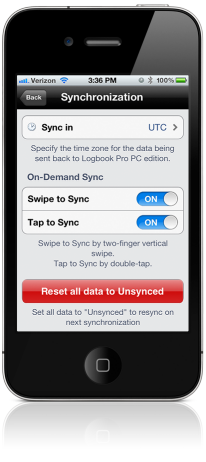 The image on the left (above) is of the brand new "Sky View" system. Sky View allows you to enter any airport identifier by tapping the button on the top right and then a map will appear giving you an overhead image of the airfield. Whether just for fun or to study the airfield you may have never flown to, Sky View can be an important part of your preflight planning.

You'll notice a new button on the right side of the Route field (middle image above). When first using version 3.5 you'll be prompted by the device to allow Logbook Pro to use your location (i.e. enable location services for the app). You can turn this on/off at any time in the device's settings/location services area. When on or near the airfield tapping this button will automatically find the nearest airfield and enter it into the route for you. Start a new flight log entry before you take off and tap this button to put in your destination, when you land tap again and it will enter the destination airfield once again.

We have DRASTICALLY improved the performance in the Flights screen. While we tell you that data on the device serves no purpose and you should purge it once it's synced to Logbook Pro Desktop to keep your device lightweight, fast, and responsive, we realize that many don't purge the data. We revised the code extensively so the Flights screen will load much faster now regardless of how much data you have and it will scroll much better, etc. As you may know we do plan to offer full data sync in a future version, the current version is designed as such for various reasons but we have big plans ahead. This design change for the current release is the start of moving towards more data on the device.

Should you ever need to resync your device data again you previously had to tap each item on the device and resave it. We added a feature on Android long ago since it has popup menus to allow you to mark all items as unsynced. That's a big more of a challenge in iOS so we added a button on the bottom of Settings/Synchronization (right image above) that will allow you to mark all as unsynced. As the flights is a true sync system, you can actually resync all your data and it will not duplicate the information in Logbook Pro Desktop or in the cloud.

Numerous other improvements have been added such as the ability to purchase subscriptions directly within the app down to 30 day increments from the My Account area. Schedule importing is faster and we added a progress bar so you can see the progress when importing a large amount of data. Weather is improved and overall we finally have brought this app to where we are thrilled with everything about this app! It has been a huge pleasure building this app through continuous updates over the past two years and we look forward to more great things ahead. And our airline pilots will be happy to see our APDL version 7 product coming soon that will finally provide airline pilots what they truly need for FAR 121 use. Logbook Pro and APDL are two completely separate lines of products as you may already know. Logbook Pro is not meant to replace APDL.

Logbook Pro for Android 2.0 Public Beta (Android OS 4.x)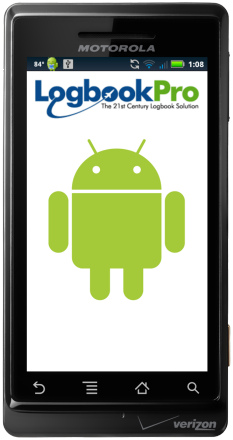 Logbook Pro for Android 2.0 is almost here, we are about 95% complete, and is now in public beta if you'd like to give it a try now. Logbook Pro for Android 2.0 adds support for Androis OS 4.x (i.e. Calendar integration not supported in the current release) and adds numerous new features now available in the Apple app such as new time zone handling, weather, Sky View, better numeric input, a completely redesigned and more capable in-app schedule importer and much much much more! Without further ado, click here to learn how to install the latest public beta today.

How to have your entire flight log on your iPhone, iPad, or Android device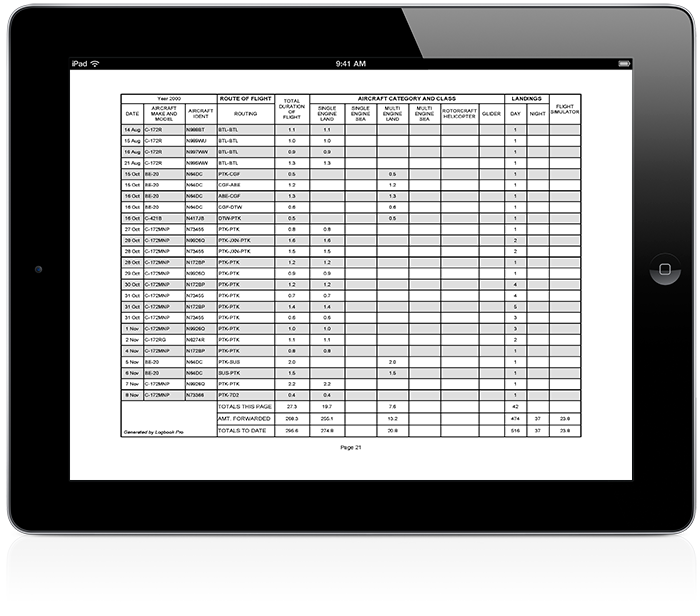 Our Logbook Pro apps are light weight high speed reliable apps to allow you to quickly add new information via your device and sync back to Logbook Pro Desktop through the simple to use cloud sync system. The Logbook Pro apps do not carry your full logbook in the data area but the reports do cover your entire Logbook Pro data. Some people have asked how to present Logbook Pro via their iPad as an example or simply to have with you when you go fly - there's always a way!

We recently published a KB article on how to do just this. Both iOS and Android devices can view PDF documents among other file types. ALL Logbook Pro reports have the ability to export to PDF. Take a few moments and run the reports you want on your device such as your Aircraft Configuration Summary, Certificates, Ratings, History, and Flight Log, and maybe add a few of the Flight Log summary reports. View your report on screen and click the Export button on the toolbar (or File/Export menu) and export to PDF. Now all you have to do is transfer your PDF documents to your device which is not hard to do at all. The easiest method is use an account such as Gmail and e-mail them to yourself then check your e-mail on the device and save the documents (or leave them in the e-mail for access that way). You can also use cloud apps such as Dropbox, PDF reader and Documents apps, etc. To get your PDF's to iBooks for iPhone/iPad click here for a nice article.

We are only limited by our own imagination. With devices having so much capability these days there are great ways to accomplish tasks either via apps or integrations.

Airline Pilots: Ready to Interview...TOMORROW?
Are you an airline pilot hoping for an interview? Are your logbooks in Logbook Pro or still on paper? Are you ready to fill out complex applications that want your times sliced and diced in ways you never imagined? Are you ready to interview now if called in? Expect the unexpected, be prepared, interviews are not predictable!

Recently we have been working frantically to help frantic customers prepare for short notice interviews. We've been FedEx'ing print jobs to hotels for 8 AM deadlines the next day, we've been sending Commander series binders on "need it yesterday" orders. PLEASE prepare yourself and do not procrastinate! Interviews ARE picking up and we are thrilled to assist you in any way we can. Now let's help you get prepared.

Filling out applications is painful and quite frankly impossible these days without Logbook Pro. You simply cannot get the times they need "with confidence" without Logbook Pro's assistance. When an interviewer stares you in the face and asks you "are these numbers accurate" you need to stare him or her straight back and answer with confidence "yes sir/ma'am". If you are presenting a Logbook Pro printout then your certificate of trust is built in. But if you go to an interview with paper logbooks then the complex numbers for the application may very well be in question and you'll be asked to show how they add up or why they don't make sense. So let's avoid this problem and get your info into Logbook Pro. Your options are: 1) Lock yourself in a room or hotel and jam away, or 2) Let us do this why you play golf. We offer a data entry service and most of our guys are airline pilots too (U.S. based) working for some extra money and are all expert Logbook Pro users themselves. They will assist you in getting your data input and done right.

Get your binder on the way WITH extra blank paper so you can do any printing you need whether you have us do your printing or not. As a career (past/present/future) pilot you'll want a binder that has the capacity for the amount of flying you will be doing when you DO get hired. The most popular and versatile binder is the Commander series which can hold approximately 250 pages of the heavy bond cirrus elite commander series paper. At about 42 +/- lines (front/back) per page that's obviously a lot of info it can hold. The second choice is the Full-Size Binder which is also a full page layout (not compact) which holds approximately 100 pages of the cirrus elite paper and slightly less expensive in the short term.

So now we have Logbook Pro Desktop, you have your data entered by you or our data entry staff, and you have your binder. You are now armed and ready for your interview! The next step is slicing and dicing your data to get the info you need for your application(s). Here are a few links to review to help you use the "Analyzer" in Logbook Pro (click View/Analyzer):

-Preparing for an Interview? Meet the Analyzer
-Interview Prep Guide
-Analyzer Videos: YouTube | NC Software
-Analyzer Documentation

Now that you have your data in Logbook Pro and you're an expert with the Analyzer to get your data out for any application requirement, it's time to get your hard copy printout ready. Printing from Logbook Pro is not hard but as with anything new, there is a learning curve mostly for how your printer works. Printing is easier if you have a "duplex" (front/back) capable printer but if not then it's still doable with the split reports series of reports under Reports/Flight Log in Logbook Pro. Laser is preferred as ink jet can smear with moisture, humidity (sweaty hands), rain, etc. Refer to the articles below to help you get started with the printing features in Logbook Pro. If you are in a crunch or simply not on good terms with your printer, we offer a color laser turn-key printing service. Just like the data entry service we can also do the turn-key printing on short notice if needed. All we need is your Logbook Pro backup (click File...Backup to File) and we can take it from there.

-Printing Article
-Printing Documentation

If you need any help whatsoever, ASK us and we'll gladly and promptly assist you. E-mail is direct at sales@nc-software.com or use the help desk, they both get to us promptly. We want you to get hired and we know when you take your Cirrus Elite binder and Logbook Pro stamped printout into your interview you are a step ahead of the game.

Good luck and we hope you get hired soon! Just be prepared for that interview NOW and don't get caught with....well, you know!
We've been EXTREMELY busy writing code at NC Software! Yikes -- it's SEPTEMBER already, how time flies when you're mega busy!!! I apologize for the recent lapse in newsletters, we've been in such high gear production that we decided to skip a few to put every available minute into exciting products and updates we're working on. I'd like to take this opportunity to update you as to what's going on here at NC Software and tell you what's in the works:

Logbook Pro Desktop vNext:

As you've heard about far too many years, we've been hard at work on the revolutionary new logbook product. It is not only a complete rewrite but it's also using the latest Microsoft technologies and even a different programming language than used before. We've had to divert resources from this ongoing project over time as other items such as our iOS and Android mobile products were higher priority to work with our existing Logbook Pro Desktop product. While we have full time developers working on Logbook Pro Desktop soon we will be adding more people to the project as our Logbook Pro mobile apps have finally reached the feature level we've been striving to achieve. As with all software development, it takes longer than expected (okay, much longer) and putting a date on it is simply not feasible, just know something huge and something great is in the works like nothing you've seen with e-Logbooks! We are privately testing and will add more testers and eventually public beta when the product gets further along the production process.

Logbook Pro for iOS (iPhone/iPad) and Android:

We just released a major update to Logbook Pro for iOS which brings this product to exactly where we want it. Rock solid, feature rich, and tremendously useful to our customers. We will be working to ensure full iOS 6 compatibility as the new Apple mobile OS nears should the app require any updates at all.

Logbook Pro for Android 2.0 is now in public beta and is nearing final release. It too brings the app to a stable, feature rich, and functional level we've been striving to achieve in our Logbook Pro mobile lineup. With Android's broad reach in phones, tablets, Kindle Fire, and NOOK we are really able to arm more and more pilots with our mobile solutions that work seamlessly with Logbook Pro Desktop.

Both iOS and Android mobile platforms have been a dream to work with compared to their predecessors for Palm and Windows Mobile. We will certainly look into to supporting the new Windows Phone 8 and Slate Tablets releasing September 26th. We are honestly shocked at the number of users/devices using our mobile platforms, it's extremely rewarding to see Logbook Pro in use by so many in the aviation industry.

Logbook Pro API:

In a recent newsletter we informed you (our fellow developers) that we will soon be releasing an API to allow other logbook vendors to integrate with Logbook Pro's solutions. We have gone back and forth whether to wait for our new web site to go live or to complete the API system first. At this writing, we plan to move forward with the API after Logbook Pro for Android 2.0 is released (very soon) and then focus our attention on the new web site we have planned. We'll certainly announce the details when the API is ready.

Airline Pilot's Daily Aviation Logbook "APDL" version 7

Development is progressing well on this product but like everything else, it's taking longer than expected. This is in part that we are completely redesigning APDL from the ground up to fix some limitations that we had in version 6 and prior and we are also having to accommodate not only the current rules/regulations but also the new ones. I know our airline pilots desperately need a good system to help with FAR 121 specifics and nothing has ever come close to what APDL offers. Please be patient as it will be worth the wait. We don't rush our products, we do them right or we don't do them at all, we are doing APDL right and not providing you some bandaid solution as others have tried. Keep in mind our "Logbook Pro" mobile apps are in no way replacements for APDL, we have two completely separate lines of products, one for G.A. and one for FAR 121. We have pumped up the features in Logbook Pro to help airline pilots until we can get you APDL v7.

APDL v7 initial offering will be for Apple's iPhone, iPod touch, and iPad only. Once we stabilize the feature set after use in the field and get your valuable feedback and further improve the product for your needs will we entertain other platforms such as Android and Windows Phone 8. Just like all other products, we will first test with our private beta team and then call for additional testers. We already have volunteers in the queue, if you are interested in testing APDL v7 for iOS and you're experienced with prior versions of APDL you're welcome to send us your request to participate to sales@nc-software.com at any time.

Logbook Pro Desktop v1

We have a maintenance release in the works for Logbook Pro Desktop version 1. As with all other updates the prior 15 years this will also be a free update. We continue to receive great suggestions and think of ways to make the product better without taking too much away from the efforts on Logbook Pro Desktop vNext. We will also need to add the required integrations for APDL v7 as that time nears so expect another update or two in the near future. We're happy that the product remains rock solid and feature rich and integrates seamless through the cloud for cloud sync and cloud backup.

Route Browser

As you may or may not know we acquired Route Browser from FlightCentral. We are planning an update as time permits to this handy add-on for Logbook Pro Desktop. We'll announce the details once we accomplish this task. If there is anything you'd like to see added or improved with Route Browser please let us know. We welcome your suggestions for any of our products at any time.

New Web Site/Portals

Last but not least we are always working to make your web experience the best when visiting any of our three web sites (main, help desk, and forums). We invite you to participate in our community forums to ask any questions you may have or help others. While our primary sales and support communication is through our help desk portal we do like people to use our community forums when possible so others can learn from your questions too. You may have noticed some of our new branding appearing in our mobile line-up which are pairing with our new company and web site branding changes. We're always working hard to make "finding things" easier, it's a difficult task when you try to offer so much on the web from product info, documentation, videos, support, etc. The best thing to do is scroll right to the bottom and use the sitemap where we try to include links to everything from there. We will continue to improve our portals for cloud sync, backup, and schedule importing, and help you find information such as your prior orders, codes, etc. easier. We are continually working to improve our business and efforts to provide you nothing but the best.

And yes, we're expanding and hiring. If you'd like to be part of our team of talented software developers please send us your resume to careers@nc-software.com.
Windows on your Mac: VMWare Fusion 5 and Parallels 8 with Mountain Lion and Windows 8 support
Apple makes great hardware, although expensive, and it's easier than ever to run Windows on Mac OS X with great utilities such as VMWare Fusion (our favorite) or Parallels Desktop for Mac. Apple also makes it incredibly easy to run Windows on Mac's with its boot camp utility where you simply create a separate partition on your hard drive where you boot into either Windows or Mac taking advantage of your powerful hardware to run any OS you want.

With VMWare Fusion and Parallels, no reboot is required, you simple launch Windows like any other app, run it full screen and enjoy your favorite Windows apps along side your Mac apps. Logbook Pro Desktop runs on Windows XP thru Windows 8 and our FREE apps for iPhone, iPod touch, iPad, Android Phone, Android Tablet, Kindle Fire, and NOOK all work seamlessly as they sync over the cloud without any hassle of Wi-Fi pairing, Bluetooth, or other crazy connection methods. Synchronization takes all of two seconds and you're done! It doesn't get any easier than that!

Arm yourself with the market leader in electronic software logbooks - Logbook Pro! The most trusted, reliable, and accurate pilot logbook software and the most affordable with your non-subscription license of Logbook Pro Desktop (all version 1.x updates are free as they have been nearly 15 years and running) and your free apps which require a single cloud sync subscription to use any and all apps/devices you wish. At just $69.95 for Desktop and $29.99 for cloud sync, you have at your disposal the most cost effective logbook solution available.
| | |
| --- | --- |
| Product | Version |
| Logbook Pro PC Edition | 1.12.0 |
| Logbook Pro Universal App for iPhone, iPod touch, and iPad | 3.5.0 |
| Logbook Pro for Android/Kindle Fire/NOOK | 1.0.9 |
| Logbook Pro Palm Companion | 1.10.5 |
| Logbook Pro Pocket PC Companion | 1.10.16 |
| Airline Pilot's Daily Aviation Logbook - Palm OS | 6.0.4 |
| Airline Pilot's Daily Aviation Logbook - Pocket PC | 6.1.4 |
| FlightCentral Route Browser | 2.2 |
| Airline Schedule Importer | 8.4.8 |
Click here to download updates as required.
Want to receive this newsletter directly in your inbox? Click here to subscribe
To opt out of future mailings click here or manage your newsletter subscriptions online by clicking here. You can mail unsubscribe requests to: NC Software, Inc., 2711 Centerville Rd, PMB 5115, Suite 120, Wilmington, DE 19808.


Logbook Pro is a registered trademark of NC Software, Inc.
All other trademarks or registered trademarks are property of their respective owners