New Releases for Desktop (1.12.6), iOS (4.0), and Android (2.0.1)
We've been rolling out new releases across the board with more great things to come (now in development). If you're not subscribed to our Revision History Forum I suggest doing so and then you'll get an e-mail notification when we add new release announcements to this area. The revision history forum is also a great place to go when you want to find out the details about our latest releases, what changed, etc. In the past 1-2 months we have released major updates for Logbook Pro Desktop, Logbook Pro for iPhone, iPod touch, and iPad, and Android. Be sure to check our versions/download page at any time as well for the latest version numbers and download links.

Logbook Pro Desktop 1.12.6

- Improved security with cloud communications using secure and encrypted data
- Improved detection of proxy and firewall configurations
- Cloud account credentials now stay with the data file to make it easier for those backing up and restoring files
- Added new intervals to the LOOKBACK report for Flights and Hours now showing the last 28, 30, 60, and 90 day stats
- Added a new date preset on the report/analyzer date filter window to easily choose "Last 28 Days"
- Improved layout save/restore routines. (If your layout becomes locked transitioning to the new system you can easily reset it following this KB article)
- Add a checkbox to Options/Backup to bypass password prompt when creating backups
- Changed label on backup password dialog from Cancel to "Skip Password"
- Fixed an issue when printing charts to a printer other than the windows default printer
- Fixed a data sort issue in some flight log reports extending the sort pattern to use OUT and/or TAKEOFF if available for leg sequencing
- Fixed layout issues in Percentages report
- Custom Text fields not populate like other Auto Filled fields when the Duration value is input instead of having to TAB across custom fields to activate the cell and pull in the AutoFill data
- Improvements to layout (data grouping) in the Aircraft Configuration Summary Report
- Improvements to the custom report template system
- Web links to resources such as portals for cloud sync, backup, schedule importer will now open externally to Logbook Pro using your default web browser
- Changed any remaining terms "My Sync" to "Cloud Sync"
- Updated installation system for Windows 8 support

To update Logbook Pro Desktop simply backup your data (File..Backup to File) and then uninstall Logbook Pro from the Windows Control Panel (data and registrations are NOT affected) and then click here to download the latest desktop version and install it.

Logbook Pro for iOS 4.0

- iOS 6 and iPhone 5 Compatibility
- Improvement to Time Calculator to show total minutes on leg total and grand totals
- Native iOS 6 (device) social networking integration (Twitter and Facebook)
- Various other improvements and enhancements

3.5.x Improvements:

- New button on right side of Route field to auto-enter the airport at your location
- New Sky View to get overhead views of airports
- Improved Weather system
- Significantly improved performance in data listing (Flights, etc.)
- Progress indicator and other improvements to in-app schedule importer
- My Account screen shows your subscription statuses
- Added a button at the bottom of Settings / Synchronization to easily requeue all data to be synced again

Click here to get the latest Logbook Pro FREE app from the Apple App Store

Logbook Pro for Android 2.0.1

- Android OS 4 ("Ice Cream Sandwich") support
- Support for new Kindle Fire HD and NOOK HD tablets
- Enhanced in-app schedule importer allowing you to process trips directly from within the app, no need to go to the web portal
- New Sky View for overhead imagery of airports
- New Weather screen to pull METAR and TAF information on one or multiple airports
- New button on right side of route field to auto-enter the airport at the current location of the device
- New time zone support offering three modes: Device Local, UTC, and Custom
- New sync time zone support to sync data back to Logbook Pro Desktop in a desired time zone
- Improved performance in Flights list
- Improved Time Calculator showing total minutes along with decimal and HH:MM presentation
- Improved data entry of time values using a numeric keypad instead of alpha-numeric keypad

Click the link for the Android app store you wish to download 2.0.1 from: Google Play, Amazon, Barnes & Noble (for NOOK only)

Thank you for your outstanding feedback, special thanks to our outstanding beta testers that keep us to the high standards of software you expect, and we are happy to bring you free updates to Logbook Pro Desktop for 15 years now! We are continuing to work hard to bring you great tools to help you as a pilot and we have great things to come in the near term and long term.

New Devices Rolling Out: iPhone 5, Kindle Fire HD, NOOK HD, and maybe iPad mini?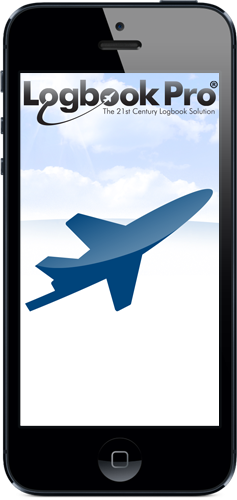 If you watch television any day or night, chances are you will see an ad with a cell phone or tablet during your viewing time. You'll hear it on the radio, it's in the news, we are obsessed with this technology?!? Devices are rolling out left and right making it hard for consumers to keep up with and vendors are racing to get their new hardware on the market prior to the fast approaching holiday shopping season. Developers are also chasing technology striving to keep up at Mach 10! Microsoft announced their upcoming Windows Phone 8 and "Surface" tablets to be their entry in the tablet market. Amazon made their big announcement for their new Kindle Fire HD models and just in the past week or two Barnes and Noble announced their NOOK HD tablets. And as you know, pictured above, the new iPhone 5 is here and we "may" hear about an iPad mini according to the rumor mill.

We designed our Logbook Pro apps to be resolution independent. Logbook Pro does not require an update to work on any of the above mentioned devices, we designed it this way! We learned a lesson in the past with APDL which was hard coded to a specific display size (resolution) and it caused issues when new devices came out with differing screen sizes. As Apple and Android continue to introduce new devices rest assured Logbook Pro is ready! As mentioned in our August newsletter we will consider supporting Microsoft's new devices as time permits. With our free app model and cloud sync subscription option you can switch or use any and all supported devices at any time! No need to purchase apps for each device you use, that's ludicrous! Enjoy Logbook Pro and take the worry about which device you want to enjoy today!

Now you can see why ... we charge for cloud sync instead of by app
We've been offering mobile products for over ten years both with our Logbook Pro PDA Companions as well as our airline product "APDL". In June 2010 we came out with our first iPhone app "Logbook Pro for iPhone" and "Logbook Pro for iPad" version 1.0 for Apple's OS version 3.0. It was a fee based app and you had to pay for either the iPhone app or iPad app (or both). We immediately realized this was a bad idea, this was NOT good for you, our customer and this is not how we wanted to do business! At the time it was two completely separate development efforts for iPhone and iPad due to different display layouts and other internal architecture challenges. With two development lines we therefore charged for two products. Immediately we changed direction and went with the "universal" app model and with a major new OS "now named iOS" just releasing we saw problems for the road ahead for our customers and our business model. These apps are going to need constant development and attention, unlike our Palm and Windows mobile predecessors. In December 2010 we came out with v2 of our apps and made them FREE! We gave everyone that purchased the v1 app for $29.99 a free year of cloud sync universal, a $34.99 value as our compensation for our change in direction.

Here we are only two years later and Apple is now on it's 3rd major OS update since our initial iOS app. We started developing for Android not long after our iOS release and it too has matured through three major OS updates since the initial release. Apple is on iOS 6.0, our v1 app was built for iOS 3.0. Android is at 4.1, our initial app was targeted at 2.2. Other products require you to pay for each platform and as some saw last year, when Apple came out with iOS 5 another logbook vendor's app broke and they required their customers to purchase the new version just to get their app working again. A sad situation to say the least! With Logbook Pro's new model charging you not for the software but instead an alternate revenue method, cloud sync, we give you the software and all updates FREE! You can be sure to always have the latest version available to you, you never have to deal with bugs because you don't want to pay for another version, with the other model you pay hundreds seemingly every year! With Logbook Pro's model you pay $30/year and that's it! You can use any and all devices that work with cloud sync, you can change devices at any time, we have completely eliminated the hassle in the mobile market!

Recently iOS 6 and a new device iPhone 5 came out. Apple's new iOS was a major update and broke things that worked in prior versions, which seems to happen annually. YOU MUST KEEP YOUR SOFTWARE UP TO DATE! Within ONE week we had iOS 6 support and iPhone 5's new screen size supported. Cost to you...NOTHING! Our commitment is to keep up with new devices, platforms, technology. That is what you are paying for with your modest $30/year cloud sync contribution. For your $30 you can use iPhone, iPod touch, iPad, Android phone, Android tablet, Kindle Fire (including new HD), NOOK tablets (including HD coming later this year). Don't you worry about the constant changing technology which can easily break your apps (annually) - we are committed to keep you in ship shape and spend your time enjoying your flying and not fiddling with your devices trying to make things work.

Logbook Pro Desktop is a one time purchase, all version 1.x updates are free as they have been the past FIFTEEN years! If you paid $69.95 for Logbook Pro Desktop in 1998, you would not have paid another penny to date, you got all updates free! I don't think any of our competitors can say that! A Mac product has cost customers nearly $1,000 since the initial release including all of the mobile updates which have to be updated with every Desktop update and who knows what the future will hold. Another Windows competitor "leases" the software to you and when you stop paying, you are locked out of your data!

We appreciate your business and your loyalty and we are working for you! Any money you pay is returned to you through software updates, improved services, expanded products and services, we rotate our revenues right back to you, our priority, our customer! Thank you for your vote of confidence and we are proud to offer you software that you can trust and rely on.

The Logbook Pro and Schedule Importer API planned for October
Are you a software developer of a logbook product? Are you a user/customer of another logbook product that works with Logbook Pro via export of data and use of our Import Wizard to bring it into Logbook Pro? Would you like to automate the transfer of data from your product to Logbook Pro? Would you, as a developer, like to use our schedule importer capabilities?

If you answered YES to any of the above then you'll be interested in our upcoming public API's. If you're a user of another product, please inform the vendor of this article by giving them this link: http://logbookpro.com/newsletters/2012/09/default.htm#api

We are wrapping up our public API which will allow SOAP/WSDL access to our services. We created a new forum which will allow us to assist you with consuming and using these services. We expect to initially introduce them as a beta in the upcoming weeks and then push them to final/production if no issues arise. Click here to view the API forums where you can subscribe to the forums of interest to be notified of new posts. More information will be posted when available.

Windows 8 Releases October 26th (as well as Windows Phone 8 and Surface Tablet)

On October 26th Microsoft will release Windows 8 which for the consumer will come in two editions: Windows 8 and Windows 8 Pro. Microsoft is also making the upgrade extremely affordable going back all the way to Windows XP. This is a great opportunity to update to Microsoft's latest and greatest operating system at a fraction of what it used to cost, the upgrade is estimated to be approximately $40. For Mac users wanting to use VMware Fusion or Parallels Desktop to run Windows (Logbook Pro) on your Mac this is a great way to update your Windows license and use the latest at an affordable cost.

Developers got the final version of Windows 8 in August and we've been using it since. It is an outstanding operating system which really is a "minor" update to Windows 7 with the addition of a start screen and other new features. Don't hyperventilate over the start screen which we've all heard so much about. It's blown out of proportion and is easily bypassed by going to the Windows Desktop which launching an app such as Logbook Pro. You can also press the Windows Key + D to go into the Desktop mode. You'll actually come to like Windows 8's start screen as it allows you to put your favorite apps and web pages on the screen and in one click you can launch it among many other great improvements. Windows 7 is Microsoft's best OS to date and Windows 8 only improves upon it. If you're worried about the START button being removed, there are 3rd party apps such as "Start8" which brings it back. I highly encourage you to update to Windows 8 especially if you used a version prior to Windows 7 and Logbook Pro runs perfectly on this OS (32 and 64-bit) as well.

We will take a close look at the new Windows Phone 8 operating system releasing on October 26th as well along with the new devices already being announced along and we'll also look at supporting the new Surface tablets..

We are in a great world in computing. Both Windows and Mac are outstanding operating systems. All mobile platforms are outstanding as well. It's a tough choice these days, they all have their pro's and con's. And if you're like me, we want them all! :)
| | |
| --- | --- |
| Product | Version |
| Logbook Pro PC Edition | 1.12.6 |
| Logbook Pro Universal App for iPhone, iPod touch, and iPad | 4.0 |
| Logbook Pro for Android/Kindle Fire/NOOK | 2.0.1 |
| Logbook Pro Palm Companion | 1.10.5 |
| Logbook Pro Pocket PC Companion | 1.10.16 |
| Airline Pilot's Daily Aviation Logbook - Palm OS | 6.0.4 |
| Airline Pilot's Daily Aviation Logbook - Pocket PC | 6.1.4 |
| FlightCentral Route Browser | 2.2 |
| Airline Schedule Importer | 8.4.8 |
Click here to download updates as required.
Want to receive this newsletter directly in your inbox? Click here to subscribe
To opt out of future mailings click here or manage your newsletter subscriptions online by clicking here. You can mail unsubscribe requests to: NC Software, Inc., 2711 Centerville Rd, PMB 5115, Suite 120, Wilmington, DE 19808.


Logbook Pro is a registered trademark of NC Software, Inc.
All other trademarks or registered trademarks are property of their respective owners