Spring Sale Event - NOW through Sunday (Midnight Eastern)
NOW through Sunday, April 7th midnight Eastern (UTC -4)

Use Coupon Code -->

SPRING13


15% off


To celebrate warm weather ahead for many of us and the great flying weather abound, we're offering a short weekend sale to celebrate Spring! Shop at www.nc-software.com now until midnight Eastern (UTC -4) Sunday night (April 7th) and apply coupon code SPRING13 at checkout. Verify your 15% discount is applied then complete your purchase. This is a great time to extend existing subscriptions, remember that you can purchase a subscription at any time and it will extend any subscription you're currently in. Take advantage of the sale to bank some time at a discount. Interested in our binders or paper? Get them now as they are rarely on sale. Hurry up as time is limited! Ready, Set, SHOP!

Sale excludes Data Entry Service and Gift Certificates

Logbook Pro Desktop 1.16.8 Released - Amazing new features (AirlineApps and more)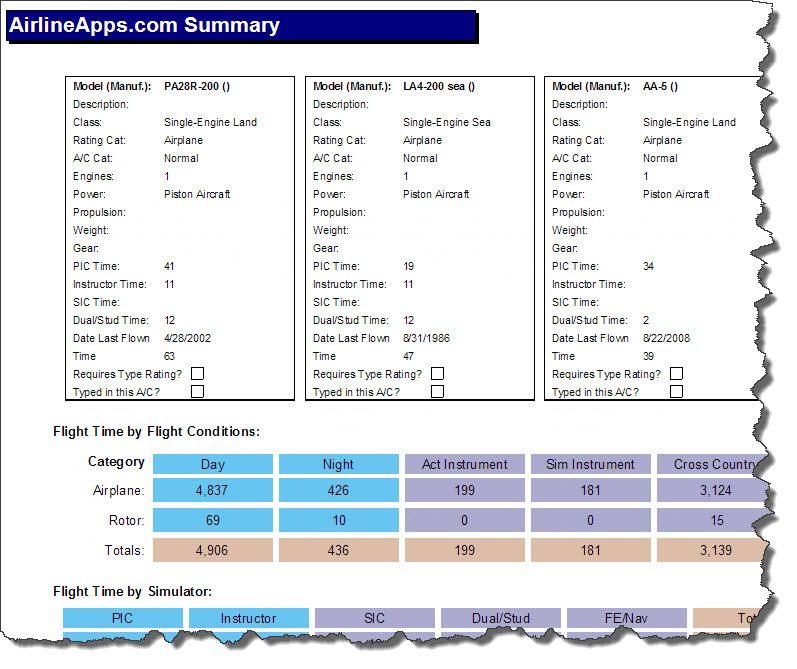 In case you missed our exciting release announcement a few weeks ago (click here) - Logbook Pro 1.16 released! This marks

another huge FREE release in nearly 16 years

(hence the 1.16 version moniker). This release adds an exciting and extremely important new report for our airline community - the AirlineApps.com Summary report found in the Reports / Miscellaneous menu. For airline pilots seeking a job most will use the AirlineApps.com web site. The time breakdown is complex and Logbook Pro is going to take care of that grunt work for you. Run the report, transcribe your numbers, then start printing your Logbook Pro logbook out and prepare for the call. If you need us to do the printing for you, just send us your Logbook Pro backup and buy the turn-key printing service and we'll FedEx you the job in no time.

Logbook Pro 1.16.8 is the latest as of this writing as we've been pushing out frequent updates since the 1.16.0 release. We will continue to push out frequent small updates as we add more features and/or fix unwelcome "features". As the inline updater makes updating a breeze and due to some architectural changes we completed, we can keep you fine tuned at all times. We are moving away from you have to deal with Account ID and Username with a new cloud infrastructure completed with Logbook Pro Desktop is now using, you will now simply sign in to your cloud (www.nc-software.com web site) account and that's all you need to do. We'll be transitioning our mobile apps to use the same login system and make setup a breeze.

After updating to 1.16 be sure to go to Options / Aircraft and completely fill out the new fields to get even better results in the reports and analysis (Analyzer). Check out the new report, by request, in Reports / Aircraft / Aircraft Stats. We include a new cover page option (under Reports / Cover page) and also prompt for it in reports such as the preferred logbook report at Reports / Flight Log / Split-Reports.

A brand new cloud synchronization system with a new look is in place. And no longer will it close your data area, the screen will refresh with the newly synced information automatically. We have more tweaks coming soon. We're working on Logbook Pro Desktop, iOS, and Android as we speak. Exciting things to come and for our airline pilots waiting on that special app "APDL" - read the article below to get a quick progress update.

Download the latest Logbook Pro Desktop from http://logbookpro.com/download at any time. Always keep your software up-to-date for improvements, fixes, new features, etc. Please spread the word and tell your friends about Logbook Pro and let's continue growing our amazing community.

APDL version 7 Progress Update


One or two, or A LOT of you, have been inquiring about our exciting upcoming release of APDL (Airline Pilot's Daily Aviation Logbook) for iOS (iPhone and iPad). APDL is the one and only life saving app for airline pilots, traditionally used on Palm OS and Pocket PC devices (moment of silence) and soon (figuratively speaking) we will be offering a completely new APDL first on Apple's platform.

APDL for iOS has been in development approaching two years now. It will be in development for years to come as we continue to improve upon our exciting new platform even after release making it better and better and conforming to any regulatory changes airline pilots have to comply with. APDL is not a "simple app" - it is a complex app with extremely important calculations, important presentation of complex airline data, and you have to rely on it so we better get it right! For this reason development takes time, as with most software, much longer than expected. We developers have a vision in our head as to what it will take and then when we start coding away, the calendar flips pages like you can't believe and here we are two years into this exciting app. The great news is, the finish line is in sight. However, we are going to be conducting field testing for several months. You may see your crew members using it as we're not going to keep the testing a secret, we'll even encourage our testers to show it off. But we have limited seats per Apple for testing software not distributed through the App Store. We have an initial crew working with the app, and we'll continue to invite more great volunteers in as the app matures and solidifies in features and functionality.

We can't share anything yet as far as what it looks like, is it a boy or a girl, but it is a phenomenal app that we know you will be thrilled to have in your hands and on all of your Apple'ware. For our Android community, previously we told you "not sure" what's in store but we are looking at APDL for Android as a viable option. It will be below the iOS app's priority and development will not fully engage until after APDL for iOS is released simply because of the evolving interface and feature set as we narrow down to the finish line.

So to the question you're shouting at me now "WHEN" - I cannot and will not set a date. It is the kiss of death in the software world, I demonstrated this recently on another project we planned to complete the end of last year and is deferred for various reasons. When it's done is the real answer. Again, you will probably start seeing it in the field soon as our testers extensively field test the app and we are sure we have the compliance down pat. We have other exciting news along the lines of APDL we just can't wait to share with you, but we will have to! Hang in there, it is coming, it is real, and it is amazing! Prepare the caskets for your Palm and Pocket PC devices, soon they can rest in peace!

Cloud Sync is NOT a backup - Cloud Backup is...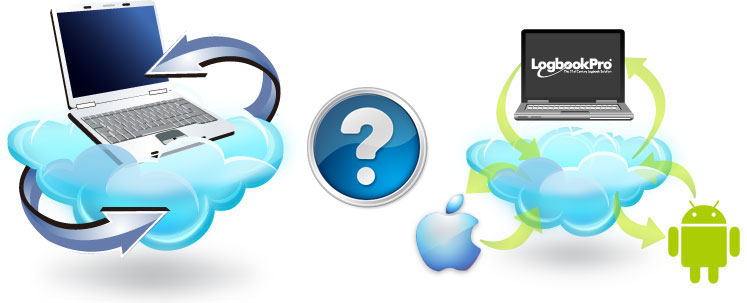 The sad stories of people's laptops being stolen from their car, some catastrophic failure of some sort, a divorce, you name it, we've heard it! You cannot trust that your data is going to survive forever on your computer and you must take action to ensure your data is somewhere for you to access should you suffer an unexpected event with your computer, hard drive, or data. The answer is clear - the cloud. A safe off-site backup securely stored, backed up both locally and online (aka cloud) frequently and deliberately is the way to go.

Please note that while "Cloud Sync" does send data to be stored in the cloud and is synchronized with any existing data stored in the cloud, when Logbook Pro Desktop checks the cloud for new data from your mobile apps it clears your cloud "sync" data storage and moves the information into your master and complete Logbook Pro desktop database. Cloud Sync does not, I say again DOES NOT, keep your data in the cloud forever nor is it your entire Logbook Pro data set.

In comes "Cloud Backup" which IS our cloud backup solution for use solely by Logbook Pro Desktop. Cloud Backup allows you to keep compressed archives of your ENTIRE Logbook Pro database safely and securely in the cloud. We offer various plans that limit the number of backup files you can have in the cloud at any given time, however, you can backup as many times as you want daily, weekly, monthly. For example, if you subscribe to the 5-File plan, this means you can keep 5 backups in the cloud at any given time. Backup to the cloud again and if you have 5 files in the cloud the oldest will be removed for you automatically to make room for your fresh new backup. It's completely automated for you and you can backup to the cloud simply by clicking File...Backup to Cloud within Logbook Pro desktop or manually upload your .BAK files at http://logbookpro.com/backup. When creating cloud backups .BAK files will also be stored on your computer so you have redundant backups as well. Click here to learn how to use cloud backup.

Cloud backup is inexpensive, effortless, and priceless! I'm sure you could not imagine the feeling of losing your entire Logbook Pro database or the time required to re-enter everything. Click here and sign up for cloud backup today AND submit your first cloud backup immediately by clicking File...Backup to Cloud within Logbook Pro Desktop, then take a sigh of relief, your data is now safe.

Cloud Sync getting a new name - Logbook Pro Mobile


As outlined in the above article, there is often confusion between "Cloud Sync" and "Cloud Backup." And for a few other reasons we decided to rename our "Cloud Sync" service to "Logbook Pro Mobile" sometime later this year. As our mobile apps are free and you only have to pay to sync to Logbook Pro Desktop, we want to make it clearer that you are effectively paying for a subscription to unlock complete functionality on the mobile app. This will NOT affect Cloud Sync subscription holders, this is simply a rename from "Cloud Sync" to "Logbook Pro Mobile". Everything will continue exactly as is.
Windows Phone 8 - First Look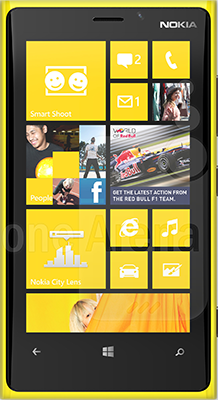 The mobile phone industry (and tablet industry) is exciting. We are so fortunate to have amazing choices in computer. Remember back in the day of Windows 3.1, then 95, then Palm and Pocket PC's? It wasn't that long ago! Now we have a new generation with amazing Apple devices, Android devices, and yes, now Microsoft's reincarnation with Windows Phone 8. BlackBerry and others as well, but our focus is on the top 2 and soon hopefully bringing a 3rd on board.

We've been watching closely the new Windows Phone operating system since it came out in the prior incarnation "version 7." Obviously it wasn't breaking much ground as compared to iOS and Android, however, Windows Phone 8 and of course the Windows RT tablets, warrant a fresh look. We get inquiries from time to time "are you going to support..." and we typically respond with the fact we are a small business, we have limited resources, we have to ensure investing the time and resources is well spent. If you haven't tried a Windows Phone 8 device such as the Nokia Lumia 920 (pictured above) or a HTC 8X - go to your local "toy" (phone) store and check it out. It truly is impressive! We now have another major contender, a very neat user-interface backed by some great devices. And I'm sure all of us using iPhones appreciate a larger screen. The problem for Windows Phone 8 is, and we're not helping, lack of apps as compared to iOS and Android. We now have a Nokia Lumia 920 in the shop and our developer machines are setup for Windows Phone (and RT) development.

As time permits we are going to try to port our current Logbook Pro iPhone/Android app to Windows Phone 8. It is low priority to please don't get your hopes up. But it is an exciting platform, while still microscopic in comparison to the iOS and Android community, it is growing and I think will be viable in time, at least a 3rd great option. We'll go with Windows Phone 8 first and then consider the Microsoft tablets, but this is at the very bottom of our priority list right now.
| | |
| --- | --- |
| Product | Version |
| Logbook Pro Desktop Edition | 1.16.8 |
| Logbook Pro for iPhone, iPod touch, and iPad | 4.1.1 |
| Logbook Pro for Android, Kindle Fire, and NOOK | 2.1.0 |
| FlightCentral Route Browser | 2.2 |
| Airline Schedule Importer | 8.4.8 |
Click here to download updates as required.
Want to receive this newsletter directly in your inbox? Click here to subscribe
To opt out of future mailings click here or manage your newsletter subscriptions online by clicking here. You can mail unsubscribe requests to: NC Software, Inc., 2711 Centerville Rd, PMB 5115, Suite 120, Wilmington, DE 19808.


Logbook Pro is a registered trademark of NC Software, Inc.
All other trademarks or registered trademarks are property of their respective owners