We are continually improving our software and our most recent release is Logbook Pro version 5.6 for iPhone, iPod touch, and iPad. Great improvements per customer requests and further iOS 7 tweaks for the new flat style.
You can now control what the counters on your home screen show using the new setting on the bottom of the Settings screen. Previously the counters on the far right of the four DATA rows on the Home Screen showed a total count of data regardless of sync state. Now you can tailor what these counters show from one of the three options: 1) ALL data, 2) Unsynced data, or 3) Synced data.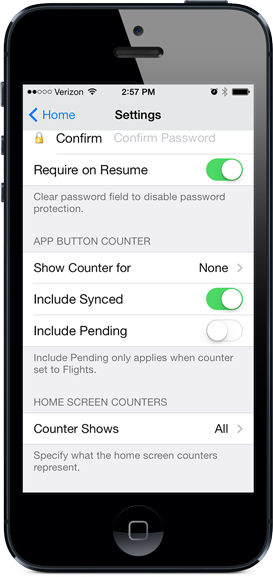 A common request was the ability to initialize OUT/TAKEOFF/LANDING/IN (OOOI) times to a blank value so you could simply start typing and enter the time. Version 5.6 now offers this capability if you set "Use Intervals" OFF in Settings/Flight Log as shown below. With this setting configuration tap the OOOI field and then type in the time directly.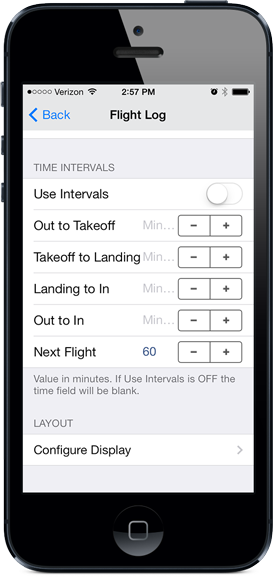 Now that we accommodated the popular request we learned that this actually impacted users that liked having the current time entered when the OOOI field was tapped! :( The next update will have options to bring back the old way and allow users to initialize to an empty field for direct typing.
Other improvements in version 5.6 include improved calendar integration primarily improving pending flight integration. We completely revised the About screen with a new look and added a button to submit app reviews as you desire. You can review the app at any time and do so with every version that we release so feel free to update or refresh your reviews if desired and show your support for Logbook Pro.
We have a lot more to come with our mobile apps, this is only "Phase I" of two major phases of our current work plan. Android is on deck next bringing in the new sign in system and features as iOS has now. Our testers have been testing the new builds and so far all is coming along great.
While we suggest turning on Automatic App Updates in iOS 7 from within the device Settings/iTunes & App Store area, if you do not use this feature then be sure to go to the App Store today and get version 5.6 as it is very important to stay up to date at all times. If you have any feedback or suggestions, feel free to contact us. We are all ears listening to your great ideas.