February 2017 Newsletter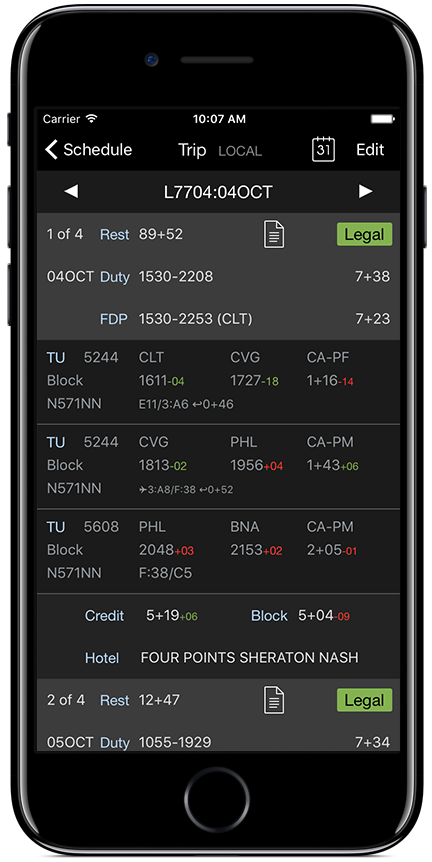 We're excited to announce APDL - The Airline Pilot Logbook for iPhone, iPad, and iPod Touch devices running iOS 9 or later has been updated. Version 8.2 is now on the App Store and extends FLICA support for the new Check Schedule Automatic Schedule Monitoring system to not just FLICA Mobile users but now anyone with FLICA Access Anywhere or FLICA Mobile can use the system. Go to Settings > Schedule Importer to configure your FLICA access and setup your account.

A new reminder notification was added to remind you to set your Hotel Departure time for your Van/Shuttle departure. We know you're busy and APDL is working to help you with your workflow to keep up with your schedule. You can update the Hotel Departure information at any time by tapping the Hotel in the Trip View which will bring up the Hotel editor.

As with any and every release we fix a few things so be sure to update if you haven't already for improved iPhone 6/7 PLUS support, improved vacation entry workflow, and a few other minor enhancements.

We'll be working hard throughout 2017 with more smaller phase releases incrementally building upon the already amazing APDL system both in the app as well as with features and functionality on APDL.net. Keep your ideas coming in UserVoice or on our Community Forums as we evolve extensively based on user feedback and involvement.

If you're an airline pilot and you have an iOS device, visit the Apple App Store and install APDL and you'll get 90 DAYS FREE to check it out and use it with no financial obligation. We know you will love it! It's designed by an amazing team of developers but an even more amazing team of your peers, over 50 airline pilots that work with us continually to provide feedback and suggestions. Tap the Credits text in the About view within APDL to see who these amazing beta testers are that work with us to bring you APDL.



Airline Hiring is Strong!
It has been a long time in the coming but as many of you know airline hiring is at an all time high over recent years and with pilot shortages predicted now is the best time ever to make your move for your dream career. We've been working hard helping pilots transfer their data into Logbook Pro using our Data Entry Service, print their logbooks for interviews using our Turn-Key Color Laser Printing Service. We are here to help you so if you have any questions on getting your data digitized, printed, bound in one of the amazing Cirrus Elite binders contact us and we will help you. We also offer expedited services so if you're in a time crunch let us know, we may be able to help you.

We've published numerous articles in the past on the topic of interview prep, you can search our newsletter archive in the community forums to find those articles but one to check out can be found by clicking here. If you plan on using AirlineApps.com consider upgrade your Standard Edition license to Professional or Enterprise by clicking here.

Importance of Maintaining Subscriptions
It pains us to hear about lost logbooks and we've heard every story you can imagine from stolen, fires, computer crashes, you name it. Our Cloud Backup service for Logbook Pro Desktop (not the same as sync) is a life saver for many as it allows you to click File..Backup to Cloud within Logbook Pro Desktop which uploads an entire backup of your complete Logbook Pro data to the cloud. Syncing Logbook Pro Mobile is NOT a complete backup of your flight data, you must use Cloud Backup to get a complete and recoverable logbook from the cloud.

We send subscription expiration notifications prior to the expiration of any subscription you have with NC Software. While we do offer a grace period to renew Cloud Backup after a period of time we must purge backups from customers that do not renew. We've had customers coming back years later looking for their backup and no, they will not be in our system forever. You must keep your subscriptions active to keep your data in the cloud otherwise risk having it purged. Check your subscription status at any time by going to http://nc-software.com/MySubscriptions and be sure to keep them active.

Cloud Backup comes in various levels of service that control how many backups you can keep in your account at any given time. It is also maintained automatically such as if you were to click File...Backup to Cloud daily the backup servers will automatically purge your oldest to make room for the newest backup if your file quota is reached.

Why use Cloud Backup in Logbook Pro Desktop? It is critical to keep off-site backups of your data, i.e. get them off of your compute and out of your home or office. Keeping them on our servers keeps them in an advanced data center which is also backed up multiple times daily. No one could stand to lose their logbook and flying career, don't take a chance losing your hard earned data and be sure to keep a hard copy printout as well. Consider a Cirrus Elite binder to hold your Logbook Pro reports.

Customizing Layout in Logbook Pro Mobile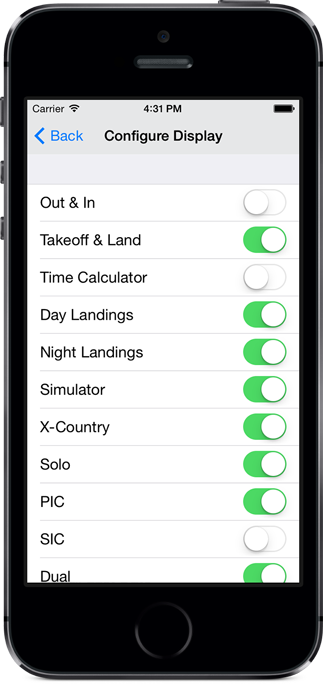 Logbook Pro Mobile is designed to get you in and out of the app as fast as possible. A number of efficiency features have been designed to allow you to log a flight in minimum time and it sync to the cloud instantly. Did you know you can reduce clutter by only showing the fields you use based on your flying activity? You may not need to see some of the fields available on the input screen so why not hide them? You can!

It's slightly different in iOS vs. Android in how you get to the configuration screen, in iOS go to Settings > Flight Log and the Configure Display feature is at the bottom, in Android you access the Flight Log Layout from the main settings screen. Give it a try now, turn off a few items you don't use and start a new flight log entry and you'll see that the display is now configured based on your layout preferences. You can also change the data sort whether newest is on top or bottom from the Data Sort settings area. Refer to the documentation for more information.



Product Spotlight: Cirrus Elite Premier Binder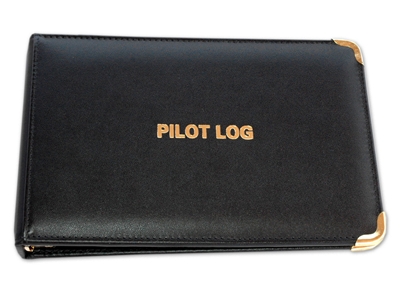 Click here to buy now

General:

The Cirrus Elite Premier binder is a professional binder for the aviation enthusiast with stylish gold corner savers, gold embossed lettering, and a quality leather design. One of our most popular binders for the general aviation community with six rings to prevent page tear outs and inside pockets for credit card storage, fuel receipts, keys, etc. Available in various colors with a wide range of paper choices available from blank inserts for your computer printer to manual log pages and notes & endorsement pages for just about any aviation requirement.

Features:

Dimensions: 10 inches long x 6-1/2 inches wide
Rings: 3/4 inch diameter x 6 inch heavy duty gold rings
Colors: Black and Brown soft premier leather
Option for personalization on front cover
Holds approximately 80 sheets of pre-drilled/perforated paper
Pockets for identification and credit card in front cover for convenience
Gold Lettering with the option for personalization also in gold letters
Gold corner savers and heavy duty gold rings
Identification or credit card pockets on the inside cover

Personalization:

This binder may be personalized with your name using a maximum of 20 characters.

Documentation and Videos - Learning Center
APDL and Logbook Pro have a ton of functionality and features to help you use the software more efficiently and effectively. We don't stop at just developing software, we go the extra mile to create thorough documentation as well as video tutorials to help train you to get the most out of your software purchase. Documentation is available online as well as downloadable formats for APDL and Logbook Pro Desktop from the NC Software Downloads web page.

Click here for our documentation center.

Click here for the video catalog and also note the links on the bottom for YouTube videos as well.