===============================================
NC Software, Inc.
Logbook Pro Newsletter
Edition: November/December 2002


Logbook Pro PC Latest Version: 1.8.8
Logbook Pro Palm Companion Latest Version: 1.1.6
Logbook Pro Pocket PC Companion Latest Version: 1.0.3
Downloads: http://www.logbookpro.com
===============================================
===============================================

Table of Contents:
· Year 2002 – Drawing to a close
· Announcing the Pocket PC Companion for Logbook Pro
· Tip-of-the-Month: "The Analyzer – Advanced" Part II (movie included)
· Updating Logbook Pro – A little about Patch/Updates
· Press Release: "Learning Logbook Pro Video Series"
===============================================
*** Year 2002 – Drawing to a close ***
Has this year flown by or what (no pun intended)? It's been a very busy year here at NC Software and as you know, we've been working hard on Logbook Pro just as we have since its birth in 1998. We are excited with the family of Logbook Pro products available, from the PC to the Palm and now extending to the Pocket PC. You now have the choice for your flight logging needs while on the road so you can easily upload your flight information in a matter of seconds. We are extremely pleased with the strength of the customer base and the outstanding feedback that comes in daily that we are applying to version 2 which is full steam ahead in development. We know this has been a challenging and eventful year in the aviation industry but we are confident (as pilots ourselves) that we will make it through this rough spot and come out shining as soon as we get past this low spot in the industry and economy. Keep positive attitudes, keep flying as best as you can, keep your logbooks and resumes current and we will make it.
NC Software wishes each and every one of you a happy holiday and a safe new year ahead. Do NOT drink and drive…be safe!
Trivia: NC Software has yet to charge for an update of Logbook Pro since its release four years ago! Striving for quality software is our motto, not the size of our wallet!
*** Announcing the Pocket PC Companion for Logbook Pro ***
We are proud to announce the launch of the Pocket PC Companion for Logbook Pro now shipping with Logbook Pro 1.8! After a long wait, we are happy with the product and the interest has been beyond our deepest expectations. Integrated seamlessly with its PC parent, the Pocket PC Companion synchronizes your entries on the road right into the PC using Microsoft's free ActiveSync software. Sync your Pocket PC then remove from the cradle and take on the road. Enter your flight information, or other standard data entry areas of Logbook Pro then upon returning, the data is immediately synchronized into your main logbook so you can enjoy your time with family and not in front of the computer! Also enjoy the currency, lookback, flight log statistics, and summary bar information downloaded to your PDA for viewing at any time. We are working on an online tour of this new device soon so those shopping for the PDA companion can see what is available should you decide to enjoy a little treat for your hard work. Purchase either the Palm or Pocket PC Companion for only $29.95 from our secure online store at https://secure.nc-software.com.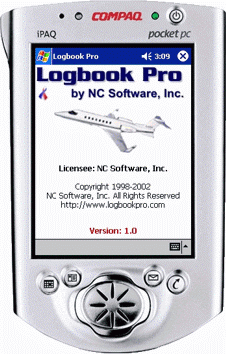 *** Revision History now online ***
Always striving to improve and make a better customer experience. We now have a new forum in our e-Community, "Revision History." You can now see exactly what is changed from revision to revision of Logbook Pro. Log-in to the free online community and view the plethora of information within. Speaking of the e-Community, this is the preferred method of support requests so others can learn from your questions. Please search the forum using the powerful search capability and you most likely will find the answer to your question in a fraction of the time it takes to send an e-mail and await a prompt reply from NC Software. With the e-Community, feel free to answer any of the questions; it's a place for members to help members.
*** Year End Blow-Out Sale ***
If this is the first you've heard of this, don't miss out!!! Maybe this holiday season didn't bring you that copy of Logbook Pro you've been asking for, well, for a few more days you can save BIG on Logbook Pro.
For the remainder of 2002 we are offering a discount of $20.02 off of any order of the Standard, Professional, or Enterprise Editions of Logbook Pro that includes a CD-ROM with the order. That's right, $20.02 off each order!!!
MGOent is also joining in the year-end blow out sale and offering FREE shipping to all US orders and 50% off personalization on the fine leather binders. That's a savings of almost $20 per binder!!!
Have you shown your flight instructor(s) your appreciation? Order them a copy of Logbook Pro, or your FBO/Flight School, and share the automation and luxury of this e-Logbook. When ordering, you'll see a place at the bottom to change the name for the license. By doing so, they will have a personalized installation in their name. Create an 8 ½ x 11 prettied up gift letter and present the unlock code information and/or the CD-ROM and show your appreciation for the hard work (and risk) our flight instructors take in teaching us what we take for granted.
*** Tip-of-the-Month: "The Analyzer – Advanced" Part II (movie included) ***
In this months Tip-of-the-Month, instead of writing out a long and boring documentary on how-to's, I've decided to actually build a video series to show you, right on your screen, how to use the functionality of the Analyzer. There's nothing better than pictures, so why not use the power of technology to bring you this month's Tip-of-the-Month, as well as create the video portion to cover the last newsletters "introduction to the Analyzer".
This video series is brought to you in two formats: Macromedia Flash and Windows Media Player. If you have a decent Internet connection, left click the links and watch the videos right on your screen. If you have a slower connection and the video is coming in choppy and unwatchable, right-click the windows media link and choose the Save As… option and download the file, then double-click it to view it locally on your computer.
Here are the links to the tip-of-the-month videos for this month:
| | | |
| --- | --- | --- |
| Title | Flash | Windows Media Player |
| Introduction and Overview | | |
| 101 – Basics | | |
| 201 – Data Presentation | | |
| 301 – Filtering | | |
| 401 – Arranging Data | | |
| 501 – Correction Values | | |
| 601 – Printing | | |
| 701 – Export to Excel | | |
*** Updating Logbook Pro – A Little about Patch/Updates ***
Hopefully, you've learned how easy it is to check for updates in Logbook Pro? If not, look under the Online menu, click the item, "Check Web for Updates" (make sure you are connected to the Internet of course) and Logbook Pro will go out and see if there is anything new. Let's say it does find an update, it will then ask you if you want to download it. Obviously choose YES as updates are critical – keeping Logbook Pro up-to-date ensures reliability, accuracy, and adds new functionality. There is an important element to patching that it is important to be aware of. I'm sure you may have seen the dreaded "network resource not available" and translating "Microsoft to Human" this means it can't find the setup files on your system to see what version you have and what needs to occur to get you up-to-date. Well, "how do I know what I have and if I can patch" you ask? If you perform a WEB installation, two of the available installation methods, then you cannot patch that install as the files are not cached to your system (this has been reported to InstallShield and we are hoping for a fix to this issue). However, if you chose one of the full install methods, depending on your operating system, then you are good to go for patch updates. Now you may ask, "Why would I want to use a web setup then?" The answer is that a web installation only downloads files your system requires; therefore, you don't have to wait for a monster download to come across your dial-up connection. Secondly, if you run the web installation when the new setup occurs, only the new items are downloaded, so it's almost the same as patching as the web installer is smart and knows what you have, what you need, and doesn't waste your time downloading duplicate files.
In summary, if you used a web installation method, do not attempt to patch. Use the web setup method. If you downloaded/installed the full installation systems, then patches are what you want when new versions become available.
Music to your ears? Long time in waiting? Yes, Logbook Pro is full steam ahead in development of its follow-on and progress is ahead of schedule. With that said, there is no timeline, pricing, or any information available at this time, quite honestly, it's secret within the four walls of NC Software, Inc. until we reach private NDA beta testing. This one is eye-watering good, but I don't want to get you too excited too soon. There is a lot of work yet to be done. The reason to mention Logbook Pro 2 here is that your feedback, suggestions, wishes and dreams are needed now! If you don't tell us what you need, what you want improved, "hey here's an idea" then we cannot read your mind and grant your wish. Please visit our Logbook Pro Wish List on our e-Community at http://ecommunity.nc-software.com and put in your suggestions. If you prefer e-mail, send your suggestions to support@nc-software.com and we'll gladly take each and every one of your suggestions to heart. We log everything! So what you suggest usually stands a good chance of making it in the software, provided it helps others.
*** Press Release: "Learning Logbook Pro Video Series" Coming Soon ***
Software can be so complex these days with those pesky developers trying to cram so many bells and whistles into software; it can be a challenge to unleash the power of the software. We crammed a lot into Logbook Pro for those that want the power yet keep the basics simple for those that want to open, log, close.
No one likes to read; we don't have the time; we want to see pictures, movies, and get playing with our software and see what neat information I can get on those hard earned flight hours! Well, NC Software to the rescue. We are in the process of creating a video series to take you from installing, to customizing Logbook Pro. We'll cover every element and provide this to you in a video series, FREE!! We take pride in our software, but we also take pride in the power we provided you, and sure would feel better if you were using it! Well, we're going to show you how, just sit back, relax, and watch the upcoming videos as soon as we complete the taping. Expect more news on this later as we near completion.