Logbook Pro 1.10 Public Beta Available (PC/Palm)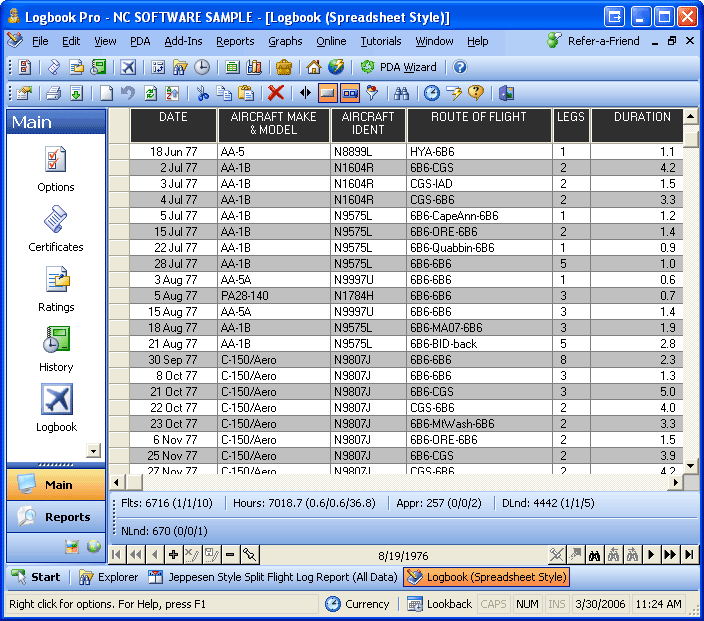 We are proud to announce that Logbook Pro's next update (free to all registered customers) is now ready for public beta testing. This is one of the most significant updates in a very long time! As you can see from the picture above, we've updated the user-interface to that of the Office 2003 style. In fact, from the View menu, you can choose one of four different menu styles and set the look and feel of Logbook Pro to your liking. Logbook Pro 1.10 brings a slew of new features and updates to an already rock solid aviation logbook program.
We have a brand new PDA Wizard which now handles synchronization of all of our PDA logbooks. We realize there is confusion by the prior "Import PDA" button and how to sync APDL to Logbook Pro as an example, that confusion is a thing of the past! APDL users, SingleSync is no longer required and is now obsolete with the APDL synchronization system driven entirely from Logbook Pro. Not only is this system more reliable, but also affords much more flexibility in importing data from APDL including data ranges, mapping of Crew, Hotel, Flight Number, and Trip number, etc. We maintained the legacy features of SingleSync with the APDL Legacy Reports (and CSV generation), try it out, put the PDA Wizard to the test.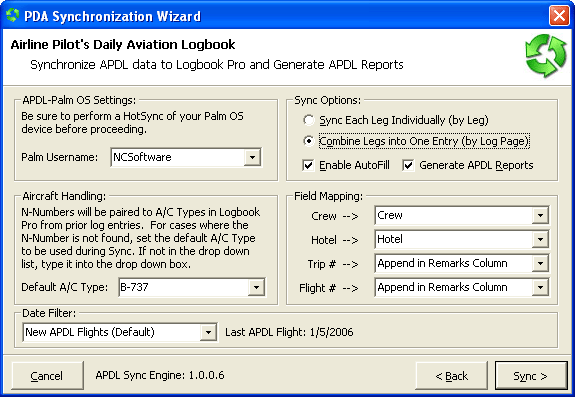 Logbook Pro's Palm Companion no longer requires a $25 CrossFire Client Runtime license, all users can now update to the latest Palm edition and use the fastest runtime engine FREE! This is great news for Treo users that once had to purchase an additional $25 license, although a small fee, one that we did not want to burden our customers with. Read the article below for more information.
Logbook Pro's Pocket PC Companion is being completely rewritten to use the .NET Compact Framework version 2 which will support Windows Mobile 5 and any version of ActiveSync, and even support screen rotation! Although not yet available, it is expected to enter private beta early next week, followed by public beta availability.
A brief summary of changes in Logbook Pro 1.10 include, but are not limited to:
New user-interface and menu option View…Menu Style offering Office 2003 and Visual Studio 2005 "look and feel" along with the older style menu and toolbar systems




A brand new PDA Wizard! Much easier synchronization of PDA data to Logbook Pro and eliminate confusion of how to sync Logbook Pro vs. Airline Pilot's Daily Aviation Logbook (APDL). APDL's SingleSync is now obsolete as all synchronization features are now integrated directly within Logbook Pro's PDA Wizard. We've also boosted the features for synchronizing APDL with the ability to map in columns such as Crew, Hotel, Trip Number, and Flight Number. Better A/C Type lookups from N-Numbers, and more advanced Date Filtering with more flexible options easily configurable from the PDA Wizard interface.




FAA 8710 report updated to fix two bugs: 1) Other checkbox remaining checked, and 2) Flight Log rows with both a Duration and SIM entry were ignored




Currency Editor bug when a History Event is created in the Options…History area then used in configuring a currency but the actual History event was never used, i.e. not listed in the History data entry area




New product update system, the InstallShield Update Service is no longer used. All updates during the beta period will be tagged as "critical" to ensure immediate notification of every update made available.




Time drop downs in the Spreadsheet style log were only allowing up to the Duration value minus 0.1, i.e. for a duration of 3.0 the max selectable value from a time drop down was 2.9.




Help…About dialog revamped to provide details such as the actively used data file (at bottom)




Detect and Repair functionality added to Start…Programs group if required to refresh the installation if problems are experienced, such as the backup system that sometimes fails with other software installs corrupting DLL's in Windows (version conflicts)




Analyzer columns slightly padded to allow more room to view larger numbers (column titles padded with spaces prefix/suffix)




Updated registration system to prevent confusion with required information when activating licenses such as the requirement for name, unlock code, and e-mail address.
We invite your participation and feedback in our Logbook Pro 1.10 BETA forum. Download links are as follows:
Logbook Pro Pocket PC Companion (not yet available)
Thanks to all involved in your hard work and feedback making Logbook Pro what it is today. I would like to make a special thanks to the 70+ members of our private beta team that worked extremely hard over the past several weeks with update after update in ironing out every conceivable issue, making this update one of the most tested to date! Thank you!
We hope you enjoy our aviation software products including both Logbook Pro and Airline Pilot's Daily Aviation Logbook. Visit us online at www.logbookpro.com.