Logbook Pro & Airline Pilot's Daily Aviation Logbook News:
Click here
to read prior newsletters
Today is the last day of 2009 and as I reflect on this past year, I just want to say thank you to all of our customers!

It has been an exciting year but one mostly of hard work preparing for the exciting releases slated for 2010. A new version of Logbook Pro has been in development nearly three years now and the finish line is finally in site. We are projecting a mid-2010 release but with a solid, stable, feature rich, and globally popular Logbook Pro version 1.10.42 available we are under no pressure to rush anything. We are going to do this right, we have a great group of testers working at our side, and we are excited with what we have in store.

This past year we released more free updates to our software products, it's 11 years and running and we have yet to charge our loyal customers a single penny for an upgrade. We are proud of our continually growing customer base and support by our Sporty's Pilot Shop partner that keeps us from having to nickel and dime our customers every year "just because" as other software vendors do. We take pride in our software and have been working hard to ensure you have the features you need, stable and reliable software, and can go about your business without getting flustered over software that isn't working as you expect. We have always had free technical support and look forward to assisting you anytime you have a question on using your software purchased from us.

Microsoft released Windows 7 this past year which is a phenomenal turn-around for the Windows market. Although there was nothing wrong with Windows Vista other than marketing, Microsoft sure hit the nail on the head with Windows 7! New technology is coming out in the first half of 2010 which we will be taking advantage of including, .NET Framework 4, Visual Studio 2010 (developer tools), and Windows Mobile 7 which will be a great leap for the Windows Mobile phone market. We are working on our iPhone implementation but development is secondary to Logbook Pro 2010's work and now that 2nd City Software has an inexpensive solution for you with their iPhone app "Flogger" we can take our time with our iPhone implementation.

I wish everyone a very happy and safe New Year's eve tonight and a great 2010 ahead. The economy has been tough on everyone but the aviation industry has it extra tough due to terrorist activity over the years, fuel prices, and a poor economy to top it all off. It is important to try our best and always appreciate what we do have and not dwell on what we don't have.

Happy New Year to ALL!

Neal Culiner
President, NC Software, Inc.

Our Logbook Pro family grew nicely this year and I want to welcome all of our new Logbook Pro customers. With the growing popularity of electronic logbooks, now becoming the standard in the aviation industry, and the help of our Sporty's Pilot Shop reseller and our affiliates, it is nice to see Logbook Pro continue to dominate the aviation marketplace as the logbook software of choice for pilots.

So now that you have Logbook Pro, here are a few things that may interest you:

Online Backup Service: Logbook Pro stores all of its data in one file. As with any "file" on your computer it could get lost, it could become corrupt, it could be attacked by a virus, it could be inadvertently deleted, okay, I think you get my point. Not only have we stressed BACKUP (click File..Backup) time and time again in the past, we recently launched an Online Backup service to help you keep a backup off site for additional safe keeping. A very affordable annual fee is all that is required and you can store as many as 10 files on our routinely backed up servers.

Data Entry Service: Many of you still have paper logbooks that need to be entered into Logbook Pro. Whether a new Logbook Pro user or an old timer with thousands of hours you're dreading on putting in the ole trusty computer, it has to be done yet it is no doubt painful even with all the automation we have for you with AutoFill, Double-Click Auto-Entry, etc. We have people that will do the hard work for you! That's right, they will take your traditional logbooks, actual or photo-copy and enter the information in a new data file or existing data file in use. It is very affordable if you put a dollar value on the time it would take you to do it. It helps our fellow United States based pilots in need of some money too. NC Software does not profit on this service.

FlightCentral Route Browser Add-In: Logbook Pro does a great job of capturing your data but if you want to see your flights overlaid on a map, check out FlightCentral's neat add-in for under $30. Download a free trial or purchase your license instantly online today.

License Upgrade: Logbook Pro Standard Edition is our baseline edition and is licensed for use on one computer. If you are using two computers such as a Desktop and a Laptop computer, purchase a license upgrade to the Professional Edition for only $39 and instantly upgrade the features of your software without any additional installation required. Just click Help...Activate and enter your upgrade code and Logbook Pro instantly changes its feature set before your eyes. Professional pilots flying under FAR 121 or FAR 135 will also want to take advantage of the features in the Professional edition beyond an additional computer to use your software on. The Professional Edition will allow you to synchronize two PC data files, have the ability to import schedule data from our free airline schedule importer web portal, and enables the FAR 121 & 135 features. The Enterprise Edition is also an available upgrade to allow multiple pilots to use a single Logbook Pro license install.

Binders: Along with our Online Backup service for keeping an off site backup it is also important to keep a hard copy printout of your Logbook Pro data. We sell a wide range of binders by Cirrus Elite from our economical Sport series binder for under $50 to our largest Commander series binder allowing you to hold your entire career's worth of flying in a single bound solution. All of our binders are of the highest quality and are ready for any occasion including that dream interview with a major airline. Show your pride and dedication when going to an interview and let Logbook Pro in a professional binder set the first impression for you. Every pilot with Logbook Pro should have a binder and a printed logbook, get yours today from our secure online store.

Printing: We offer a full service "turn-key" printing service to help you take your Logbook Pro data from your computer to a professional printed solution with minimal effort. Just provide us a backup and we'll do the rest. Whether printing for the first time or preparing for an interview, we'll take the stress out of fussing with your computer and printer. For those that have already used our turn-key printing service we also offer a low cost follow-on service where we'll print only the new information for you. Whatever your need, we're here to take care of you.

CD-ROM: It's always a good idea to keep a hard copy backup of your software for future reinstalls. For only $9.95 you can order a Software CD-ROM from our web site and keep this CD for safe keeping.

Learning Resources: On the lower left of our web site is a section of the navigation bar titled "Resources" which can assist you with getting the most out of your software. Documentation, Video Tutorials, Downloads, Support information, etc.

Newsletters: Be sure to tell your friends and fellow aviators about our newsletters to stay informed about our products, our tips, video presentations, and more. You can manage your newsletter subscriptions and others can subscribe today by visiting http://logbookpro.com/mailinglists.aspx.

Become an Affiliate: Happy with your software? Want to be even happier and get on our payroll? That's right, spread the word and we'll pay you! Join our affiliate program, it's free, tell your friends and when they buy you get commission on their sales! It's that easy!

Thank you for being a part of our Logbook Pro family.


We recently released a new update to our free online schedule importer for airline pilots. A courtesy service for our Logbook Pro Professional Edition and APDL users. A new "look" to closer resemble our main web site and also improved functionality with this update.

We continually improve the parsers based on customer feedback and add new airline trip formats as requests come in. If you have a trip format not yet supported just send us samples of your trip data and we'll see what we can do to add your airline. The beauty of our web based system is it is not tied to any software program, therefore, we can update the software without requiring any software updates on your end whatsoever.

Network Upgrade Late January - Outage Expected
We have been working hard the past two years rapidly growing our network infrastructure to both keep up with our growing demand but also prepare for our enterprise services coming later in 2010. In late January we will be upgrading every server in our data center to the newest release by Microsoft; Windows Server 2008 R2 x64. All servers will also get RAM added as x64 allows us to use more RAM per the OS. We are also adding an additional high-end database server and a new storage area network (SAN) device with 10 Terabytes of additional storage complementing our existing multi-terabyte storage system. During this time it is most likely our network could experience outages and also time to bring all services back up and running after the migration.

An announcement will go out prior to the network upgrade to remind you once again but after the upgrade we hope you'll enjoy the improved services to our already cutting edge network. This will be our final infrastructure update in preparation for the enterprise services coming in our new applications in 2010.

Flogger 1.6 Released (iPhone app by 2nd City Software)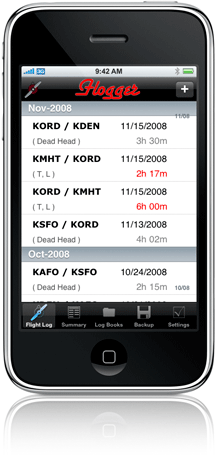 In a recent newsletter article we mentioned a nifty iPhone app for under $10 by 2nd City Software. George, the owner of 2nd City Software, has been working hard on making his app integrate with Logbook Pro. Earlier this month he released version 1.6 with a new Wi-Fi export which will format data for use with Logbook Pro's Import Wizard. To learn more about Flogger for the iPhone, visit the 2nd City Software web site. Please direct all inquiries related to Flogger and exporting data for Logbook Pro to 2nd City Software.

Click here to get Flogger from the iTunes App Store now.