Logbook Pro & Airline Pilot's Daily Aviation Logbook Newsletter:
Labor Day Sale - 15% Off Storewide
coupon code: laborday2010
Labor Day Sale!!! 15% off storewide
Who doesn't have a sale on Labor day? And what a great time to celebrate the hard "labor" that was put into Logbook Pro PC edition 1.10.54 and Logbook Pro for the iPhone, iPod touch, and iPad version 1.0.6 which is our absolute greatest release to date!

Shop our Online Store and purchase anything from software, binders, binder paper, and add-ons and take 15% off instantly by applying the coupon code "laborday2010" during checkout. Data entry service is the only item not included in the sale. Logbook Pro for iPhone, iPod touch, and iPad are sold by Apple and not covered under this sale.



Sale Dates

: Now thru Monday Night (Midnight Eastern) Sept 6, 2010

Make sure when you checkout that you

enter the coupon code, click APPLY, and finally review the order contents which will show you the discount

. Coupons cannot be credited after the sale.
Links to suggested items you may be interested in:
New releases: Logbook Pro PC edition 1.10.54 & iPhone/iPad 1.0.6
The work never ends, the ideas keep coming, and we just can't stop, we love this! Logbook Pro PC edition gets some great new features and Logbook Pro for the iPhone, iPod touch, and iPad get a huge overhaul! Let's get right into the details.

How would you like to sync your device without any interaction with your computer back at home or office? Okay, that's right, you already can due to the amazing "cloud" synchronization system. But let's take it one step further. What if you sync your device and while you're away, Logbook Pro at home/work also syncs, automatically? It will pick up your data from the "cloud" (My Sync Portal) and then submit the new reports and update your currencies, etc.? We'll call it "Scheduled Sync" (or think of it as unattended sync). New in Logbook Pro 1.10.54 in the My Sync / Account Settings area is a new section as you can see in the image below where you can enable scheduled sync and Logbook Pro, while open or minimized, will silently sync. You can specify the time interval from the drop down as described in the documentation. When the scheduled sync completes you'll see the note in the status bar.
Additional changes in 1.10.54 include:

A new "lock" button appears on the right side of the sub-toolbar in each data entry area. Click the lock button to prevent inadvertent changes to your data. Unlock to add new information and then lock when done if you won't be flying for a while
Logbook Pro will now prevent you from creating or using a data file in the C:\Program Files folder which could cause a conflict with User Account Control in Windows Vista or Windows 7. Data files should be used within the default location of /My Documents/My Logbook Pro Files/v1 folder or a dedicated folder on the local hard drive (not external/removable media)
Syncing PDA Companions to Logbook Pro PC edition or using the Import Wizard to import data will calculate the cost/hr field for you
Default margins for reports updated to prevent needed changes when printing for binders. This will not affect any custom page setup options already set
My Sync / Account Settings "enable autofill" now defaults to unchecked as autofill now occurs on the device. Leaving it on will not affect data already autofilled as autofill skips fields that already have a value
Be sure to follow the update instructions in this article if you have not yet updated to 1.10.54. This is a critical update and recommended for all to update at your earliest opportunity.


---

Logbook Pro for the iPhone, iPod touch, and iPad version 1.0.6 is now available and is probably THE biggest update to date regarding improvements to the app. We know some of you have experienced some growing pains with our brand new application and with any new software product there are going to be issues, it's software! How we respond to those issues and provide attention to the problems is what is important. I'm confident that version 1.0.6 will solve any problems you may have experienced in the past. We did a complete code review and optimized this app like never before! On top of that we have even added more new functionality based on your outsanding feedback. Be sure to update your apps by going to the App Store on your device then to the Updates area and install your free updates. I suggest doing this NOW! It is that great of an update and I can't stress enough how much this app is improved over the first few versions since the June release. I hope you like it as much as we do! Now let's talk about what's new since our last newsletter which covered 1.0.4.

Since the last newsletter in July we have had two updates to the iPhone and iPad app with some great new functionality:

Significant performance and stability enhancements throughout (cannot emphasize this enough!)
When starting a new flight the last fix of the prior flight will be the starting fix of the new flight
AutoFill now occurs on the device. Once you enter the duration and assuming you have an AutoFill configuration for the selected A/C Type in Options/AutoFill in Logbook Pro PC edition, you'll see the autofill occur instantly
History Date Due is now calculated immediately when the Accomplished date is selected. A calculator button appears on the right side of the Date Due to force a calculation should you change the Event type after the Accomplished date has been selected
Landings are now displayed in the Flights listing such as 1D/2N represents 1 day landing, 2 night landings
Auto-Purge if optioned ON will only purge synced data after a successful sync preventing "pending flights" from being purged.
Purge button when tapped will prompt to delete ALL or SYNCED data
Cost/Hr is now calculated on the device as soon as you enter a duration assuming the Options/Aircraft record has a Cost/Hr value associated
Improved tappability of buttons for iPhone 4 users
If viewing a report in iOS 4 and resuming the app with Sync on Start, the report will refresh automatically
We removed the "Startup Page" option as with iOS 4 the app will resume to where you were last working. iOS 4.2 will be out for the iPad in November so the same should apply. Launching the app when not in a suspended state will take you to the home screen
A new "My Sync Account" dialog was added to take your Account ID and E-mail immediately on startup if you have not yet initialized your device or if you clear the sync account information such as when sharing an iPad
Legs input has been moved up under the Route of Flight field
Custom Columns can now be hidden (by section), i.e. if you don't want to show any custom text columns you can hide the entire custom text section to streamline your data entry screen
Custom Text fields now participate in the recent recall. If optioned ON the prior custom text value will be auto-entered for you for new flights
Fixed issue regarding date/time entry
Fixed a startup crash condition
Fixed a crash (auto-shutdown) if you did not have an Internet connection with Sync on Start ON
To learn more about the changes please review the web based documentation as it has been updated with the changes to date.

Ready to buy your iPhone or iPad app? Click here for Logbook Pro for iPhone/iPod touch, click here for Logbook Pro for iPad
Video:  August Rollup for iPhone and iPad as of 1.0.6

Play Video
It's always better to learn by example than reading paragraphs of text. Watch our recent August Rollup video to show you what's new since 1.0.4 of the iPhone and iPad apps. This video will show you the major new features allowing you to take advantage of them right away. Click the play button above to get started.
Logbook Pro and your Bank Account - what's the difference?
We all have bank accounts, most of us have online bank accounts, i.e. electronic banking in some form. What if your bank, we'll call it "Acme Bank" all of the sudden didn't reconcile? Your latest deposit is missing. Acme Bank says they don't see it, are you sure you made the deposit? Then next month your account is off $75. The numbers you see online don't match what you have in your bank register at home. Would you keep banking with them? Would you trust your numbers using their product if your data just didn't add up? I think we all know that once our trust is violated we are moving to something we can trust.

What is the difference between your logbook software and your bank account? That's right --

nothing

! Logbook Pro is an accounting product for pilots and this is exactly how we treat it. We do not tolerate data loss, we do not tolerate numbers not adding up, and when you use a PDA product along with our PC product you better believe that the numbers will always show the same. You MUST trust your accounting software or your confidence is destroyed and you will never trust the product again.

We take great (understated) pride in how we treat your aviation records like a bank account. We have systems in place to prevent you from entering data erroneously such as PIC being higher than Duration. Our PDA data matches exactly the PC data as a reconciliation tool. We have people posting on forums and telling us how Logbook Pro saved them and how after transitioning from paper logbooks to Logbook Pro they found errors and were thankful for Logbook Pro.

We use QuickBooks here at NC Software for our bookkeeping and believe it or not we are adopting a lot of QuickBooks' logic in Logbook Pro 2011. When you have the mindset that a pilot logbook is a "bank account" for a pilot, you take on a different mentality in handling a customer's data.

In summary, you must trust your logbook, it is your bank account as a pilot. Your confidence must remain high in your data and the vendor you have selected for managing your data. When going for an interview you need to be able to look your interviewer in the eye and answer confidently "yes" when he/she asks is your logbook accurate? We leave the "Logbook Pro" brand on the bottom left of logbook reports for a reason - they represent trust and accuracy. When an interviewer/examiner recognizes you use Logbook Pro, they know your logbook is trustworthy, they probably use it too. You would leave Acme Bank for another bank if they had a reputation for failing to manage your data, stick with a logbook solution you can trust. You made the right choice - Logbook Pro!

Development update and Roadmap (Android, Windows Phone 7, Logbook Pro)
Software is a fascinating industry and technology is evolving so fast we are constantly learning, constantly taking advantage of new technology, and most of all excited to bring you new ways to manage your flying careers. I'd like to take this opportunity to give you a 6-12 month outlook as to where we are headed with our development and where our priorities are today. I think it's clear Logbook Pro is our full time business, this is not a side job, we have no other jobs, and we don't work out of our house, basement, or garage. This is serious and we have huge plans of where we want to go. Software takes time, skill, patience, and constant education.

As some of you know we have been working on the new Logbook Pro PC edition which is named "Logbook Pro 2011" and is our version 2 product. You may ask "Why version 2 when Logbook Pro has been out nearly 13 years?" Simple! We kept our version number at 1.x so you would get ALL updates for free to date. Some vendors rotate their version numbers all too often because they are desperate, we've even seen competitors completely remove older versions forcing their customers to buy the new version! We will never do that, rest assured! We've been working on the next generation of logbook software for nearly three years, if not longer. Granted, not continuously due to other tasks that come in and take priority such as our new web sites, iPhone, iPad, and other business that has to step in. But the good news is we are nearing the end and we hope to have Logbook Pro 2011 go into public beta around spring of 2011. Quality is number one, we don't want to release an unfinished or untested product. We had hoped to start public beta this winter but as you'll read below we are having to push it back a little further due to other priorities we are moving ahead of Logbook Pro 2011. This is also because our version 1 product is so good, feature rich, and stable and our community continues to grow at record paces that we are not pushing out a new version just to bring in more money. And yes, there will be a small upgrade fee, the first time ever, when we transition from v1 to v2. It's the first time in 13 years we've ever asked you to pay for an upgrade and I have no doubt in my mind your jaw will drop in awe when you see the new version. For those still considering purchasing version 1, I suggest going ahead and doing so now and not wait until mid-2011 for the new software. Get your logbooks transitioned into Logbook Pro now and then when the new version comes along it will automatically transition your v1 data to v2.

We've been working on the iPhone and iPad projects for a while but the end of Spring this year I decided to move this work to top priority. As many know or will learn, when you have too many things going on nothing will get done. You have to pick one project, finish it, then move to the next project, finish it, etc. There is so much we have on the to-do list with all the PDA's we want to support, APDL, Logbook Pro Web Edition, Mobile Web Edition, on and on, and we just do not have the manpower in our small business to do all this in a short time frame, so we have to prioritize. We did just that and in June we finally launched our iPhone app followed by the iPad app a few weeks later. Wow, was this a great business decision! I honestly can't tell you how many Logbook Pro users we have because frankly I've never counted or cared to count. I know it's a lot and by the iPhone and iPad sales since June it must be one heck of a lot, more than I imagined! So thank you and I hope you all are enjoying the iPhone and iPad apps on your Apple devices.

Based on the huge success of our iPhone/iPad apps and how eye opening it was on the adoption of these new apps, and now with 1.0.6 which should probably have been called 2.0 because it is that significantly better, it's time to take care of our Android community. While saying something is coming is considered "vapor'ware" in my book and often used by vendors to try and hold on to customers considering moving to another product with a "coming soon" line to keep you around. Android is not here yet and until it is it doesn't exist. While I'd love to just surprise you all and shock you with the release, I don't want to do that either, although it would have been exciting. My plan is a November/December release of Logbook Pro for Android. Some of you responded to our Facebook post asking "what's the best Android device" as I don't trust building an app based solely on the simulator. Although our development simulators are really good, I will not release a new app unless I use it myself on actual hardware. So let that be a sign of what's to come and again, my goal is this winter. Thank you all for the feedback to "what is the best device" and it seems like the best Android device is about every Android device ever made! :)

Windows Phone 7 will follow the Android release if not release at the same time. Windows Phone 7 went final (RTM) on September 1st and while we have beta development tools now the final tools will ship to developers on September 16th, so I'm looking forward to supporting that platform as well.

Both Android and Windows Phone 7 will use the very same cloud sync (My Sync Portal) that the iPhone and iPad use. The My Sync portal is already designed for the additional line of PDA products and will not conflict with those of you that also have iPad and iPhone apps.

So as you can see, Logbook Pro 2011 work will continue but it is being bumped slightly by our Android and Windows Phone 7 work. We hope to wrap up our schedule importer integration for iPhone and iPad soon as well. Then it will be full steam ahead on Logbook Pro 2011 which will lay the ground work for the next 10 years with the capabilities we are bringing with this new feature set. As I alluded above, we are planning a web edition (web browser) and mobile web edition (WebOS users, BlackBerry, etc.).

For our APDL community I know you are wondering what's in store for this product? APDL for Palm and Pocket PC is simply unrivaled, nothing else on the market even comes close to the way it works and what it provides our airline pilots. Palm and Pocket PC's are not going away, you will be able to buy them for years to come. While I know you need a separate device from your new fangled smartphone consider it like the old E6B that you have to carry in your flight bag. APDL is a custom tool to assist you and I am not going to rush anything to bring you a new version "just because." We do it right or we don't do it at all. Logbook Pro 2011 is going to have APDL functionality integrated and this is the architecture we will carry forward to the smartphones after that time. So in the interim, you will need to continue using your trusty palm and pocket pc's to keep that great asset on hand. I suggest you also use Logbook Pro on your smartphones in addition as we will soon integrate schedule importing and it's a great tool for rapid flight entry to keep your Logbook Pro PC editions up to date.

I hope this article sheds some light on what we are working on and what's to come in the next year in our development priorities. To summarize our priority list:

Schedule Importer integration for iPhone and iPad (version 1.1)
1.10.55 update for Logbook Pro PC edition which may have better schedule importer integration as well
Logbook Pro for Android
Logbook Pro for Windows Phone 7
Logbook Pro 2011
New line of PDA products to align with Logbook Pro 2011 including new versions of APDL
Logbook Pro Web Edition
Logbook Pro Mobile Web Edition
Feel free to contact us with any questions or concerns you may have. Realize all of this is subject to change (without notice) but it is our "plan" as of this writing. Thank you for being a part of our community and we are so excited for the future.
How to share an iPad or iPod touch with multiple pilots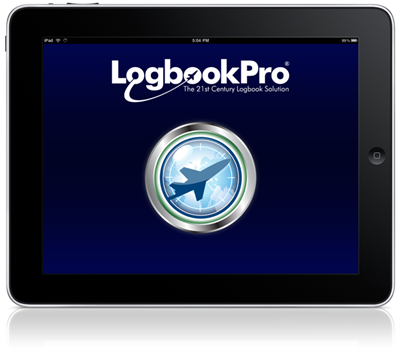 It's always exciting to hear from customers with new questions and ideas on how to use our products. It inspires thought and problem solving which all software developers seem to crave. Just like the "scheduled sync" in Logbook Pro 1.10.54, this came from a discussion with a customer and hence comes a great new feature for all. The iPhone has always been considered a "personal" device and when I got my iPad I thought of it the same. Apple probably thinks this way too based on the way iTunes syncs these devices. However, after further thought from a few inquiries I start to wonder if some of these devices are going to be shared now. They sure aren't cheap! As I started typing this I can see how an iPod touch could be shared as well. So we'll probably take this to heart more and consider a multi-user scenario for the future, but here's how to accomplish this now.

As you know Logbook Pro for the iPhone, iPod touch, and iPad are designed to be lightweight, efficient, rapid entry devices to add new information while away from the heavy duty processing of Logbook Pro PC edition. Due to this design, sharing a device among other users is actually quite simple and even more so with our simple and highly reliable cloud synchronization system.

In order to use a device for a different user all you have to do is change the sync account credentials in the Settings/Synchronization area and then purge your device and sync with your My Sync account. The same applies to Logbook Pro Enterprise Edition users that use multiple data files, create a separate My Sync account for each PC data file to sync. When you change the sync account credentials Logbook Pro is going to prompt you to sync. In addition, if you have data stored in the device it will also offer you the option to purge which is recommended as configuration data such as aircraft and history events are aligned with each PC data file. Tap the option to "Sync & Purge" if presented and the device is now ready for the new user. Lets break this down into easy to follow steps:

User 1 enters their account ID/E-mail and syncs. The device is now ready for them to use.
User 1 adds new information such as their new flights for the day
User 1 taps Sync to sync this new data to their My Sync portal
User 1 taps PURGE on the top right of the home screen to clear their data from the device
User 1 taps Settings/Synchronization and clears their Account ID and E-mail which should remain private
User 1 returns to the Home Screen and if/when prompted to enter sync credentials, click Cancel
User 1 hands device to User 2 (and smiles)
User 2 taps Sync and will be prompted to enter his/her Account ID and E-mail, a sync will then occur
User 2 is now ready to use the device and adds his/her new data
User 2 taps Sync to stage this data to their My Sync portal
User 2 then picks up at step 4 above to clear their data and account credentials
Each user can now sync their PC edition data and the device data will be synced into their data files
You'll find this more intuitive as you actually try it and you'll see how easy it is to share your device among a multi-pilot household or aircraft partnership. In addition, if you forget your device and want to borrow another person's iPhone, iPod touch, or iPad that also has Logbook Pro installed, you can now follow these simple steps to log your flights, sync your new data, and give the device back to the owner. A very unique feature as you can see. If you need any assistance with the above discussion feel free to contact us and we'll gladly assist you.
Using another electronic logbook product?  We'll convert your data FREE!
Did you know we do logbook conversions from other electronic software products -- FREE?

We will gladly convert your "other" electronic software logbook for you at no charge. This is a FREE one-time service for new customers. Simply send us a zip file of your current logbook data and we'll verify we can convert it, if so, we'll ask for your Logbook Pro PC edition registration code to proceed with the conversion and we'll complete the conversion for you. We welcome you to Logbook Pro and hope you enjoy our wide range of software for general aviation and airline pilots, our Cirrus Elite binders, and other add-ons to make flight logging fun and useful. Logbook Pro is the leader for ease of use, quality and support, data analysis and reporting, and free upgrades for over 12 years now! It's time you made the move.

We have a Knowledgebase of conversions which is only a list of our most common conversions. Contact us even if you're product is not listed and we'll gladly see if we can convert your data.
Did you know Logbook Pro has an Import Wizard that can import just about any comma (CSV) or TAB delimited file? If your logbook product has an export feature, most likely you can make the transition yourself. Click here for details on the Import Wizard which is functional even in the Eval of Logbook Pro.

Using a MAC? No problem. Click here for details on how to run Logbook Pro on a MAC.
| | |
| --- | --- |
| Product | Version |
| Logbook Pro PC Edition | 1.10.54 |
| Logbook Pro Palm Companion | 1.10.5 |
| Logbook Pro Pocket PC Companion | 1.10.16 |
| Airline Pilot's Daily Aviation Logbook - Palm OS | 6.0.4 |
| Airline Pilot's Daily Aviation Logbook - Pocket PC | 6.1.4 |
| FlightCentral Route Browser | 2.2 |
| Logbook Pro for iPhone & iPod touch | 1.0.6 |
| Logbook Pro for iPad | 1.0.6 |
Click here to download updates as required.
Want to receive this newsletter directly in your inbox? Click here to subscribe.