Logbook Pro for iPhone, iPod touch, and iPad 2.3.3 released
Over the past few weeks we published a few updates to our popular Logbook Pro app for iPhone, iPod touch, and iPad. We just added some new features you may want to use that doesn't even require you to purchase the app such as our handy new Time Calculator which can be used to help you check duty times if needed. The latest version of our FREE universal app is 2.3.3 and is available on the Apple App Store. If you haven't installed this latest version I highly encourage you to do so now and enjoy many exciting new features, great stability and reliability improvements, and much more. I'll highlight some of the changes for you below.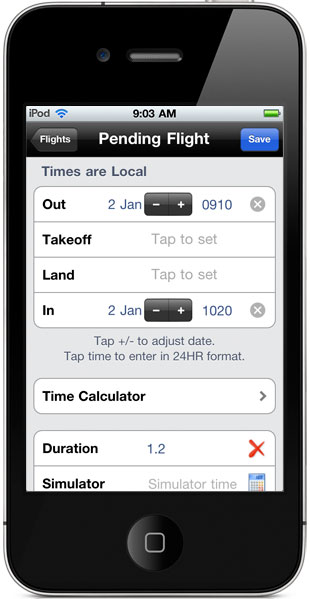 Version 2.3 brings a new input system for Out, Takeoff, Landing, and In "OOOI" time fields. No longer do you need to fiddle with the iPhone spinning wheel date or time selectors. Tap the "Tap to set" area and you'll see a -/+ button to adjust the date as needed and a 24 HR format time input. You can tap the X to clear the time if needed or tap into the time field to edit it as desired. This makes the inputting of date/time much faster and the system won't allow you to enter an invalid value such as 9999 as it's smart and knows the proper time formats making sure you don't enter errant information which would be sloppy on our part as developers.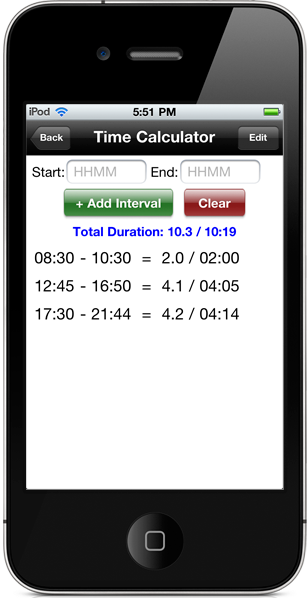 Pilots have long requested a way to log flights "By Day" like in APDL instead of By Leg which is the preferred and highest fidelity way to log flying. To help pilots tally up the total duration for all of their flights in a single day we created a Time Calculator. It converts an interval pair (start - end times) into a decimal presentation of the time for use as the duration in Logbook Pro. The feedback was extremely positive and the gears were obviously turning so people asked if we could take this one step further and provide the total "minutes" for them in a HH:MM format. Easy enough, we added the HH:MM for each individual leg and also at the top in blue for the entire set of intervals. So not only can this Time Calculator be used for a summary of flight time but you can use it as a crude duty time calculator as well.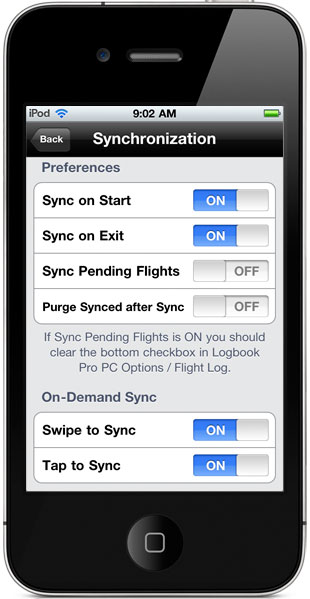 For users using iOS 4 you're aware of the new On-Demand sync capability where you can sync from anywhere in the app by either doing a two-finger vertical swipe or a double-tap in non-data areas. Some may want to disable this functionality and stick to the traditional Sync button on the home screen or Sync on Start or Exit functionality. If you're using iOS 4 you'll see the "On-Demand Sync" settings on the bottom of the Settings/Synchronization screen to give you complete control over this functionality.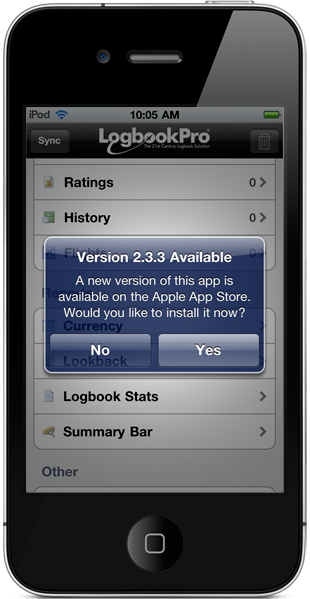 We believe in bringing information to you, not having you chase down information such as what's the latest version, etc. We realized people don't know how to check for app updates on their iPhone or iPad or don't check often enough as apps evolve rapidly and I personally check the App Store Updates area daily for app updates. The problem is even worse on the Android side so we decided to build in the same application update notification system we use in Logbook Pro PC edition to help you keep up with the new features (and ehemm, fixes). This feature went into the 2.3.2 update and we just pushed out 2.3.3 with some more new goodies so this is the first time many of you got to see it in action. Once every 24 hours we'll poll our servers for a new update notification and if a newer version is available you'll be notified as shown above. Tap YES to be taken to the App Store where you can download the update and keep your app in top form and enjoy the new features and squashed critters. If you don't want to be notified of application updates you could turn off the Update Notification system within the Settings area but we highly discourage anyone from doing this.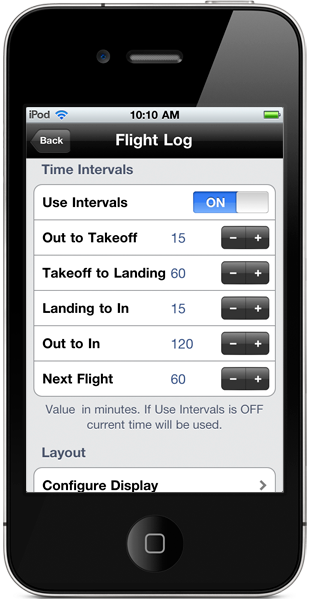 We added two more "interval" options for you. "Next Flight" allows you to specify the default time between the last flight's IN or Landing and the next flight's OUT or Takeoff. We also added an "Out to In" interval for those that don't log Takeoff and Landing which specifies the time (in minutes) for the IN to be based off of the entered OUT time. We received more great feedback that people really liked and relied on the "now" blue buttons from the prior system. So we added one more option at the top of the Intervals section "Use Intervals" and when set to OFF the current time (local or GMT as set) will be the default time for you and the interval system will be bypassed.

If you're not enjoying these new features be sure to go to the App Store and download Logbook Pro today. The app is free and if you want to enjoy utilities such as the Time Calculator you can use this without ever having to pay a dime, not even the cloud sync subscription - so enjoy!

Want to be notified of new releases? Be sure to subscribe to our Logbook Pro Revision History forum and you'll be notified of new posts we make, i.e. software updates. Click here to subscribe to the APDL and Airline Schedule Importer revision history forum as desired.
Announcing Logbook Pro Watch Edition 1.0 - a complete stand-alone logbook for your watch!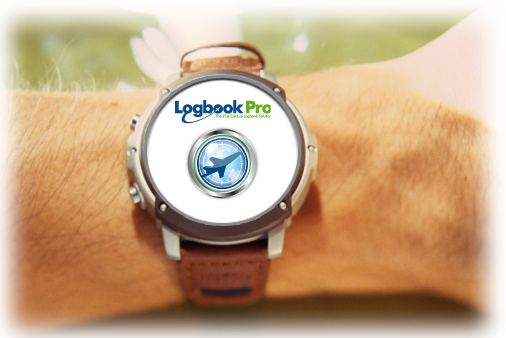 Announcing the new, innovative, completely stand-alone, fully featured, amazingly functional, pilot logbook solution for your watch! What, you don't believe me? There it is, pictured above right before your very own eyes! :) Okay, it is a joke but a lead in to a very important concept pilots must understand and that is making the right choice in maintaining your pilot logbook records that will last a lifetime and present minimal risk of data loss.

Can you imagine if someone stole your flight bag with your logbook(s)? It's happened! What happens if your iPhone drops out of your shirt pocket and into the toilet? It's happened! What if an iTunes update wipes out your iPad and/or iPhone? Can happen! What if your computer crashes or gets a power surge from an electrical storm and completely fails and all data on it is lost? Yes, it too has happened! What if the free web site you're using decides to pull the plug and has no obligation to you since it's free? It certainly could happen! Our article last month on disaster preparedness is so important especially in light of the storms that produced tornado's in the south just last week.

None of us want to lose our logbooks, our flying career is very important whether we are student pilots, military pilots, airline pilots, sport pilots, etc. I'm willing to bet that you keep pretty close hold of your paper logbooks and take special care not to tear pages or misplace them because they are important to you, right? It is just as important to make the right decision in choosing your electronic pilot logbook as well.

Nothing sickens me more than to read articles on other web sites with titles such as "Emergency" "Lost Everything" "It's all gone!" "Where's my data" - it is sad to read but it does happen! It is important as a software company to ensure your data is safe and produce solutions that are not going to jeopardize your hard earned flight history. We, as developers, have to know the limits of platforms and be responsible and make smart choices on how to use those platforms reliably and not produce a product that cannot be reliably used for the purpose of maintaining such important records as your logbook.

In the image above the concept portrayed is if you could have a complete stand-alone logbook on your wrist watch would you? Is that really a smart thing to do? I don't think so either. Is it really a good idea to have a complete stand-alone logbook on a device that is really not designed to handle the records of a pilot with 30 years of flying under his/her belt? Devices typically have a "Lite" database which are not highly reliable, they are not designed to handle a lot of information and are prone to corruption. Think hard before you trust any "device" with your logbook by itself. This is why we purposely design our device products to be extensions of the main product such as Logbook Pro PC edition which offers you backup capability, full analytical and printing capability, etc. While devices are getting more powerful, are devices reliable enough today to trust with your valuable records all by itself? That's your call, I'm sure you can find plenty of people that spent weeks and months inputting years of information to suddenly lose it all with no way to retrieve it. Extremely unfortunate!

We see a similar problem with people choosing a free logbook on the web before they pay a small fee for a logbook they have in their possession for life or pay for a web based solution. Paying does mean something and that money may very well be what keeps your logbook existing. People don't realize that signing up for a free service means that service has no obligation to you, period! In addition, does a free web logbook really provide you the features and functionality you'll need some day in the future? What about printing a hard copy of your logbook? What kind of fidelity are you going to lose when transitioning between one logbook and another solution? Choosing the right logbook is a very very very important decision you need to make as it is a solution you should stick with for the duration. Be sure to do your research prior to purchase, explore the vendors complete web site including their support areas and see what others are reporting. Don't fall victim to hype or false information leading you into making a decision that you'll regret later.

Think long and hard when choosing your logbook solution, hopefully this article can open your eyes on how important this decision may be to you someday. With Logbook Pro, serving the aviation community for over 13 years, rest assured your data is safe, your information is accurate, and reliable.

Are you logging ASEL, AMEL, Complex, etc.? You shouldn't be...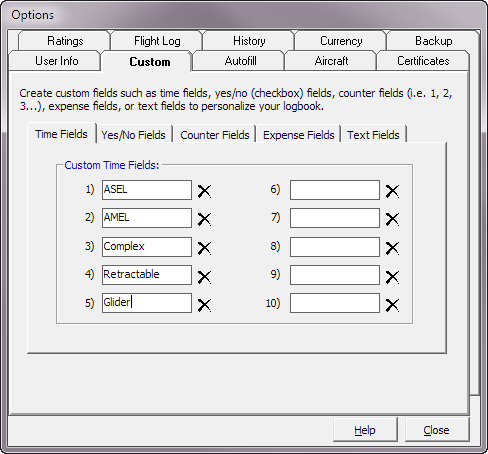 Have you created custom columns that look like the ones in the image above? Are you creating columns for aircraft category & class type information in Logbook Pro just because they exist in your paper log? As the title of this article suggests: "You shouldn't be..."

Logbook Pro is designed to produce the most accurate flight logbook solution for you. Because we have the power of the computer at our disposal there are things we can do that you can't do in a paper logbook. Duplicating the duration into other columns such as Airplane Single-Engine Land (ASEL) or AMEL or other aircraft attributes such as Taildragger, Retract, etc. is not necessary and just opens up the door to making mistakes. The less you have to input the better chance the information will be correct. Options / Aircraft is a very important area of Logbook Pro. Each Aircraft Type should be configured completely and as accurately as possible.

Let's take for example the ASEL column most are familiar logging in a paper logbook. When you make an entry in Logbook Pro and choose your Aircraft Type and enter a Duration Logbook Pro can do the rest. We can take this duration and apply it to other attributes of a pilot's logbook that mirror the duration such as ASEL. Therefore when you start using Logbook Pro you'll see that the columns typically placed within the Aircraft Category & Class section of your paper logbook are missing -- because we don't need them in Logbook Pro. When you run a report such as Reports / Flight Log / Split-Reports / Commander & Full-Size Series you'll see these columns DO appear and they match your duration and are generated based off of your Options/Aircraft configuration. Logging these values in your own ASEL column will not be used by Logbook Pro and may just confuse you, so this is why.

So now what, you created custom columns, how do you get rid of them? In the image above you can see the Custom section of the Options area where you can create custom columns. If you were to simply clear the ASEL text out of the box the data will still remain in the database. If you were to come in later and use spot 1 for something else say "NVG" then you would pick up all of the times from your ASEL entries - not good! The right way to remove a custom column is by clicking the black X just to the right of the text box. This will not only clear the caption for you but also purge the database of any values that may have been entered into this position previously.

We discussed this topic in our May 2007 newsletter article but we're seeing this crop up again and we want to help you keep the most concise and accurate logbook solution possible. So don't be one of those "over logging" as you don't need to work this hard. Enjoy Logbook Pro and the power of automation. Want to read or search our archive or prior newsletters? Click here.
Airline Pilots: We need your schedule/trip system point of contact for new integration
To all of our airline pilots:

We want to continue to provide you the best possible airline schedule importer and give you the most accurate information available for your pilot logbooks and managing your airline information. In order to make the process of importing your airline schedule information as seamless and effortless as possible, we would like to arrange direct integrations with your schedule/trip provider. In order to do so we need a point of contact to reach out to your trip source. If you could please send an e-mail to feedback@nc-software.com and include a name, e-mail, phone number, web site, anything to help us get in touch with someone that provides you your trip data we would greatly appreciate it. Thank you for your assistance in helping us establish point of contact information.
Using the Import Wizard repeatedly? Take advantage of map files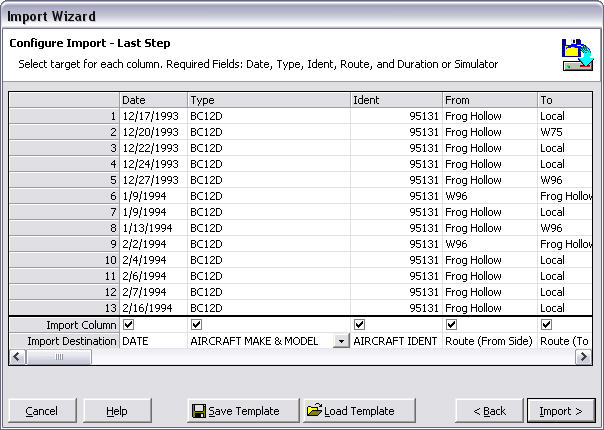 The Import Wizard is a powerful tool to allow Logbook Pro PC edition users to import TAB or COMMA delimited files. In some cases you may repeatedly use the import wizard such as importing files from a PDA product or airline schedule source that may not work with our airline schedule importer.

The Import Wizard has a feature I'd like to bring to your attention which may save time for those that use the Import Wizard to import data that has the same format every time. I use this feature any time I'm importing data as if something isn't just quite right and I want to re-import, it saves a lot of time. The feature is the "Template" system as you can see on the bottom of the image above. Once you have all of your columns mapped (checkboxes checked) you can click "Save Template" and a .map file will be created. This .map file remembers what columns are to be imported and the destination columns within Logbook Pro. When you use the Import Wizard next time and you are SURE your data has the exact same column order, you could click "Load Template" and load the .map file. It will then check the columns exactly as you did previously and set the destinations the same. Review the configuration and click "Import >" to complete the process. For more information on use of the Import Wizard to import TAB delimited text files or CSV files click here.
Logbook Pro for Android Development Update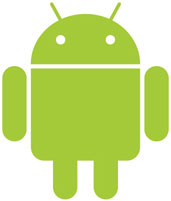 It's funny how a few years ago people were beating down my door asking for an iPhone app. Finally we have an awesome rock-solid app for iPhone and iPad so we try to take a sigh of relief and this little green monster (shown above) is now stuck on my office window! I'm not sure who put it there but I have a feeling it's one of you!!! :)

It is fascinating how far these smartphones have come, it wasn't that long ago Palm and Pocket PC's were the big thing and they are still around but a new generation of smartphones is here to stay. I personally own a Motorola Droid X and while the transition from my iPhone 3GS was a little tormenting from all the Apple hype and brain washing, I have grown to "really" like this phone! The larger screen, great display, solid Motorola phone, I have no plans of changing devices anytime soon. So it's just as exciting to me to support Android as much as all of you that keep reminding me "Android" at every turn!

Logbook Pro for Android is what is in development now and it's coming along great. The Android platform really is fascinating from a developer standpoint and I'm excited for the opportunity to give you the final announcement of its release. As the name implies, it is "Logbook Pro" and it is not APDL. Just like the iPhone app it is NOT meant to be an APDL replacement. It is an extension of Logbook Pro PC edition with advanced features over our Palm and Pocket PC PDA Companion products. For airline pilots needing duty time tracking, rest requirements, etc. you should continue to use APDL even it means keeping an extra few ounces in an "airline calculator" that APDL has become.

The interface for Logbook Pro for Android will resemble closely the iPhone app as will our Windows Phone 7 app when we get to that next. We want to keep these three devices as closely aligned as the platform allows. This will allow people transitioning between devices to be familiar with the product and its features without having any significant new learning curve to deal with. This also helps us from the developer perspective in keeping functionality aligned from a code perspective.

Thank you to all those that answered our call to Android developers forum thread to see what hardware you're using. We are going to set a min operating system cut-off at Android 2.2. I'm sorry for those using 2.1 or earlier but there are reasons we have to use 2.2 as our baseline which covers most of the devices released as of the past 1-2 years. Logbook Pro for Android should also work on the Android tablets coming out but we'll take it one step at a time. As for cost, our plan is to do the exact same as our iPhone and iPad app, the app will be free and you'll pay a low cost cloud sync subscription instead of paying for the software which could end up costing more in the end having to buy it again with each major upgrade we release. This has proven to be a successful solution for both us and our customers and based on the usage of our iPhone and iPad apps it is a great measure of the success of this way of doing business.

I'll share more when there is more to share but I expect things to remain quiet until essentially the product is ready to be released. We have a private beta team already established and based on what we learned from the iPhone app process we hope for a rock solid Android app at the time of release. Thank you for your continued patience. It is not my desire to be first but instead be the best.
| | |
| --- | --- |
| Product | Version |
| Logbook Pro PC Edition | 1.11.2 |
| Logbook Pro Universal App for iPhone, iPod touch, and iPad | 2.3.3 |
| Logbook Pro Palm Companion | 1.10.5 |
| Logbook Pro Pocket PC Companion | 1.10.16 |
| Airline Pilot's Daily Aviation Logbook - Palm OS | 6.0.4 |
| Airline Pilot's Daily Aviation Logbook - Pocket PC | 6.1.4 |
| FlightCentral Route Browser | 2.2 |
| Airline Schedule Importer | 8.3 |
Click here to download updates as required.
Want to receive this newsletter directly in your inbox? Click here to subscribe.