Logbook Pro: Almost 14 years old and still version 1? Why we do this...
14 Years and running - Never Charged for an Update!

In March we will celebrate Logbook Pro's 14th birthday! I don't remember when I first started creating Logbook Pro, I had a passion to make this computer do something other than documents and finances and as a pilot in the Air Force, I figured I'd create a computerized logbook for myself. Everyone wanted what I created and after so much demand I put it on the web and started selling it after forming NC Software. It was a hobby, something fun, and years passed and the passion was simply to keep improving it. I didn't rely on the income as I was a well paid pilot in the Air Force on the pilot retention bonus, my passion was and still is simply people using a product I created. There is more joy and reward in just knowing you've created a product people find useful and helps them in their day to day tasks as a pilot keeping their logbook current.

In the software industry companies typically generate a revenue stream by releasing a "major" update every 12-18 months. A major update is considered an update when the first number of the version changes, i.e. 1.x to 2.x. Some companies will try to convince you they are releasing a major update by changing some color scheme, adding a pretty chart, or some other marketing hype! I never wanted to do that, I just wanted people to use my product and enjoy it. There are two marketing strategies as I see it: 1) Rotating revenue by major version upgrades, or 2) growing your customer base by building a great product backed by great customer service. The two probably don't exactly go hand in hand. Charging your customer for a major update that they may not perceive as a "major update" may backfire and reduce the customer base as they abandon the company. The company may have a short term revenue boost but in the end, the company will be short lived and burn their bridge by taking advantage of their customers. I chose option 2 and Logbook Pro, to this very day, continues to grow and set sales records and sustaining the business for continued growth. It's a bit baffling but it's true. Now, had I been up to version 9 (14 years / 1.5) yes, I would very possibly have a bigger bank account, but where would my pride be? Would the number of users be as great as it is now? And believe it or not, I could not tell you how many Logbook Pro users we have because I have never counted! It may be needed some day if I ever sold the company, but that is not in the plan at this time, not for maybe 20 more years!

This is why you see Logbook Pro PC edition still at version 1 and in about a month we'll be releasing 1.12.0, another FREE update for all of you! Is a version number really important? Some hesitate to use a version 1 product because they think it's new, now you know that Logbook Pro 1.x is far from new, it is proven, rock solid, the most trusted logbook bar none, and the defacto standard when it comes to airline interviews. We take pride in rapid response customer service every day of the year! We answer you on holidays or even while out shopping via our smartphones. We know you need answers fast, we intend to do just that. We built a quality product which we continue to hone which keeps support minimal. When your company has more support staff than developers or spend more on support than development, you have a really bad scenario destined for failure. Create a great product, people will come, support costs will be minimal, and everyone will be happy. This is what we do and we don't skimp anywhere. We spend what it takes to produce a top notch product, we put the best infrastructure into our network to provide you a great shopping and support experience as well as fast and easy delivery of software and updates, and just do the job right, no cutting corners.

We hope you, our amazing community of aviators, enjoy your software products and we greatly appreciate your great ideas, feedback, words or encouragement, and sticking by us all these years! It's great to hear from some of our first customers that bought Logbook Pro back in 1998 for the very same price our customers are buying it today, we have never raised our prices. We are growing, we are developing, we have some amazing things coming in 2012 and it's only the beginning, even just 14 years into the company which seems so short. Technology today is amazing, there is not enough time in the day to produce what we want to develop. It takes time, we only do it right, thank you for your loyalty and we look forward to the next 20 years!

Happy Holidays!

Neal Culiner
President, NC Software, Inc.
How to run Logbook Pro on your Mac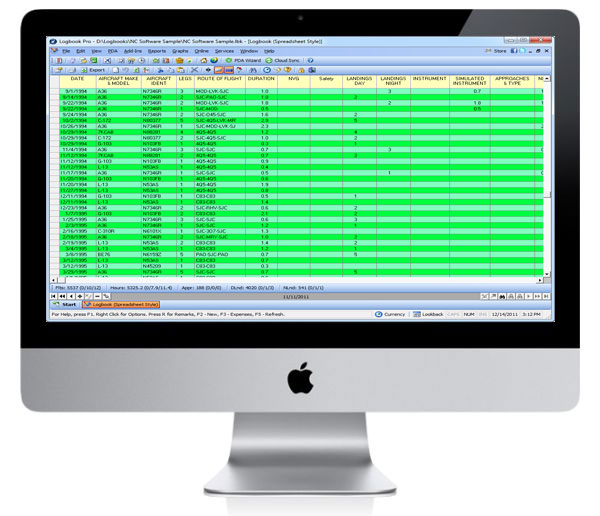 We are very lucky as technology has evolved so much over the short time they've been available to consumers. You'll get a feel for how far we've come in such a short time if you read Steve Jobs' bio. Apple has come a long way and they produce great hardware, expensive, but good quality. Microsoft is tops when it comes to software and they produced an outstanding operating system, Windows 7, by far the best version of Windows ever produced in my opinion. The problem with Mac OS has always been software availability, the Windows side of the house has always had the best software selection and developer tools to help us bring you great software. A great move Apple made not long ago was switching to the Intel architecture which really opened the doors for Apple, and with that, they have even created the path to run Windows on their hardware. There are several options we'll discuss in this article, but the best of all is this $2,000+ system you just purchased can now be used for anything and everything you'd ever want to run.

Over the past few years virtualization has really taken off. Computers have become so powerful you can actually run multiple operating systems on a computer, or operating systems within operating systems via virtualized environments. A popular company for creating virtual environments is VMWare. We use VMWare Workstation to run every OS and platform that Logbook Pro supports and test every new release on all supported platforms. It is amazingly fast and some actually use it for day to day use while we just use it for testing.

Running Microsoft Windows on a Mac can be done two ways: 1) Using an emulator that hosts Windows as an app, or 2) Partitioning a hard drive so you can dual boot into either Mac OS X or Microsoft Windows. There are pro's and con's to each but it's really a matter of personal preference, both are great options. Hard drives are huge these days and extremely affordable so partitioning typically isn't a big deal. The advantage of using an emulator (virtualized OS) is that you don't have to reboot to get into Windows, just start the emulator system which hosts Windows and you have "Windows in Mac." Here are three popular options to run Windows:

1) VMWare Fusion. I use this on an iMac as you have probably seen in our iPhone videos where we show you Logbook Pro running in the demo to show you how to sync your iPhone app with Logbook Pro. It's inexpensive, just download and install it then install your favorite Windows OS into VMWare Fusion. I highly recommend Windows 7! It is just phenomenal! Click here to view on Amazon.com.

2) An alternative system to VMWare Fusion is Parallels Desktop. I don't have personal experience using this but many customers do use it and seem to like it. Once installed you then load Windows just as above with VMWare Fusion. Click here to view on Amazon.com.

3) Mac OS X comes with a system for running Windows called Boot Camp. This is the method where no emulator is required, you simply run the steps as outlined here and create a partition (section of your hard drive) that will host Windows. When you boot the computer you'll be presented with the option to start Mac OS X or Microsoft Windows. I personally use this on my MacBook Pro laptop computer. It runs great as well. Click here for a step-by-step guide, click here for a video tutorial from Apple.

Running Windows on your Mac will give you the best of both worlds. Some people think Windows is more vulnerable to viruses, this is completely untrue. Both OS's MUST use an Anti-Virus, I highly recommend Norton Antivirus 2012 which is under $20 for a single user license from Amazon.com, and for Mac OS X I recommend Norton Antivirus 12 for Mac. Again, BOTH OS's must have anti-virus protection. Neither is immune and if you believe that Mac OS is simply immune to attacks you're setting yourself up for a very bad day.

Our apps, whether iPhone, iPad, iPod touch, or even Android will work with your Mac hardware because we have no hardware dependencies to function. Our innovative sync system works completely over the Internet completely removing the hassle of Wi-Fi connection issues, pairing your device with a desktop logbook, etc. Unfortunately Apple does not allow third party apps to sync over a cable (iTunes) but in the end we ended up producing a far better system as a result which our users love.

Enjoy your software and your hardware without limits. Use the latest Quicken for your finances and other products that don't support Mac OS X.

The beauty of our free apps for iPhone, iPad, and Android

As you probably know, our iPhone, iPad, and Android apps are FREE on their respective Apple and Android App Stores. There are multiple reasons for doing this which you may not be aware of:
We want you to try our software before you make any financial commitment. By making the app free you can test the app along with Logbook Pro PC edition (evaluation) for 30 days.



We want you to always use the latest version available. By making the app free there is no reason to not use the latest version, therefore, we can ensure you have the highest quality product in your hands at all times. This also reduces our support costs by not having to support multiple versions in the field. The more we can get everyone on the same page (version) the more time we can spend developing new products and updates for you.



When an OS is updated on your device it may break functionality. For example, when iOS 5 released some things may not work as it did in iOS 4. If you use our app then you simply get the next free update once we get things fixed up for iOS 5. Another iPhone logbook product on the market proved not to be compatible with iOS 5 and now to get iOS 5 compatibility you have to buy the next version altogether!



When we come out with the next major release of Logbook Pro PC edition (at some future point in time), you can have an app for v1 and an app for v2 that both share the same cloud sync subscription, no additional purchase will be required. Again, we've taken the cost of having to buy new apps completely out of the equation and making sure you are using nothing but the best.
So as you can see, there is a method behind our madness. Customers of another logbook product are learning this the hard way having to buy all new versions just so they can communicate with each other and work with the latest iOS version available. That's not a great customer experience and with our free app and cloud sync subscription system we have eliminated this madness altogether so you can spend your time flying and not fiddling with buggy software.
Getting started with your new Logbook Pro software (PC, iPhone, iPad, or Android)

Welcome to Logbook Pro! We'll help you get started using Logbook Pro PC edition, Logbook Pro for your iPhone, iPod touch, or iPad, and also Logbook Pro for Android.

Logbook Pro PC edition:

Click here to launch the Logbook Pro web installer within Windows and then

click RUN when prompted

. Go through the installation steps and then on the final screen you can check the checkbox to launch Logbook Pro now, or launch it from the START menu in Windows. When Logbook Pro starts you'll be presented with an activation dialog. If you purchased a license already you can enter your name, unlock code, e-mail, and then click Activate. Otherwise click the Evaluate button to proceed. You will then be presented with the Options dialog set on the User Info tab. Enter your name on the top line as you'd like it to appear in reports such as below the signature line on reports. You can enter additional information in the remaining lines such as your address and phone number. Next click on the Aircraft tab and enter the Aircraft types you fly and configure each to be best of your ability. You're now ready to log your flights by going to View/Logbook from the menu (or click the airplane button on the toolbar).

You'll notice there are no Aircraft Category & Class columns in the logbook area. Do not add these columns! You can create custom columns in Logbook Pro from the Options/Custom area. Logbook Pro does not need you to log ASEL, AMEL, etc. As Logbook Pro is a smart computer program by logging a flight that contains an A/C Type and Duration, it can then calculate your ASEL based off of the information you put in the Options/Aircraft area earlier. You'll see the information appear in reports and the Analyzer (View/Analyzer) auto-generated for you.

You can show hidden columns such as OUT/TAKEOFF/LANDING/IN by right-clicking in the spreadsheet area and choosing Configure Display. This allows you to turn on/off columns to customize the layout to suit your needs. You can also resize column headers to make them wider or narrower as desired.

You can evaluate Logbook Pro completely risk free with no time limits! The only restriction is a 50 flight entry limit allowing you to fully explore the software prior to any purchase required. When you're ready to lift the evaluation restriction simply purchase an unlock code instantly online from our Online Store or Sporty's Pilot Shop and enter the information when the program starts or by clicking Help...Activate Licenses.

Logbook Pro for iPhone, iPod touch, and iPad:

The Logbook Pro app for Apple's iOS is FREE on the Apple App Store. If you have a device running iOS version 3 or later then Logbook Pro will run on your device. Install the app from the App Store (no purchase required) and when you first run it you'll be presented with a startup wizard. Go to http://logbookpro.com/sync which requires a login, no purchase is required. If you already have an account on our web site login on the left side, otherwise create an account on the right side of the login screen. You will find your Account ID and Username at the top of the cloud sync portal. Make a note of this information. Go through the steps as outlined in the startup wizard and can also be viewed online by clicking here. Essentially the steps are:

In Logbook Pro PC edition enter your Account ID and Username at the bottom of the Options/User Info area
Click the "Cloud Sync" button on the toolbar and then select "Sync Now"
Enter your Account ID and Username carefully into your app in the startup wizard or in Settings/Synchronization and then Sync your app
Refer to the documentation and video tutorials to learn how to get the most out of your app.




Logbook Pro for Android (phone or tablet):

Logbook Pro for Android works with any Android powered device, phone or tablet, running Android OS 2.2 or later. Logbook Pro for Android is a FREE app available on the Android Market. The setup is exactly as outlined above for the iPhone app. Refer to the documentation for more information specific to the Android app.



Logbook Pro for Android 1.0.8 released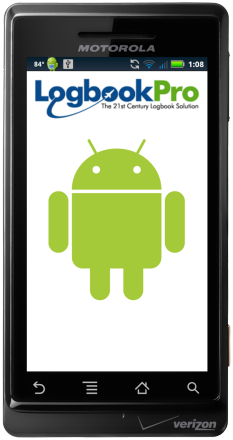 We just released a new update for our Android users - Logbook Pro for Android 1.0.8. On your device go to the Android Market "My Apps" area to download your free update today. Click here if you don't yet have the app and want to download it now.

Revisions in this release:

Improved performance and stability throughout
Added new "long press" popup menus on data items in the data list such as the Flights screen to "Mark All as Synced" and "Mark All as Unsynced". At times we've had users that wanted to resync all data on their device. You can use the Mark All as Unsynced option now instead of resaving each item or using the menu "Mark as Unsynced."
Added "Save and New" functionality. The toolbar (top right) will now have two save buttons, one has a + sign on the top right. The save with plus sign means "Save and New" in other words save the current record and start a new entry.
Approaches screen now has a SAVE button on the top right so you don't have to scroll down to tap the Save button.
Be sure to review the documentation to get the most out of your app. If your included 30-day cloud sync subscription is coming due or is expired, click here to buy a year of cloud sync subscription for only $19.99.
Black Friday/Cyber Monday Sale sets all time record
No question the entire globe is in financial crisis yet we are all still moving forward in life the best we can and with what we have. Shoppers are especially sensitive to finding deals, using coupons, etc. and across the board Black Friday and Cyber Monday were successful for all retailers participating. This is a great sign for a positive direction for all economies and there's no doubt the aviation industry has suffered a triple whammy! 1) 911, 2) Rising price of oil (fuel), and 3) recession. Interviewing is expected to surge in 2012 for airline pilots which is great news! If you're looking to interview, be sure to get your binder now and get your logbook interview ready today!

This year we participated in not only the online sale event after Thanksgiving weekend "Cyber Monday" but also the retailer event "Black Friday" by starting our sale offering the afternoon of Thanksgiving and running it all the way through Cyber Monday. The sale was a huge success by more than tripling the event the same time last year. Thank you! Thanks to all of our great customers, all of you, for continuing to trust in us as a company, our products, our support staff, and energizing our continued growth so we can turn this around back to you with more great products and free updates to come. Happy Holidays to all and thank you again!

How to use the Import Wizard to import data from another logbook or spreadsheet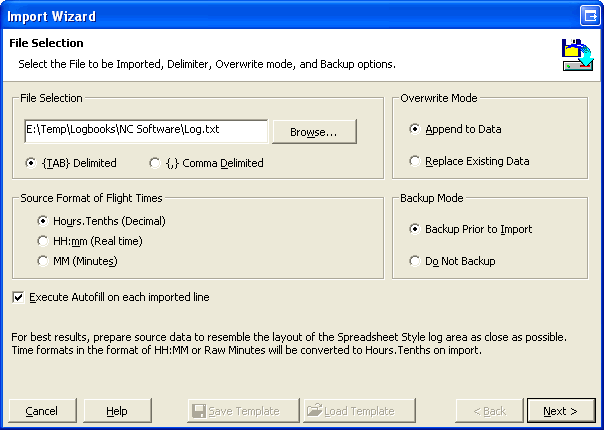 Logbook Pro comes with a powerful import wizard allowing you to import most TAB or COMMA (CSV) delimited files. Access the Import Wizard, even in the evaluation version of the software, by clicking File...Import Wizard. Most logbook programs offer an export feature that allow you to export your logbook to a CSV or TAB (preferred) file which can then be imported into Logbook Pro. If you have your own home grown spreadsheet such as something in Microsoft Excel and formatted such that the top row contains column headings and all rows below are data, you can simply click File..Save As, change the Files of Type drop down to "Text - tab delimited" and it will save your spreadsheet in a format that you can use with Logbook Pro's Import Wizard.

Refer to the documentation and this video tutorial to learn more about the easy to use Import Wizard. However, if you would like us to import your data for you we'll gladly do this at no charge, a free service for our new customers.
Using another e-Logbook? We'll convert your data FREE
OOkay, you made a mistake, that's okay, we are going to help you fix it. Marketing can sometimes persuade people that a product is great, "buy me" and all will be hunky dory! Well, now your logbook is in a product that isn't quite meeting up to your needs, you've suffered lost or corrupt data, and you are desperate as you're waiting to interview for your dream job. Even worse, you're having to pay an arm and a leg for an update just to make it work with your iPhone that now runs iOS5. You simply can't trust the product or company with information that is so important as your aviation logbook is to you. Calm down, we can help you and typically within one business day!

Most logbook data can be put into tabular (spreadsheet) format that can be imported into another program. If you use a spreadsheet you created yourself, send it to us. If you use another logbook solution, check the links below or contact us for help in getting your data brought over to Logbook Pro. If your product has an export option, see if you can export the logbook to TAB or comma (CSV) delimited data. 99% chance is we can get your data!

We will help you at no charge! We want you to be using to be using nothing but the best logbook software available to you so you can focus on flying and not making your logbook work.

We have a Knowledgebase of conversions which is only a list of our most common conversions. Contact us even if you're product is not listed and we'll gladly see if we can convert your data.

| | |
| --- | --- |
| Product | Version |
| Logbook Pro PC Edition | 1.11.9 |
| Logbook Pro Universal App for iPhone, iPod touch, and iPad | 2.4.2 |
| Logbook Pro for Android | 1.0.8 |
| Logbook Pro Palm Companion | 1.10.5 |
| Logbook Pro Pocket PC Companion | 1.10.16 |
| Airline Pilot's Daily Aviation Logbook - Palm OS | 6.0.4 |
| Airline Pilot's Daily Aviation Logbook - Pocket PC | 6.1.4 |
| FlightCentral Route Browser | 2.2 |
| Airline Schedule Importer | 8.4.6 |
Click here to download updates as required.
Want to receive this newsletter directly in your inbox? Click here to subscribe.
To opt out of future mailings click here or manage your newsletter subscriptions online by clicking here. You can mail unsubscribe requests to: NC Software, Inc., 2711 Centerville Rd, PMB 5115, Suite 120, Wilmington, DE 19808.


Logbook Pro is a registered trademark of NC Software, Inc.
All other trademarks or registered trademarks are property of their respective owners