Logbook Pro February 2012 Newsletter:
Welcome to 2012! Yes, I know, it's approaching March already, but this is our first newsletter for 2012 since the holiday madness! Things get chaotic starting on Thanksgiving and go through the end of the year with great sales for you all, amazing business for us, and we have been so incredibly busy with new product development as well as software updates. Our December newsletter was the last time we published a newsletter and if you didn't read it, it has some great information you should definitely read. Click here to check it out.

The planets are aligned, things couldn't be better in the land of NC Software. December, January, and now February are record breaking months in regards to sales. We know we've hit the sweet spot providing you the products you need and pricing both our products and services just right making them affordable and convenient for you. Our free app model seems to be a hit allowing you to enjoy Logbook Pro on so many supported platforms now including our newest additions: Kindle Fire and NOOK.

This year is the year our professional aviators should start seeing jobs open up and those seeking jobs should have their logbooks interview ready despite the rising cost of oil/gas, don't let that discourage you - be ready! We thank you for your vote of confidence in NC Software as we strive to provide the best aviation logbook software in the industry and we're always here to answer your questions and assist you in any way we can. We will continue to provide you informative newsletters and video tips to assist you in getting the most out of your software.

We've grown! Our rapidly growing business has allowed us to increase our staff. We have some of the best software engineers on board that are working hard to create the absolute best software solutions for pilots. We have a team dedicated to the next "APDL" which will first support Apple's iOS platform. We have a great team working full steam ahead on the next generation of Logbook Pro Desktop Edition and our new venture "Logbook Pro Web Edition" our hardware agnostic solution. Some of these efforts have been going on for a long time and we are hoping to announce their birth this year. We are not in a rush, our existing products are rock solid, reliable, feature rich, and the best on the market. We are only going to make the best better! We will call for beta testers in the coming months as our new products in development reach a point where we need more input. We already have a great team of beta testers that work with us day in and day out.

We are always improving as well! We're working on a brand new web site layout making things even easier for you to navigate and enjoy your experience online with us. We're wrapping up the next Apple iOS app update (iPhone/iPad) which will support iOS 4 and later devices, we will no longer be creating new updates for iOS 3 devices. Following the iOS release we will take the same new feature and apply them to our Android line and release that update as well. We are working on the "Logbook Pro API" which will allow any and every logbook product out there, or aviation app for that matter, to port data to Logbook Pro PC "desktop" edition via our cloud services. We know we can't do it all and you have your favorite apps out there, for whatever reason, but you use Logbook Pro PC edition as your trusted main logbook and want that data ported in -- we are going to allow that to happen! Last but not least, we've received some great feedback, as always, on Logbook Pro PC edition so we'll brew up the 1.12.1 free update for you as well incorporating that great feedback.

In the fall of last year we acquired FlightCentral's Route Browser product. It is now exclusively sold and supported by us and we have been giving it some needed TLC and we'll have an update to Route Browser as well in the near future. We greatly appreciate Jeff Farris's great support for many many years being a part of the Logbook Pro community.

So as you can see we've been incredibly busy and we're continuing to grow. We're always looking for pilots that are also software developers to join our team. We have a great infrastructure, great products, and great people and we're looking forward to great things ahead. Thank you for being a part of our community for 14 years this March and we look forward to many years ahead and working with you to help us bring you the best tools for pilots.

Have a wonderful 2012!

Very Respectfully,

Neal Culiner
President, NC Software, Inc.
Cloud Sync and Airline Schedule Importer: New services, new pricing
Introducing Cloud Sync for Apps:

Technology these days is exhausting! It's so hard to keep up, every day a new cell phone is on TV, the demands on everyone are more than ever in this connected age. Our goal is to keep things as simple as we possibly can! We are continually improving and changing with this goal and as a result we've made some significant changes to our cloud sync service.

When we first launched our iPhone platform we pioneered an innovative system for you to sync your data with Logbook Pro PC edition. As you may not know, Apple does not allow third party apps to sync via cable/iTunes so developers have to get creative in getting data to/from your main logbook. Some vendors tried painful home networking, clumsy Wi-Fi pairing of your device to your network - it's just a mess! We created "Cloud Sync." We came out with two tiers initially: Cloud Sync "Device" and Cloud Sync "Universal." The "Device" subscription was tied to your specific device (hardware ID) and was a cheaper option. The "Universal" option was simply tied to you as a user allowing you to use any device. As you know, devices break, end up in the toilet or that one puddle in the street, or you simply buy a new device as they come out so frequently. With the Device subscription we allowed you to change your device registration but it required our interaction to do so and is a pain for you depending on us and also increases our support load, this is not a "win-win" situation.

With the release of Apple's iOS 5 they are warning developers that use of the "hardware ID" (UDID) is going away, i.e. we should not be using it. Android was already a pain because they don't provide a hardware ID that remains the same regardless! We tried three different variants and for whatever reason it would change! With the risk of Apple pulling access to the UDID and then the Android issue - this was the final nail the coffin - it was time to do away with Cloud Sync DEVICE subscription.

Effective Jan 1, 2012 we discontinued the cloud sync device subscription and renamed "Cloud Sync Universal" to "Cloud Sync for Apps". We also reduced the price to $29.99/year but also added a two year subscription option ($54.99) for even more savings, and less hassle to you, you won't have to worry about your subscription for two years! As described in the December newsletter our free app model has many benefits which I suggest you read if you haven't already. (click here to read the article).

The Cloud Sync for Apps subscription allows you to use ANY of our free apps on any and all of your devices for one subscription price. You can use your iPhone, iPad, Android, Android tablet, Kindle Fire, NOOK color, NOOK tablet, the list goes on and on and on. As long as you have your Account ID and Username entered into your FREE app and you have an active "Cloud Sync for Apps" subscription you can sync! Enjoy FREE software updates, always using the latest and greatest, never having to purchase your software all over again and some of you that used another logbook product learned that lesson the hard way a few months ago!

--Click here to buy Cloud Sync for Apps now.

Airline Schedule Importer: New Pricing

On Jan 8, 2012 we lowered the price of the airline schedule importer subscription to $39.99/1-year or $72.99/2-years. Evaluating the success we've had across the board, the maintenance demand on our solid schedule importer system, we want to make sure this handy tool is being used by everyone! We've honed this cloud app to perfection with new time zone integrations, expanded export options including FFDO, iCalendar, CSV, and TAB among our app integrations, it is simply a must have for all airline pilots and even flight attendants - we revised the price based on your outstanding feedback. No other product imports airline trip data to the level we do with the customization, integration, and accuracy. We are considering opening up the schedule importer via our cloud services system for potential external clients but do not have any firm decisions on this at this time. We hope you enjoy the great asset this tool is for the airline community.

Click here to subscribe now and enjoy the automation this tool will provide you in preloading your logbook and/or calendar.

Welcome Amazon's Kindle Fire and Barnes & Noble's NOOK
NC Software is excited to announce Logbook Pro for Kindle Fire and Logbook Pro for NOOK (color and tablet). These handy tablet devices not only make great e-Readers but also great tablets at much lower cost that the iPad. Click the images below to learn more about each device and how to get your free app on these new platforms today.


| | | |
| --- | --- | --- |
| Logbook Pro for Kindle Fire | | Logbook Pro for NOOK |
A hidden gem, are you using it?  Hint: Summary Bar
Need to know how many hours you've flown in the past 7 days? 28 days? You can do this in a handy feature that you probably didn't even know existed - the Summary Bar. It's the bar at the bottom of your flight log screen (spreadsheet area) that you can actually configure! Right-click the summary bar and choose "Configure Summary Bar" or go to Options/Flight Log and then click the Summary Bar button on the top right. Click here for the documentation on this system.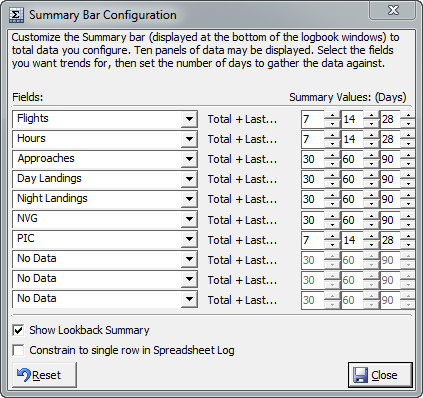 The summary bar is not only available on the bottom of the logbook screen but it's also available as a report in the Reports/Miscellaneous section. You can choose which date to "lookback" from as well to get your summary data if you need to see where you were as of a specific date. In addition, these reports are transferred down to your app (iPhone, iPad, Android, Kindle Fire, NOOK) so you can see these totals right on your device. Give it a try. Configure it as you want and then click "cloud sync / sync now" and then sync your app to pick up your refreshed report.
Handling Instructor's Endorsements
A question that is raised on occasion is how to handle endorsements in an electronic logbook. We asked the question recently on the Logbook Pro Facebook page to get your opinions. There are different types of endorsements such as those that go inline with your flight log directly and those that go in the back of your logbook. For the sign-offs and other endorsements in the back of your logbook, that's not a problem, we sell various endorsement solutions that go in the back of your hard copy printout of Logbook Pro and work with the Cirrus Elite binders.

The question comes in with regs like FAR 61.51 where an instructor is to sign off on your flight log entry and enter their certificate number and expiration. The problem is that these regs were written well before the digital era when a logbook was only kept via chisel and slate (pen and ink). We will be submitting a request to the FAA to amend such FAR's as in our opinion all that you should be required to do is identify your instructor pilot. Those that fly under rules for other countries should consider writing your agency as well suggesting the change as a result of the digital era.

To handle this requirement, which is ultimately up to the pilot to ensure compliance with the regs, we suggest either note in the remarks or create a custom text column (Options/Custom) to record your instructors name, certificate number, and certificate expiration. Check with your local FSDO but this should suffice with the intent of the reg.

We are looking into secure digital signature technology for a future solution should the FAA not amend the regulations. This would be the correct alternative to handling this requirement. Some vendors have come out with a system such as capturing a persons signature -

this is NOT the way to do this!!!

This is completely reckless and a path for identity theft. Having an image of your signature floating around out there is not what anyone wants, overlay it on a check, legal document, etc. and you have a problem! An iPhone or iPad can take a screen capture of its screen simply by pressing the Home and Sleep button simultaneously! Be aware of the ramifications of the complete lack of security and awareness of such systems.

Rest assured we are aware of the regs and requirements both you and I fly under. Our next major release of Logbook Pro is going to give us amazing potential to use the latest technologies such as digital signatures to answer such a need. We just wanted to provide you direction to use today in your logbook that should hold you until that time. As always, check with your local agency to ensure your method is satisfactory to them, they will be the ones knocking on your door should "that time" ever come!
As you may not know, we have two completely separate product lines: Logbook Pro and APDL. Logbook Pro is NOT the replacement for APDL, the apps we currently have for iOS, Android, etc. are NOT to replace APDL! We realize there is no other product available that gives you what APDL does but of course the platforms that APDL v6 runs on is fading fast. Not to worry, APDL v7 is in development and has been for quite some time. I just want you to know that, and it will come out first for Apple's iOS. If you're an Android user and have to buy an iOS device, which I'm sure you'll love, keep in mind it's probably going to be a tax write-off for you. We will consider Android only after the iOS app is feature complete and stabilized. This is all we can release at this time, we don't have any timelines, features to share, etc. for both security reasons as well as software development is something very hard to predict.

When the time comes we will call for a limited group of beta testers. When we can start sharing information publicly we will. If you are unable to use our APDL app as you don't have a Palm OS or Windows Mobile device I highly encourage you to try our free Logbook Pro app in the interim. It has a lot of features that will help you as an airline pilot such as schedule importing, calendar integration, FAR 121 lookback, time calculator for logging by day instead of by leg, etc. A lot of airline pilots actually find the app to be suitable for their needs. APDL is obviously much more involved with rest, pay, duty, etc. and that is coming!

Thank you for your continued patience.

| | |
| --- | --- |
| Product | Version |
| Logbook Pro PC Edition | 1.12.0 |
| Logbook Pro Universal App for iPhone, iPod touch, and iPad | 2.4.2 |
| Logbook Pro for Android/Kindle Fire/NOOK | 1.0.9 |
| Logbook Pro Palm Companion | 1.10.5 |
| Logbook Pro Pocket PC Companion | 1.10.16 |
| Airline Pilot's Daily Aviation Logbook - Palm OS | 6.0.4 |
| Airline Pilot's Daily Aviation Logbook - Pocket PC | 6.1.4 |
| FlightCentral Route Browser | 2.2 |
| Airline Schedule Importer | 8.4.6 |
Click here to download updates as required.
Want to receive this newsletter directly in your inbox? Click here to subscribe.
To opt out of future mailings click here or manage your newsletter subscriptions online by clicking here. You can mail unsubscribe requests to: NC Software, Inc., 2711 Centerville Rd, PMB 5115, Suite 120, Wilmington, DE 19808.


Logbook Pro is a registered trademark of NC Software, Inc.
All other trademarks or registered trademarks are property of their respective owners