APDL 7.0.8 Now Available - 90 DAY FREE TRIAL

In case you missed our APDL release announcement, we released APDL - The Airline Pilot Logbook for FAR 117 for airline pilots on Jan 4, 2015. APDL®, the new official name for the previously named "Airline Pilot's Daily Aviation Logbook" was the logbook of choice for airline pilots in the Palm and Pocket PC era. After three years in development including one of those years in extensive beta testing by over 60 airline pilots, we are thrilled to make APDL available for Apple's iOS devices and support the new regulation airline pilot's fly under - FAR 117. A complex reg that is nearly impossible to understand without the help of a product tailored to the reg such as APDL, the only app available that is a complete FAR 117 reference taking into account all required facets of the regulation. Click here to download the new APDL Brochure.
APDL is FREE to try with its included 90 DAY FREE TRIAL just like we offered in the Palm and Pocket PC predecessor. Download from the Apple App Store and login with your NC Software account, no purchase is required. Click here for the full documentation to help you get started quickly.
While APDL is released we are far from done and that goes with just about all of our software products. We get great feedback, great ideas, and our long list of wishes and we expect to release frequent updates as we fix things and add more great magic to this phenomenal app. We started pushing builds to Apple in November and worked hard over the holidays preparing for our Jan 4th release date, the anniversary to FAR 117's release. Even while APDL released on Jan 4th we already had the next build into Apple for review and release as it takes approximately 8 days from the time we submit until Apple reviews and if all goes well approves the build. 7.0.6 came out shortly thereafter and then recently we released 7.0.8, another great update.
Click here to read the Release Notes section of the APDL Documentation to learn about all of the intricate details of the release including fixes and additions. Version 7.0.8 contains about 30 changes (fixes, additions, improvements) and as of this writing we are starting the test period for our next release. We are actively and aggressively developing APDL and we greatly appreciate your feedback. APDL's adoption is astounding and the stability of the app is monumental as the result of outstanding testing by our hand picked beta team. On the APDL About screen is a "Credits" text button, tap it to see who is part of the process that brought you APDL and if you know or see them, thank them, they have been and continue to be an integral part of our team working continually on APDL.
You can send us feedback from within the Communication area of the app for private suggestions or you can use our UserVoice page or APDL Suggestions Forum for public suggestions. UserVoice allows users to vote on suggestions so we can see what features are more important than others based on the community vote. We also have a forum dedicated to sharing information between airline pilots such as a particular airline configuration and how to setup APDL for your airline. Check out or contribute to the APDL Info Share forum.
We appreciate your help in spreading the word about APDL. On the bottom of the Communication screen is a simple feature to send an email to your friends, coworkers, bosses, etc. to let them know about APDL. We are also offering volume discounts for organizations interested in outfitting all of their pilots with APDL. Contact sales@nc-software.com to request a quote based on the number of users. APDL is licensed "per user" and not per device, a user can use any and all of his/her devices as APDL also syncs across those devices. We hope you enjoy APDL and look forward to hearing from you and how it helps you as an airline pilot in managing the ever complex FAR 117 rules. We are proud of this extensive undertaking and our pride is you using our products and it making your job easier.



The bundle deals are back, something we offered several years ago to help save big. Take a look at the available 20% Off Bundle Deals and save 20% off your purchase with no coupon required combining the items you need such as a binder and turn-key printing service or Logbook Pro and Subscriptions, APDL with binder, Logbook Pro Desktop, and Cloud Backup. There are various bundle offers to suit your needs, read the product details for the specifics such as binder color, etc.
The Importance of Allowing Notifications in iOS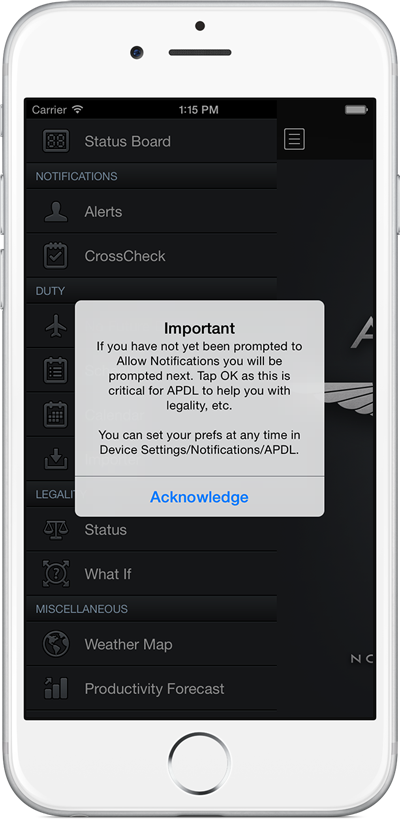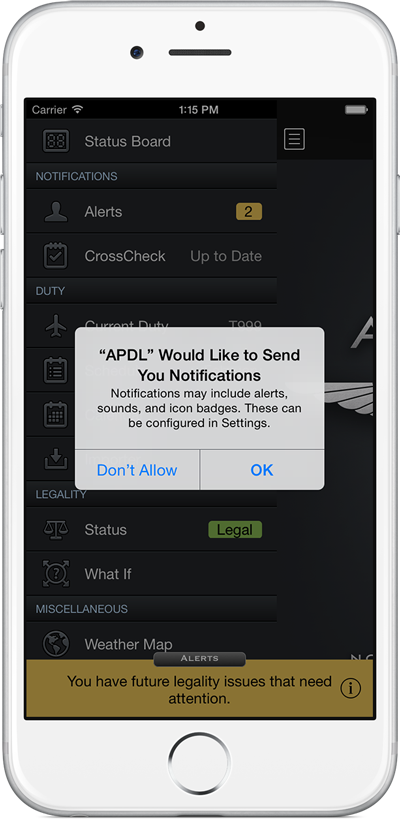 No one wants to be nagged and sadly Apple has grouped a lot of important settings into a poorly named group, in my opinion, as shown in the upper right image. The message makes you think you are allowing someone to send you messages (aka notifications) but this permission is actually much more encompassing, or dare I say crippling if you do not allow it. In iOS 8 by not allowing these we can't even set the badge number on the APDL icon such as to show you the number of alerts that you should be aware of such as a legality issue. It also disables the ability to play sounds although APDL doesn't use any at this time. Yes, it disables the ability to send your device messages but there are more "signals" that can be sent to your device that as a non-Apple developer you are clearly not aware of. For example, by NOT allowing APDL notifications we can't post a message to your Notification center screen showing you legality status prior to your show time. It's not a nag message, it's not a sale message, it's APDL trying to inform you of your legality status as you configure in Settings/Notifications within APDL. There is another feature such as the cloud can send information to your device while your not even using APDL. An upcoming feature we are working on now is to send your device a signal to sync, even while APDL is not running. Take for example you have an iPhone and an iPad, you sync your iPad and your iPhone is also running APDL in the foreground. By allowing us the ability to send a "notification" to your devices the server can tell your iPhone that your iPad just synced and it should now sync as well, without you having to do anything. But if you did NOT allow APDL to receive notifications per the upper right picture you are preventing very very important functionality we have available for you and upcoming features. It's not your fault, again, it's a bad message Apple is sending in this prompt and with everyone wanting to be left alone you end up killing some great functionality available to you.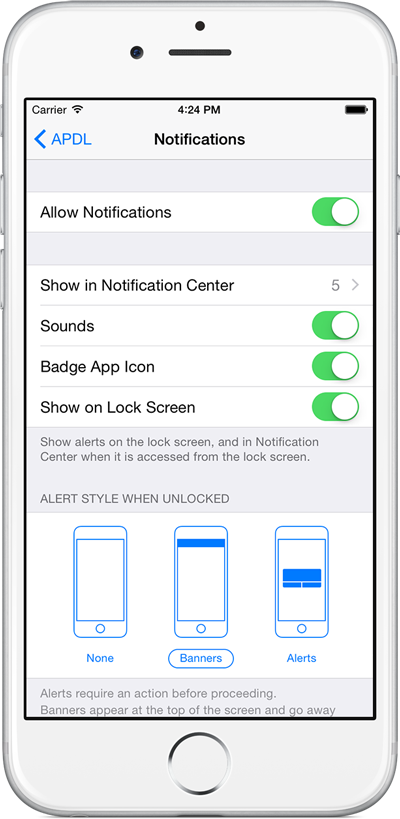 In your DEVICE settings go to Settings / Notifications and then to APDL and set Allow at the top to ON. I suggest turning all settings to ON and then you'll see how APDL can keep you informed. Refer to the APDL Documentation for more information on notification options available to you in APDL's extensive settings area.
New Schedule Importer Released

We are excited about our brand new schedule importer system both in what you see as well as what you don't see, i.e. the architecture for integrations, data storage, and other exciting new capabilities in the works. The schedule importer is mirrored on two web sites; nc-software.com/schedule and apdl.net. Both save the data to the same database so you can use either/or at any time as well as the in-app systems that send the data across a secure connection for processing unattended.
The new schedule importer is a complete rewrite of the former giving us better integrations with apps including APDL, Logbook Pro Desktop, and Logbook Pro Mobile (iOS & Android). We have the ability now to process files uploaded, i.e. if you save your FLiCA data to a file and automate the processing. Trip review and editing is easier to read and faster to process. Integrations are more efficient such as using the in-app importer to paste in your data and send to the cloud for processing without ever having to go to the web portal.
The #1 most requested feature is the ability to automatically pull in data from your trip source. Most of those providers have terms of service restrictions preventing this and yes, there are some apps that do this and are in violation of those terms of service policies and some are now in legal hot water we hear. We hope to establish relationships with your trip providers to setup integrations that work between you and the provider to import your data and do this properly, not illegally. We do not intend to affect their business model, you or your company still pays them for the service, we just want to ease the ability of getting the data for you through a system we establish with your trip provider. YOU can help us by contacting your trip provider, educating them on our products such as APDL, ensuring them we are not a competitor of theirs and asking them to work with us to bring you better value and a better experience in accessing the trip data you are paying for through an integration. You can send us their contact info (sales@nc-software.com) or you can have them contact us and we will work promptly to build the connections to make this seamless for you. The more of you that make this request with your trip provider, as you are their customer, the better chance we have of making this happen. Please contact them at your earliest convenience so we can automate this process for you.
How to contact us without using email
Thanks to brilliant people, geniuses, seriously, that don't know how to better use their skills, aka hackers, the ability to send and receive an email and be absolutely positive either side will get the other's communication is not a given. Now we have spam and anti-virus systems on both ends and strict continuously changing rules on getting email delivered successfully. Our problem that started Feb 7th was a chain reaction of four events, one bad user on another domain we host and three software upgrades one of those being our enterprise firewall appliance that does most of our spam blocking. Well, it blocked just about everything after days of investigating revealed, it was beyond frustrating for us and you. No one likes seeing a message that your email was refused especially when you're a paying customer. And we like hearing from you so when things get quiet we know something is wrong.
The good news is we learned a lot from this experience and we are far better as a result. Our systems are more diversified and much better configured to notify and handle events like this in the future. But there is another important lesson we want our customers to know, you do NOT need email to contact us and in fact it's discouraged. Yes, it's easier, but it's less reliable. So here's how to contact us ensuring 100% we receive your communication:
We use a 3rd party product for our help desk and as many sites you've visited and used the contact us feature you were taken to a web page to fill out and submit, not given an email address to use, we have the very same thing. When you submit a ticket on the help desk it goes right into our tracker and we can reply from that same tracker. You can read the entire correspondence trail, you can download attachments or come back and download them again years later if needed, it's all persisted in a database. Email is completely out of this loop other than to notify us and you when a reply is posted which is not a critical message. Attachments can be troublesome to send via email as well, it's not an issue using the help desk web portal as you can attach files with each reply. It's also much faster as there is no latency in spam tests or mailbox scans which our help desk does every 5-10 minutes. Your ticket is submitted and we have it instantly.
Next time you have a private question for us that is not a good fit for our community forums (topic below) then try using our help desk web portal and not use email. It works great. As much as possible we are also available for live chat.
Community Forums - Easy Questions and Fast Answers

We strongly believe in community and really like helping our customers as well as seeing other customers helping customers. Unless you have a private issue that warrants a 1-on-1 question with NC Software staff please consider using our community forums so others can learn from your questions as they may have the very same question as you. We also watch the forums and give it top priority in response time and others are continually on the forums or watching via Tapatalk, an app that integrates with the forums providing push notifications, etc. to help when help is needed. You can also search all forums or a specific forum allowing you not to have to wait for an answer as the answer may already be available to you. The forums offer both a place for support related questions and also a place to post your ideas as they come to mind. All of our software products have grown tremendously over the years due to customer feedback alone, the more great minds the better. Register for access which just requires you to confirm your e-mail and then you can post and reply as much as you want. Thank you for using our public forums before sending off an e-mail to sales or support so we can maximize the power of community.
What's next for Logbook Pro?

We've been working on a significant update to Logbook Pro Desktop including the new APDL for iOS Sync system and other exciting new features we can't wait to show you. Logbook Pro Mobile for iOS has undergone a huge architectural upgrade now supporting 64-bit architecture for even faster performance and getting the most out of the latest Apple devices. Logbook Pro for Android now has full support for Android 5.x, the latest operating system from Google. All three Logbook Pro products will soon tie in to the new and much more flexible and robust schedule importer architecture. There are more exciting features with Logbook Pro Mobile expected in the next release but we can't mention them just yet. Development never stops as we have ideas, you have ideas, and technology continues to evolve rapidly keeping us extremely busy at all times.
| | |
| --- | --- |
| Product | Version |
| Logbook Pro Desktop Edition | 1.16.9 |
| Logbook Pro for iPhone, iPod touch, and iPad | 5.9.17 |
| Logbook Pro for Android, Kindle Fire, and NOOK | 5.1.0 |
| APDL - FAR 117 Airline Pilot Logbook | 7.0.8 |
| Route Browser | 2.2 |
| Airline Schedule Importer | 9.0 |
Click here to download updates as needed.
Want to receive this newsletter directly in your inbox? Click here to subscribe