January 2016 Newsletter
Hello and Happy New Year!

We are well into 2016 now as we approach February and I'd like to take this opportunity in our first newsletter of 2016 to wish ALL of you a very happy and safe New Year ahead. 2015 was exciting especially the end of the year with all of the sale excitement and holidays. Things are calming down now and we are back in the groove cranking out some amazing software updates for you to continue to enjoy our leading electronic logbook software solutions in both quality and support.

APDL was launched a little over a year ago new to the Apple iOS platform and we've been thrilled now only with the product ourselves offering the only complete and trusted FAR 117 airline pilot logbook encompassing all aspects of the FAR 117 regulation. APDL is a bleeding edge product taking advantage of the absolute latest technology offered by Apple as well as being backed by our enterprise network infrastructure supporting the most reliable and efficient synchronization system of anything on the market today. As discussed below we are nearing a massive update to APDL labeled "7.2" with some exciting new schedule importing features our FLICA users will love and about 200 improvements and of course bug fixes in that mix as well. We are in the final weeks of development and testing now.

Logbook Pro Desktop is nearing it's 18th birthday and it's the only desktop software you could have purchased nearly 20 years ago and to this very day not pay another dime for! It is not a subscription and we have no plans for it to be, purchase your license code and enjoy all version 1.x updates as many have for many years. Yes, it should be version 18 by now but in the software world we're supposed to charge when that version number changes so we just kept it simple and left it at 1.gazillion. We have a Logbook Pro Desktop update due out soon with some great stuff we'll share with you soon. Now now, don't ask "when" as we do not give out dates because if we do it's a curse and will guarantee we will not meet that date!

Logbook Pro Mobile - the fastest and most reliable general aviation mobile logbook for both iOS and Android devices has several updates in the pipes and we're calling for Android beta testers now. Logbook Pro Mobile is the most "friction free" logbook there is where you don't have to fuss with your logbook and figure anything out. You fly, you log, and leave the app and that's it. It syncs automatically, the data goes to your desktop automatically, if you're taking more than 10 seconds to log your flight then we've messed up! Use AutoFill, the automatic features in the logbook area itself to assist you, and that's it, go enjoy your day.

We are working around the clock not only on software improvements for you and incorporating your awesome feedback but also answering your questions and helping you with any challenges that may arise. Our support staff is available 24 x 7 x 365 including holidays! Simply because we take pride in our software and you. And just this week we brought on a new system to provide even better support allowing us to connect in to your computer and help you directly whether on Mac, Windows, or even mobile!

Tell us what you need and send us your feedback at any time. Visit our web site http://nc-software.com and join us on Facebook and Twitter and stay involved and we'll keep you up to date and in the know. If you read this far then I want to offer you a 10% discount on your software, subscription purchases, and turn-key printing for the rest of January using the coupon code SNOWEDIN.

We are a dedicated full time logbook company which is why we have been the most successful aviation logbook company ever. We provide the most complete logbook solutions from data entry, reporting, analytics, interview and insurance needs, and mobile companions. Many of you have been with us for many many years. Thank you for sticking with us and allowing us to serve you and the aviation community nearly 20 years and many more to go. We have so much planned that there just isn't enough time in the day but we will keep the gears turning and continue to crank our awesome software updates for you and work on some new offerings as well we'll share when we can.

Again, have a Happy and Safe 2016 from all of us at NC Software, Inc.

Sincerely,

Neal Culiner
President / Founder, NC Software, Inc.

Join the Logbook Pro Android Beta Team
We are looking for a few great aviators that are using Logbook Pro for Android to help us test and shape a major update now in development. If you have a high attention to detail, are passionate about software and aviation and want to help us make Logbook Pro even better on Android platforms, we would love for you to join us. You must have a username on our community forums where you will gain access to a private forum and also hold a current Logbook Pro Mobile subscription. Click here to register on the HockeyApp beta distribution system we use and we'll send you beta builds as we have them available.
Most Powerful Airline Schedule Importer
The brilliant APDL developers of many years ago pioneered the ability to convert complex airline pilot schedule data into logbook data through a schedule importer system. Several years ago we rewrote the schedule importer from the ground up and made it web based so we could update the system real time should airline pilot's have any changes to their issued trip formats. Our apps can communicate and process trip data from within all of our apps or you can use the extremely powerful system on APDL.net which serves all of our apps. Our schedule importer is the most advanced, most flexible, and most powerful system on the market today converting cryptic trip trip data into usable logbook data. Now supporting 229 formats as seen on the Schedule Importer product information page.

The schedule importer is free for all to try to ensure we support your system and if we don't then just send us sample trip data and we'll do our best to add it. Start by going to APDL.net and logging in with your NC Software account (create one if needed, no purchase required). Once on the schedule importer page now all you have to do is pick the time zone of your trip data as given to you by your provider. Paste in a trip which typically starts with the trip date or pairing number and select all the way through Crew and/or TAFB, i.e. the footer area of your trip data. Paste in that information and click the Process Trips button. If your trip data is in a file you can browser for it and upload it as well. Review the data when it shows processed by clicking the expander > buttons on the left side and you can even edit any of the data as needed. Once your trip data is verified review the instructions at the bottom on how to import into your desired app or use the export options if you're not using our app such as to export the data to CSV, TAB delimited, FFDO, and even iCalendar files. Here are a few screenshots of a trip being processed. It's easy, give it a try again with no purchase required. Once you're sure it works and you're ready to use you can purchase an airline schedule importer subscription for full access. APDL users - schedule importer is included.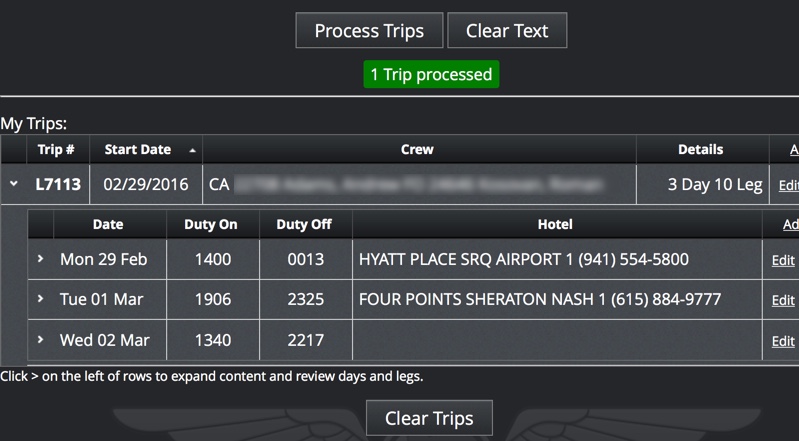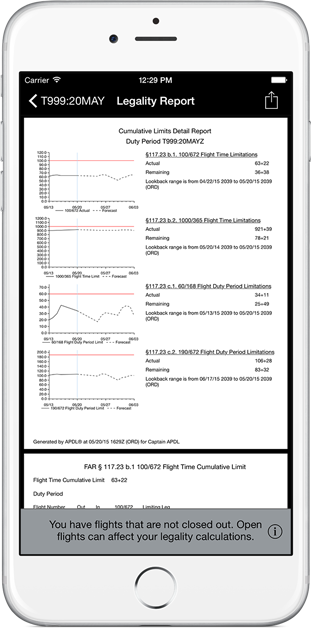 We are on the final mile of a major 6+ month effort on APDL - the most amazing FAR 117 app running on Apple iOS devices with iOS 8 or later. Airline pilots if you have an iPhone, iPod touch, or iPad get started with APDL today, it's free for an entire 90 days, and see what you are missing in a complete FAR 117 reference and logbook app.

In version 7.2 the schedule importer is completely redone both app side and server side (you're already using it server side) with functionality we can't wait to share with you. Yeah, sorry, now is not the time but we'll unveil this really soon. Also know that we have hunkered down and attacked our list of "things" to be addressed and have knocked out around 200 or so of them. This includes bug fixes but some nice additions such as airport notes, 3D Force Touch application shortcuts, Touch ID, ability to delete hotels, iPhone 6S/6S+ Peek/Pop in some areas, and so much more!

With your APDL subscription after you enjoy 90 days of free use you'll get data everywhere sync, cloud backup for APDL, cloud resources for gate change notifications, autofill OOOI times, legality and legality reports, iOS Notifications to let you know you're legal for duty, equipment changes, and tons more. This app is packed with features and extensively tested by a large beta team of your peers from various airlines. APDL is an app you can trust and as you know FAR 117 is extensive and requires many facets of your duty to properly report your legality, this is not a part task FAR 117 app that guesses your legality without ever detail as required by the FAA.

Resources to help you see or learn more about APDL:
Powerful, Flexible, Reliable SYNC
One of the most exciting and challenging systems to develop is data synchronization and we try to limit our dependencies on 3rd party systems to allow us full control at all times of our products and services. We would never want to "shrug our shoulders" and apologize on behalf of another company for not providing adequate service. As we don't have billions of users like major companies like Apple you are not a nobody to us, you are our customer and a user and if something isn't working right for just one of you then we are on it like white on rice!

APDL is our first app that uses our complete data synchronization system with others to follow. It's been a great system with minor tweaks which we architected in 2011. We have some of the most advanced Dell servers, mass storage systems, backup systems, firewall appliances, and use only the best in data centers in optimized locations. Our average sync time for APDL is 30-40 milliseconds - this is seriously FAST! Backed up often we can even restore a single user's data if needed. We look forward to rolling this sync architecture into Logbook Pro and future product offerings.

Rest assured with NC Software we are geeks to the max and love using the latest and greatest and doing the job right. I don't know about you but I cringe when I'm trying to sync my iOS data when Apple rolls out an iOS or Mac OS update as it overloads their network, just this week after iOS 9.2.1 rolled out iMessages and everything else Apple was severely affected. We don't use iCloud other than for one small piece unrelated to data synchronization and you don't have to wonder what's synced or not, we are in full control.

Using the Latest Logbook Pro Desktop?
It's always a great idea to stay up to date with the latest software and we make it easy for you to see what the latest version is on our downloads web page. There is a version column near the right side, Logbook Pro Desktop is version 1.16.9 as of this writing. If you don't have the latest version as indicated in the Help > About Logbook Pro dialog then just click the link and download the latest version. Uninstall the old version (your data is not affected) and install the latest version and continue using the same great software with all of the latest features and bug fixes.

All of our software products we include an update system to notify you of updates but with Apple and Google using automatic updates it's easy to check and update as well by going to the respective App Store app (Google Play or App Store) and go to the My Apps or Updates area to update your devices.

Logbook Pro

®

and APDL

®

are registered trademarks of NC Software, Inc.
All other trademarks or registered trademarks are property of their respective owners

APDL - FAR 117 Airline Pilot App