March 2016 Newsletter
Do you like being on the cutting edge of software? We are seeking active beta testers to join our beta teams to test our pre-release software and provide feedback, bug reports, creative suggestions, and interact with our team to help shape the future of products you actively use for your aviation software needs. We have been working months on a slew of updates across our entire product line and we're getting close to allowing you to see what we have coming but we need more than just you seeing what's coming, we need you to hammer it hard and test extensively and be active in our testing program? If this is you then please click here and join our beta team today.

Android beta which is already ongoing per the article below is completely managed by Google Play. Simply click the link in the article below to gain access to the Android betas.

Apple iOS Beta's (Logbook Pro and APDL) will be managed by Apple's TestFlight Beta System which is an app you install on your iOS devices you wish to use. You MUST use the same beta version on all of your devices, you cannot mix App Store production builds with Beta builds. When we have beta versions available you will receive an email from Apple as well as notifications from the TestFlight app installed on your device. Be sure to allow notifications when prompted. iOS 9 or later is required for our upcoming iOS releases.

Logbook Pro Desktop and Route Browser beta builds will be made available via email from NC Software, be sure to whitelist emails from nc-software.com to ensure receipt.

All beta feedback will be done through our Community Forums. Be sure to register if you're not already on the forum. There is a BETA section near the bottom which has specific forums for each product. You must have an active subscription or license for desktop products to test beta software.

We look forward to showing you our new magic. Remember that beta software is NOT fully tested, stable, and will have issues which is why we are looking for your help finding every critter before we release new builds to production. Click here to join now.

Logbook Pro for Android BETA
Logbook Pro for Android BETA is available NOW in Google Play if you'd like to install and test. Click here to join the Logbook Pro for Android Beta program after which you will be able to install Logbook Pro if you already have the current production Google Play build installed. Google Play will show the BETA as an update available as well as future updates as we send them to Google Play.

Logbook Pro for Android is undergoing a HUGE makeover adopting Google's Material Design style and replacing many user-interface (UI) elements with the newer inventions by Google. The minimum OS version is 4.0.3 "Ice Cream Sandwich". In the upcoming version you'll find a completely new Sky View (map) system, Toolbar system with the overflow button for devices that no longer offer a menu button, and the bottom right is the floating action button as it's called among many many many other improvements including improved performance. We've also incorporated many of your suggestions as well. We look forward to your feedback in the beta forum once you've had some time to explore the new beta build. The more exciting part of our new build is with the newer architecture it opens up the doors for continued improvements ahead as we ramp up our release schedule for more frequent updates. Logbook Pro for Android has always been rock solid and we look forward to building on a fantastic architecture. Here are a few screenshots of the new user-interface below: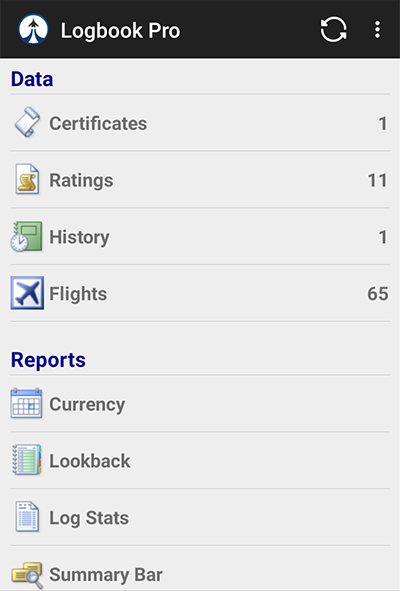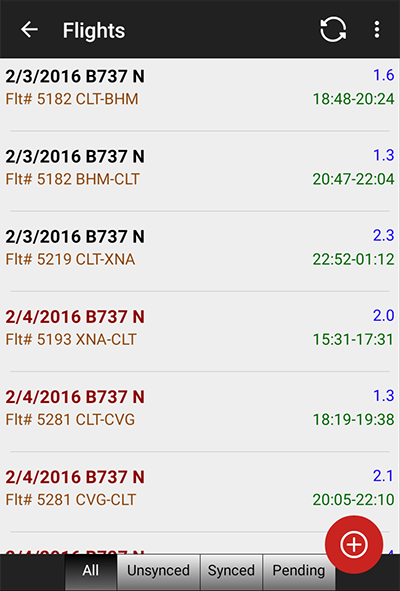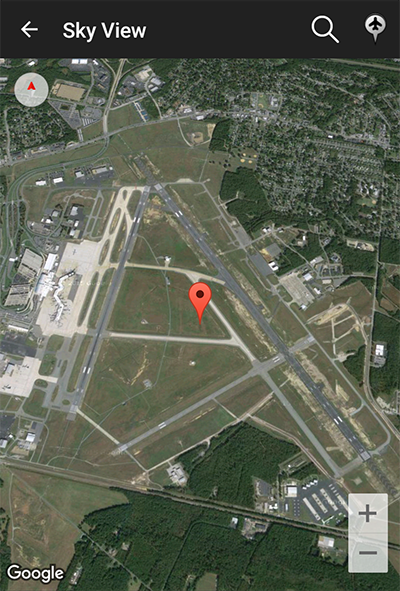 If you own a Mac it doesn't mean you can't continue to use the greatest logbook software you've been using for nearly 20 years! Logbook Pro as you know is the industry leading electronic pilot logbook software and you may also know we haven't charged for an upgrade for nearly 20 years and it has NEVER been nor is planned to be a subscription! If you purchased Logbook Pro for $69.95 in 1998 it's all you would have paid TO DATE!

So now you have a Mac? No problem! We use Mac's too as we develop for both Apple and Microsoft platforms which allow us to use both Mac OS X and Windows 10 on one "box". VMWare Fusion is what we use at NC Software but there are certainly other options such as Parallels Desktop and Apple's own Boot Camp (free) allowing Mac OS X to run Windows natively. But it's far more convenient to run Windows like any other Mac App without any need to partition or reboot. VMWare Fusion is a great product and we love it, it runs Windows great and has very low memory consumption and doesn't affect Mac OS X at all. Other than graphics applications developer applications are processor and memory intensive so if VMWare Fusion couldn't handle what we do then it's not going to handle what anyone does and it does it GREAT! Face it, computers are so powerful these days, the issues or concerns we had 10 years ago with hard drives, RAM, etc. are simply N/A now. So here are a few lessons learned on tuning VMWare Fusion we'd like to share. And we use Windows 10 and LOVE IT!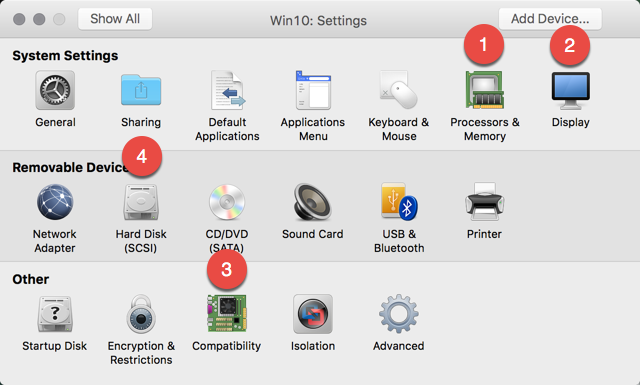 As you can can see above we've numbered a few items in the VMWare Fusion Settings screen. First shut down Windows so you have access to all of these settings for your Virtual Machine (VM) as you can't make changes to various settings while Windows (your VM) is running.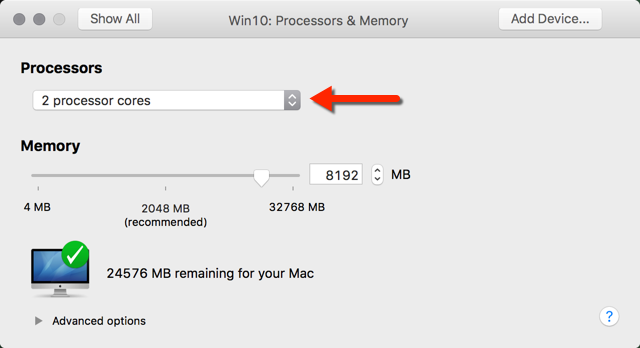 The first item and probably the most important is #1 - Processors and Memory. I suggest using 2 CORES (not 1, not 4). This seems to be ideal for VMWare Fusion in managing Windows. The second item in this area is the Memory (RAM). My iMac is a high end Retina iMac loaded to the gills so I have 32 GB of memory (RAM). My recommendation is use half of your available RAM but not higher than 8 GB (8192) as it's just not needed for most cases. If your Mac has 8 GB of RAM installed then set 4096 (4 GB). If you want to monitor your Mac's memory and other statistics I highly recommend an app "iStats Menus" for your Mac.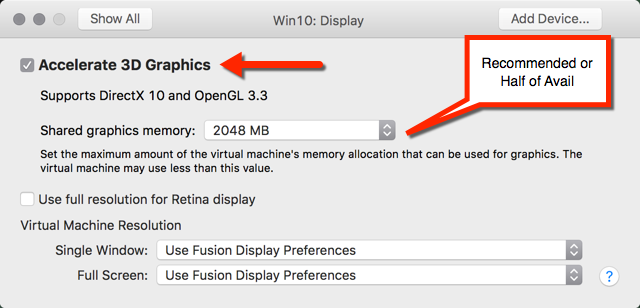 Another important area is your graphics memory. Pictured above is what I use, I have a 4 GB video card in my iMac so I am using HALF of that capacity for Windows. The recommended option by VMWare Fusion here is typically acceptable but if half of your installed capacity is higher than the recommended I would suggest setting it to half of the total available.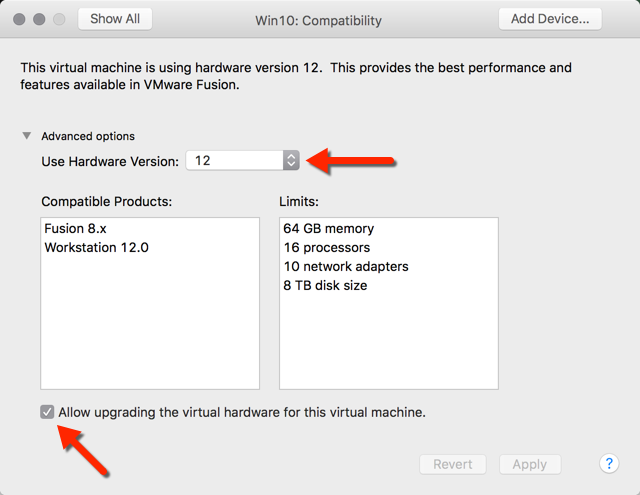 For other settings such as #3 - Compatibility; make sure your VM is set to the highest available and check the checkbox at the bottom to allow the VM to upgrade itself. Finally for #4 I suggest using a SCSI hard disk type but you may not be able to change this after the fact therefore leave it as is, I'm not sure how much of an impact this is especially if your Mac has a SSD which I highly recommend for all computers these days.

Give VMWare Fusion a try today and install it on your Mac and then install Windows in your new Virtual Machine as it guides you through the process and then you're running Windows as before allowing you to install your favorite Windows programs as well. Run it full screen and you'll forget you're even on a Mac.

Spotlight: Cirrus Elite Full Size Binder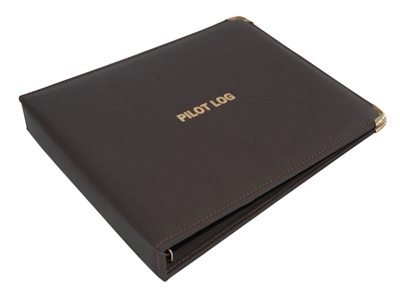 General:
The
Full-Size series binder
is one of our most popular and universal binders custom designed for Logbook Pro users. With the unique landscape layout and fine soft leather, this binder can handle any of the over 60 Logbook Pro reports and prepare you with the perfect printed solution with little to no effort at all. With the gold print on the fine leather and gold corner savers, this model stands out for its value and practical use. The gold rings are easy to use and hold more than the smaller models. The open book has pockets on each cover for storage of documents, fuel receipts, etc.
Features:
Dimensions: 9-1/4 x 11-1/2 inches
Rings: 6 x 1" diameter x 8-3/4 inch heavy duty rings
Color choices: Brown and Black
Full size binders have two full pockets for documents on inside covers
Holds approximately 100 sheets of pre-drilled/perforated paper
Features

Gold Lettering with option for personalization also in gold lettering
Gold corner savers and heavy duty gold rings
Personalization:
This binder may be personalized with your name using a maximum of 20 characters. Enter a name to place on your binder(s) and also check the checkbox to add personalization.
Huge APDL Update Coming Soon
Things have been quiet from the user perspective on the APDL side of the house but rest assured things have been busy for over six months in development and testing on a MASSIVE update coming soon to our APDL FAR 117 Airline Pilot Logbook users. Our private beta team of over 50 fellow airline pilots have been working extremely hard with us on hundreds HUNDREDS of improvements, bug fixes, new features, and amazement. The cat is sticking its head out of the bag a little so here are a few, just a few, of what's coming:
Automated FLiCA schedule importing
Schedule importer change handling identifying changed trips etc. as schedule changes occur
Calendar Sync improvements with per Payroll settings / Completely revised Calendar integration
Prior and Next Rest Charts / Legality Info
Completely revised Schedule Importer system and user-interface for automated and manual imports
New Status Board widgets for Rest
New "Resources" area at the bottom of the Leg Editor with information from the FAA such as EDCT, FlightAware, and FlightStats info
Sync Improvements
Maps showing weather radar overlays fixed
3D Touch for Application Shortcuts as well as Peek / Pop for Airport Notes
Airport Notes
New Airport Selection User-Interface
Tons of Legality improvements
Social Networking Integration to share your flights to Facebook or Twitter
Auto-Night Calculation improvements especially for our Alaska fliers
Limit CrossCheck to only go back 1 year to improve performance
Drill-Down data from Crewmembers, Types, Tails to find Legs where these are logged
Add FlightAware tracking link in calendar events to view flights after the fact
Touch ID authentication to access APDL - protect your data!
Sort CrossCheck and Recent Airports by most recent at the top
Over 200 bug fixes and improvements
iOS 9.1 minimum required
Not using APDL and you're an airline pilot? Download APDL now to your Apple iOS iPhone, iPad, or iPod Touch and start your 90 day free trial now. APDL is the only complete FAR 117 system for airline pilots with end-to-end coverage in legality, notifications, duty, pay, rest, on and on. Click here and see what you're missing.

Chat with us in the Forums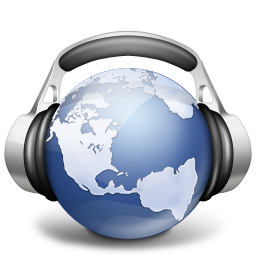 We love communication so we would love for you to participate with us on our Community Forums. If you have any questions or tips/techniques please share them. We also welcome our software experts and experienced product users that have been with us a long time to join in our community forum and help others. The answer doesn't always have to come from us, feel free to help other users. Register for access then click the link to confirm in your email confirmation and you can then post questions or reply to others. We have forums for support and questions and forums for suggestions. Search for questions you may have as you may find the answers on our forum already. For private one-to-one issues such as account issues please use our support resources instead.

Logbook Pro

®

and APDL

®

are registered trademarks of NC Software, Inc.
All other trademarks or registered trademarks are property of their respective owners

APDL - FAR 117 Airline Pilot App