Logbook Pro & Airline Pilot's Daily Aviation Logbook Newsletter:
Logbook Pro 1.11.1 released
NC Software is proud to announce the immediate availability of Logbook Pro PC edition 1.11.1 - a FREE update for all of our version 1.x customers. We are committed to providing you the absolute best pilot logbook software on the market along with our unrivaled rapid response 24x7x365 customer service. We appreciate your continued loyalty and enjoyment of Logbook Pro pilot logbook software and we are happy to offer you this update FREE as all others have been the past 13 years.

We listened to your feedback and this release is primarily refinements to an already rock solid, reliable, and most trustworthy logbook available. There is one logbook you can trust - Logbook Pro.

Revisions:
NEW: For all reports that have grouping i.e. Flight Log Summary By Month or Flight Log By Aircraft Type - a new option is added to the report preferences button on the toolbar (notecard with pointing finger) button allowing you to break the groups so groups start on new pages instead of just having a running list with no page separation
NEW: A new RESTORE dialog appears when restoring a backup (File..Restore) making restoring backups simpler and also guiding users to put their data files in the proper location on their hard drive. The three options presented are: 1) Default (and preferred) location of My Documents/My Logbook Pro Files/1 2) The same folder as the .BAK file resides 3) You choose where to restore to
Popup dialogs such as date selector, approaches, expenses, can now be closed via the keyboard, mouse clicking is not required. Press ESC to close the dialog without saving changes, press ENTER to close the dialog and save changes
Remarks now wrap within the remarks cell on Split-Reports. Custom template edition of these reports did not have this issue and wrapped properly
Added signature image support to additional flight log reports. All Jeppesen layout reports now handle the signature image as outlined in this article. The one logbook report that mimics your spreadsheet log layout is NOT supported as it is generated dynamically with every run.
The following reports now default to Portrait layout instead of Landscape: Currency, FAR 121, FAR 135
A new setting is added in Options / User Info for you to specify your binder format. When selected, reports will be able to generate smarter such as binder transitions will better know the capacity of your binder and provide you better guidance as to when to make transitions and after how many pages.
Cloud Sync's Automatic Sync option is OFF (unchecked) by default as Airline Pilots that enter their Account ID and Username may have a need to have their logbook data uploaded to the My Sync portal. Automatic Sync can be optioned on by clicking My Sync and selecting the Automatic Sync menu option or from within the My Sync / Account Settings area
Added Facebook and Twitter buttons to the far right of the menu bar (top right of program) to quickly go to our social networking pages
Fixed an issue where cell contents would not be selected when the cursor lands in a column for example LEGS or the route highlighting and cursor placement may be incorrect for some custom layout arrangements
Top/Bottom margins for Full Size and Commander Series binders are reduced to 1/2 inch by default
Schedule Importer has a better workflow as some users could not figure out why the Import button was not enabled due to not specifying the Default Aircraft or Aircraft Ident
Schedule Importer adds an option to import flights without entering a duration such as for future flights not yet flown. If this option is unchecked it will also clear the Auto-Purge checkbox on the bottom of Options/Flight Log as Logbook Pro will auto-purge flights not having the required columns filled in (Date, Type, Ident, Route, and Duration (or SIM))
Enhanced some of the Flight Log GROUPED BY reports to better accommodate 1 inch margins
Fixed an issue where clicking in the spreadsheet after just opening the spreadsheet log could cause the cursor position to return back down to the bottom "new row"
Fixed an issue where the data lock button would appear pressed when in fact the spreadsheet was not locked
Installation/Upgrade Instructions:
Backup your data by clicking File..Archive..Backup within Logbook Pro
If you are using Logbook Pro 1.10.43 or later simply click Help...Check for Updates to download and install your update
If you are using ANY version of Logbook Pro PC edition you can simply uninstall Logbook Pro from the Windows Control Panel and then click here and download the latest version (1.11.1) and install it. Your data and registrations are unaffected by replacing the software.
If you have any questions about this update feel free to contact us via our help desk. We also welcome you to join our affiliate program and refer your friends and coworkers to Logbook Pro or any of our products and services and earn commissions on your referrals. To learn more click here.

Using another logbook product and want to switch to the most reliable, accurate, and trusted logbook solution available? Click here for our data conversion options where we'll convert your existing logbook data for you absolutely FREE!
Logbook Pro for iPhone, iPod touch, iPad version 2.1 released

NC Software is excited to announce Logbook Pro for iPhone, iPod touch, and iPad version 2.1.0. It's been two months since we released version 2 of our popular and rapidly growing logbook app for your iPhone, iPod touch, and iPad and it has been tremendously solid, stable, and we are happy you love it! We received great feedback and suggestions to further improve the app and we released a great update for you to enjoy. Be sure to go to the App Store on your device and then to the Updates area to download your free update. Be sure to review the documentation which has been updated for the new 2.1.0 functionality and click here to watch a roll-up video to give you a demo of the new features and functionality.

If you posted a review in iTunes we welcome your update based on the new release and if you haven't yet posted your review we invite you to do so. Keep in mind this product is Logbook Pro and not APDL, and those that posted in your review feedback regarding the schedule importer keep in mind that it is not related to this app, we ask that you update your review to remove the misleading information.

Logbook Pro is by far the most trusted, reliable, and accurate pilot logbook software available - a logbook you can depend on. We thoroughly test and check each build and our beta team is heavily involved in every update ensuring you receive nothing but the finest in quality, stable, and dependable software.

Revisions:
General:

✓ Two finger vertical swipe anywhere in the app to Sync
✓ "Time now" now shows below reports so you can compare the report As Of date with the present date/time
✓ Add day abbreviation to date fields, i.e. Fri 18 Feb
✓ Added Purge Pending to the trash (purge) button in the Flights screen
✓ Sync progress bar will be green if sync succeeds otherwise red
✓ Currency (money) symbol now shown with expenses, cost, per diem, etc.
✓ iOS 4 users now have a setting in Settings to require the app password when the app is resumed after it has been suspended
✓ When viewing a pick list such as Aircraft Types the selected type will be set as the top value
✓ You can now control the sort order of data such as newest on top or oldest on top (Settings/Sort to change)
✓ When entering multiple flights and also times such as for Out, Takeoff, Landing, In the times will flow based on the last entry on the same calendar date.
✓ When changing the duration even if one already exists, AutoFill will fire and update associated fields at all times

Calendar:

✓ The "Logbook Pro Unique ID" is no longer needed in the appointment notes
✓ Deleting pending or unsynced data will prompt to delete appointments from the calendar for the associated items
✓ When Calendar is OFF the Bypass Calendar option will no longer appear on new/edit screens

Schedule Importing:

✓ Trip data is assumed to be in UTC. Therefore when importing trip data if you have Use GMT ON in Settings/Flight Log the imported times will be used exactly as imported, otherwise the times will be converted to device local (affects both Calendar and Flight Log)
✓ When tapping Get My Trips you will now see the trip data to preview prior to importing
✓ You can now import Deadheads so they are put on your calendar
✓ Added option to Settings/Schedule Importer to specify whether deadheads are imported
✓ Added option to Settings/Schedule Import to allow you to import schedules without entering a duration
✓ Added option to Settings/Schedule Importer so the "Recent Recall" of Aircraft Type and Ident will be used if available
Minor improvements and bug fixes and of course improvements on app performance. For a complete review of the changes be sure to review the product documentation at http://logbookpro.com/docs/iphone. If you have any questions or require any assistance feel free to submit an inquiry from the About area of the app directly or from our help desk.

Airline Schedule Importer 8.2 released: FFDO, TAB, CSV, Add Trips/Days/Legs and more...
NC Software is proud to announce a significant update to the Airline Schedule Importer now adding export to TAB, CSV, and Federal Flight Deck Office Program (FFDO) format. A new calendar drop down makes setting trip start date simpler and an entirely new popup editor is used for editing/adding trips, days, and legs. Cell highlighting has been added to the trip date if BIDLINE (no date) exists reminding you to set the trip start date. A new video tutorial has been added for your viewing pleasure. Learn how to get the most out of the Airline Schedule Importer. Revisions:

FFDO Export:

For crew members participating in the FFDO program and need to convert your schedules into a format that you can use in the FFDO portal you can now do this using the Airline Schedule Importer. Import your trips, edit to remove information as needed, and then click the Export FFDO button to download a file you can then copy and paste into the FFDO program. FFDO export includes an option to include deadhead. When checked deadhead flights will be included in the export and you'll also have notes on the bottom informing you which legs are deadhead and a reminder to mark them as non-mission in the FFDO portal.




Simple Date Editing with Drop Down Calendar:

A new calendar drop down will appear allowing you to easily edit the trip start date without having to worry about the correct date formatting.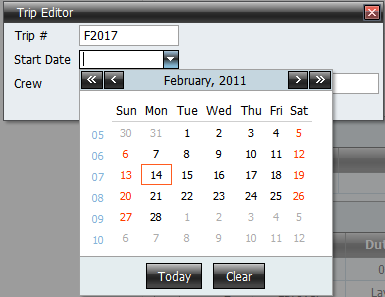 Trip Editor Improved with ADD capability:

Need to add a trip, day, or leg manually? You can now click the buttons such as "Add Trip" etc. after importing your schedule as shown below. A popup window will appear allowing you to fill in the required fields then click save to commit the changes to your cloud storage.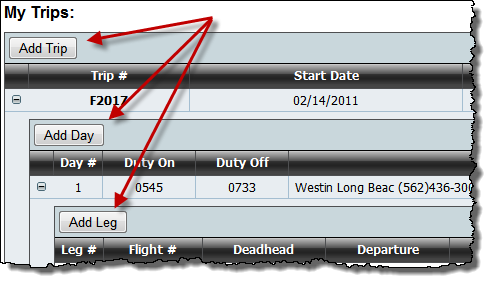 Export to TAB and CSV.

Specify the collation type (By Leg or By Day), enter a Default Aircraft Type and Ident and then click the desired export button and you can instantly download your trip data for use as desired.





Date Field Highlighting when date is required:

When the trip data does not contain date information BIDLINE is entered. APDL will prompt you to enter the trip start date when importing, no action is required on the web portal. However, for other applications such as Logbook Pro for PC, iPhone, and iPad, if you leave the trip start date to BIDLINE today's date will be set. We added yellow highlighting to remind you to set the trip start date by clicking the edit button on the far right of the trip row. Enter the date in MM/DD/YYYY format and then click the SAVE button and the changes will be saved to your cloud storage. You can now properly import trips as desired.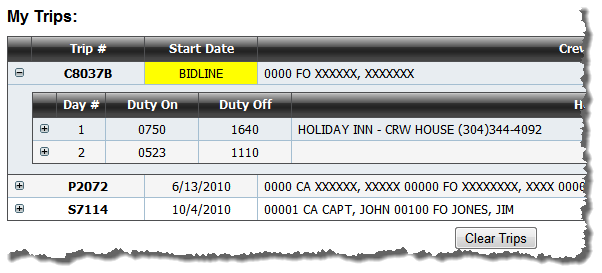 We hope you enjoy these exciting improvements. We have more great features we're working on which we'll release over the coming months as we complete them. If you have any suggestions for new features or improvements to existing features feel free to contact us with your suggestions at any time.
APDL Users - Time Change March 13th - Action Required
Daylight Savings begins on March 13th at 2:00 AM (USA). For a list of changes worldwide click here.

On or after March 13th, check "Daylight Savings is in effect" on the "Time zone Settings" preference page. If you are importing trips after March 13th, wait until you have checked "Daylight Savings is in effect". If you have a trip that starts before March 13th, Import the trip. Then switch to your Logbook Time zone, and manually correct the times after 2:00 am on March 13th.
It's interview time again - get your logs ready!



You're Hired!!!


Our data entry worker bee's have been working around the clock with constant jobs coming in and binder/print job sales are booming, this means one thing - it's interview time! This year is definitely showing signs of the recession moving to the rear view mirrors and many of you out there can now get hired! Finally!

When the competition is tough it becomes an "employer's market", in other words there's no shortage in who they can choose from. There are obviously more pilots job hunting than there are jobs so it is critical that you stand out, your logs are perfect, trusted, accurate, and ready for the toughest interview you may face. Logbook Pro has the tools to get you hired such as the amazing Analyzer that can provide you the times the airlines are asking for with their complicated applications. Logbook Pro also produces professional reports ready to go into your Cirrus Elite binder of choice to present the most polished and professional logbook solution available.

We published articles in the past to help you prepare for your interview and get hired. Here are the links for you to revisit now that it's time to get hired soon!
Good luck to all of you and I hope many of you can finally get back in the skies! If we can be of any help in your preparation for an interview please contact us for assistance. We would be happy to help you.
NC Software is Hiring - Full Time .NET Developers Wanted
NC Software is seeking experienced and highly motivated .NET developers for Windows, Web, and Mobile application development. Job seeker must be experienced in VB.NET primary, C# secondary, Windows Communication Foundation (WCF), SQL Server 2008, Visual Studio 2010 (.NET 4), and ASP.NET with proficiency in HTML, CSS, and JavaScript.

Developer will play a key role in the success of a rapidly growing small business through innovation, problem solving, analytics, and a high attention to detail and commitment to quality. Developer will be responsible for the complete lifecycle of software development from design, development, testing, documentation, and production.

Developer must be a self-starter, have a passion for learning and keeping up with new technology, great communication skills, and work well in small teams. Qualifications include but not limited to:

College degree in a technical field, preferably computer science, software engineering, or technology related industry
3+ years experience with Microsoft Visual Basic .NET emphasis in Windows Forms
3+ years experience with ASP.NET web development
Highly experienced with database development (SQL Server)
Highly experienced with web services (ASMX/WCF)
Compensation based on experience and skills. Developer will work in our Glen Allen, VA office; company paid relocation not available. Interested parties please submit resume to careers@nc-software.com.
| | |
| --- | --- |
| Product | Version |
| Logbook Pro PC Edition | 1.11.1 |
| Logbook Pro Universal App for iPhone, iPod touch, and iPad | 2.1.0 |
| Logbook Pro Palm Companion | 1.10.5 |
| Logbook Pro Pocket PC Companion | 1.10.16 |
| Airline Pilot's Daily Aviation Logbook - Palm OS | 6.0.4 |
| Airline Pilot's Daily Aviation Logbook - Pocket PC | 6.1.4 |
| FlightCentral Route Browser | 2.2 |
| Airline Schedule Importer | 8.2 |
Click here to download updates as required.
Want to receive this newsletter directly in your inbox? Click here to subscribe.